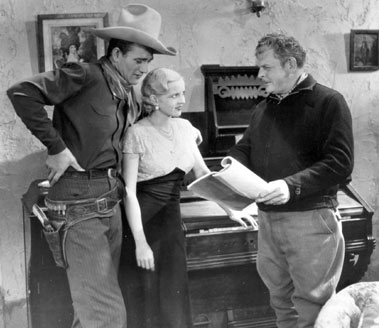 Director Robert North Bradbury goes over a plot point in the script of "Texas Terror" ('35 Lone Star) with John Wayne and Lucile Browne.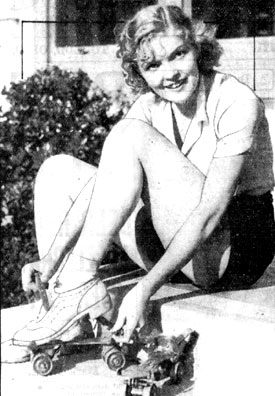 Cute new Hollywood leading lady Verna Hillie prepares to go roller skating in April 1933. Verna co-starred with John Wayne in "Star Packer" and "Trail Beyond" (both '34 Lone Star) and Ken Maynard's "Mystery Mountain" serial ('34 Mascot).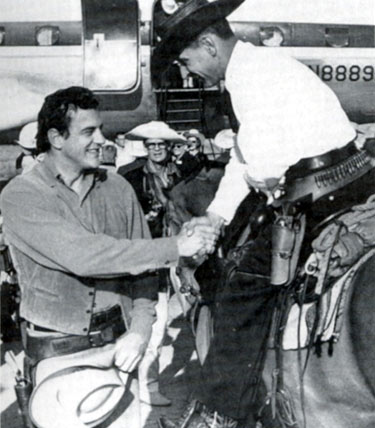 Deputy U. S. Marshal Raymon K. House greets "Gunsmoke" U.S. Marshal Matt Dillon (James Arness) at the dedication of Front Street in Dodge City, Kansas in 1958.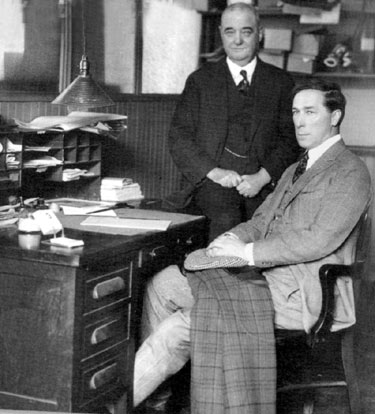 William S. Hart sits with former western lawman Bat Masterson at Masterson's desk at the NEW YORK MORNING TELEGRAPH office on October 7, 1921. Masterson died eighteen days after this photo was taken.
Honorary pallbearers for Wyatt Earp's memorial service in January 1929. (L-R) W. J. Hunsaker (Earp's attorney in Tombstone and noted L.A. attorney), George Parsons (member of Tombstone's "Committee of Vigilance"), John Clum (former Tombstone mayor and editor of the TOMBSTONE EPITAPH), William S. Hart, Wilson Mizner (friend of Earp's during the Klondike gold rush) and Tom Mix.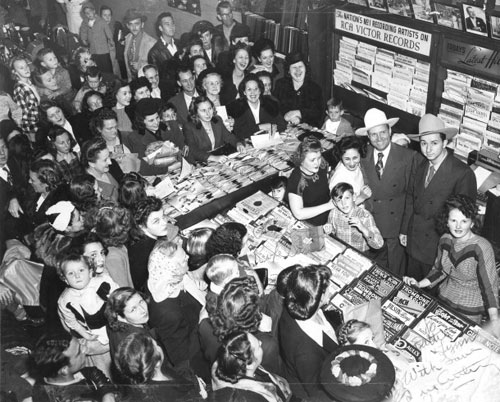 A crowd gathered at Dottie's Music Department in McCrory's Department Store on Texas Street in Shreveport, LA, in 1948 to greet Gene Autry and Johnny Bond. (Photo courtesy Edmond Smith of Little Rock, AR, seen standing with Gene.)
(L-R) Viola Dana, a major star in the silent era, noted silent western star Maurice "Lefty" Flynn, Tom Tyler and, as noted on the photo, Ma and Pop Wolcott. Unknown who they might have been. (Thanx to Bobby Copeland.)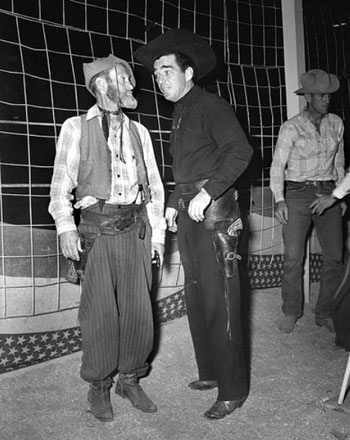 Al "Fuzzy" St. John and Lash LaRue at the North Carolina State Fair in 1955. (Thanx to Jerry Whittington.)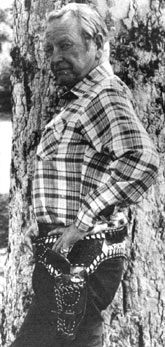 Rex Allen in 1981 still able to wear the six-gun rig custom made by Leddy Brothers in Texas that he used in some of his films.
Paying customers in the bleachers watch the filming of "Love's Lariat" ('16 Bluebird) starring Harry Carey Sr., seen in the center holding a gun on a badman while protecting Olive Fuller Golden, better known as Carey's wife. Film was made at Universal's California studio.

Two young cowboys visited Iverson's Ranch during the making of a Johnny Mack Brown Monogram B-western...very likely "Whistling Hills" ('51). (Top to Bottom) Johnny Mack Brown, Lee Roberts, Frank Ellis, Marshall Reed with Danny Sands seated in foreground and Whitey Hughes on the right, back to camera. (Thanx to Jerry Whittington.)
Promotional photo taken circa 1924 spotlighting Universal's Blue Streak Players, the studio's top boxoffice draws of the day. In the front row you'll notice Jack Hoxie and Hoot Gibson. Can anyone identify any of the other cowboys? The players pose in front of the great doors of the Notre Dame cathedral facade which was used in "Hunchback of Notre Dame" and Tom Mix's "My Pal the King". (Courtesy Richard Bann.)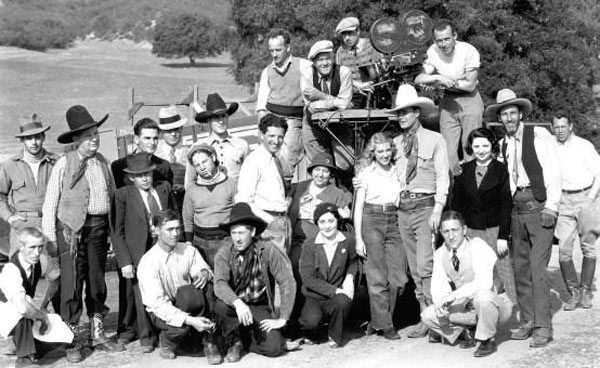 Cast and crew of "Sundown Trail" ('34 Imperial). Star Wally Wales has his arm around leading lady Fay McKenzie. Director Bob Tansey is the tall man in the white shirt in the middle. His brother, actor James Sheridan (aka Sherry) Tansey stands on the far right next to the lady in the black jacket. Others unknown. (Thanx to Jerry Whittington.)
In "Hoedown" ('50 Columbia) Jocko Mahoney plays brokendown, naive ex-cowboy star Stoney Rhodes. This cute scene in the movie comes when Jocko talks to a Gene Autry one-sheet in front of a theater. (Thanx to Jimmy Glover.)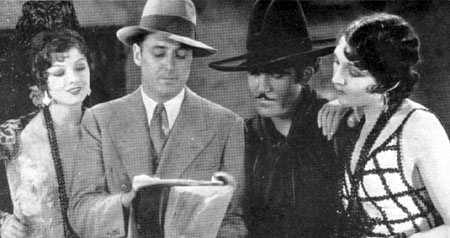 Director Spencer Bennet goes over the script for "Rogue of the Rio Grande" ('30 World Wide) with Myrna Loy, Jose Bohr and Carmelita Geraghty. This was Bennet's first talkie.
James Garner greets a fan at the May 1990 Indianapolis 500.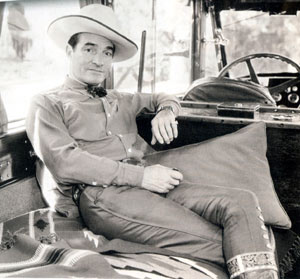 Tom Mix seems very relaxed in one of his automobiles, circa late '30s?
Montie Montana with his new pair of Lucchese boots.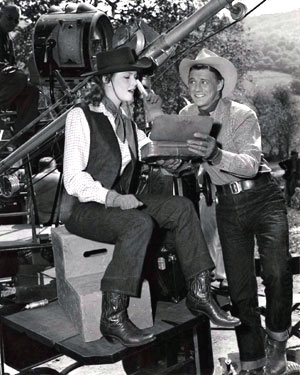 Sonny Tufts holds the makeup kit for Barbara Britton between scenes of "Untamed Breed" ('48 Columbia). (Thanx to Jerry Whittington.)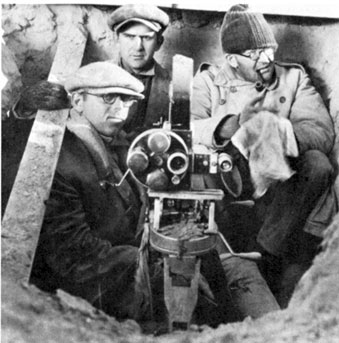 John Ford (right), directing a scene for "The Iron Horse" ('24) starring George O'Brien.
Roy Rogers and Trigger greet Bobby Driscoll and Luana Patten, their co-stars for Disney's "Melody Time" ('48 RKO). (Thanx to Jerry Whittington.)