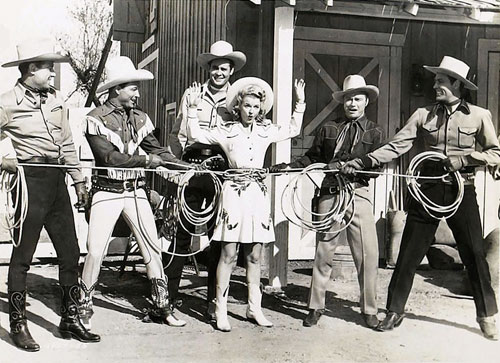 Having a little fun during the filming of Republic's "Bells of Rosarita" ('45) are (L-R) Bob Livingston, Roy Rogers, Sunset Carson, Dale Evans, Don Barry and Allan Lane. (Thanx to Jerry Whittington.)
Gail Davis as "Annie Oakley" with daughter Terrie in the '50s.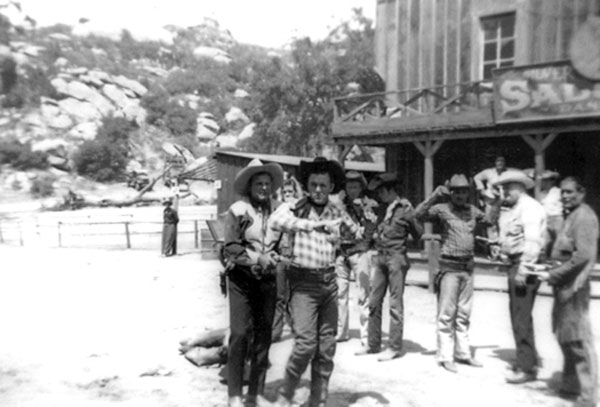 Ray "Crash" Corrigan puts a gun on a badman during one of his Corriganville shows. Circa 1955. Chief Thunder Cloud and Max Terhune are on the far right.
(Thanx to Vince Guerriero.)
Tom Mix and Jim Thorpe on location for (probably) "My Pal the King" ('32 Universal).
(Thanx to Jerry Whittington.)
Director Cecil B. DeMille and Hopalong Cassidy compare six shooters.
(Thanx to Bobby Copeland.)
Roy Rogers joins Bing Crosby for a Crosby radio show rehearsal. (Thanx to Jerry Whittington).
Sir David Frost with John Wayne in 1973. (Thanx to Terry Cutts.)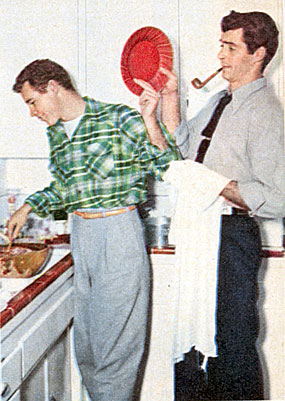 Even cowboy stars have to clean up and do the dishes after a party. Guy Madison and Rory Calhoun.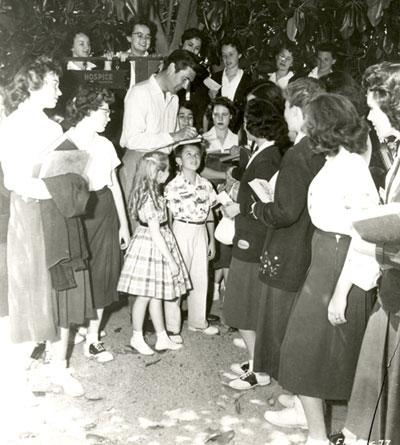 Fess Parker signs autographs for a group of female fans.
Pity the poor badguys up against the Warner Bros. cowboys! (L-R) Will "Sugarfoot" Hutchins, Wayde "Colt .45" Preston, Jack "Maverick" Kelly, James "Maverick" Garner, Ty "Bronco" Hardin, Peter "Lawman" Brown and John "Lawman" Russell.
Sammy Davis Jr. was a huge Western fan. Sammy guested on "Lawman" with John Russell and Peter Brown in the "Blue Boss and Willie Shay" episode in '61.
For a rough B-Western heavy, in his off-screen hours Ed Cobb was certainly duded up in his Plus Fours (breeches or trousers) and pipe. Looks like he was walking the cat. Photo from sometime in the '30s. (Thanx to John Bickler.)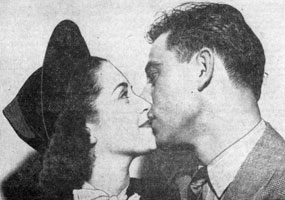 In late 1936 B-Western actress Kay Hughes and film cameraman Durward Graybill eloped to Ensenada, Mexico, but returned to L.A. for their nuptuals because an Ensenada magistrate wasn't to be found on their arrival. He'd apparently gone to view developments in a local maritime strike. 1936 was the year Kay co-starred in "The Vigilantes Are Coming" serial with Bob Livingston as well as "The Three Mesquiteers" and "Ghost Town Gold" with the Three Mesquiteers and "Ride, Ranger, Ride" and "The Big Show" with Gene Autry.
Gene Autry watches the gage on a Wichita Falls oil well with his co-owner
S. D. Johnson of Wichita Falls. Circa late '40s.
Lee Majors and 71 year old Roy Rogers on the ABC TV "Fall Guy" episode
"Happy Trails" in 1983. (Thanx to Neil Summers.)
Tex Ritter in 1956 with members of the Dodge City, Kansas, 4-H clubs.
Ken Murray, Laurie Anders and Hoot Gibson take a lunch break while making
"The Marshal's Daughter" ('53).
Rex Bell and wife Clara Bow with their 14 month old son Rex Lardow Bell
in March, 1936.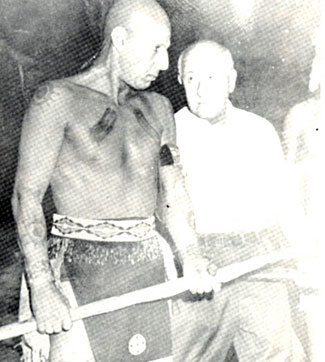 Iron Eyes Cody receives instructions from director C. B. DeMille for
"Unconquered" ('47).
Director Gordon Douglas (center) confers with producer Marty Rackin and Alan Ladd during the shooting of "Santiago" ('56) set in Cuba during the 1898 conflict between the U.S. and Spain.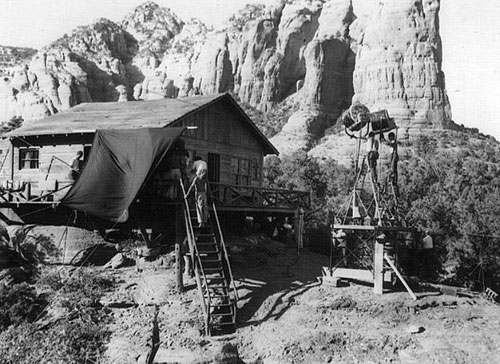 A set for "Johnny Guitar" built at the foot of Coffee Pot Rock in Sedona, AZ.
(Thanx to Jerry Whittington.)
(L-R) John Qualen, ?, Paul Birch, Willis Bouchey on location at Alamo Village
for "Two Rode Together" ('61). (Thanx to Mike Smith, son of Paul Birch.)
Scott Brady and Barbara Stanwyck talk with director Joe Kane on the set of Republic's "Maverick Queen" ('56). (Thanx to Bobby Copeland.)
Shooting a scene for TV's "High Chaparral" at Old Tucson. Don Collier and Cameron Mitchell are riding in. Mark Slade is in front of them and Leif Erickson is on the left. (Thanx to Marianne Rittner-Holmes.)