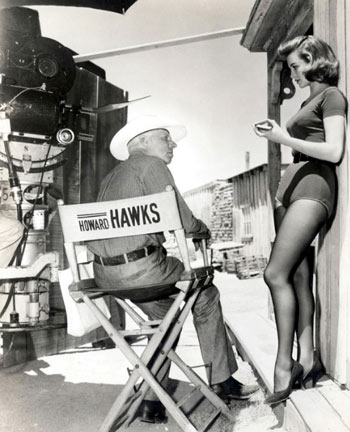 Director Howard Hawks talks with gorgeous Angie Dickinson
on the set of "Rio Bravo".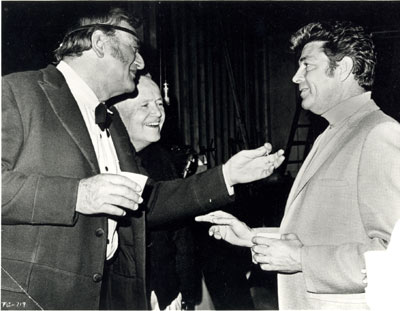 John Wayne, director Henry Hathaway, Dale Robertson on the set of "True Grit" at Paramount. (Thanx to Neil Summers.)
James Arness in April 1960 with his children, Jenny Lee, 8, Craig, 12, and Rolf, 6.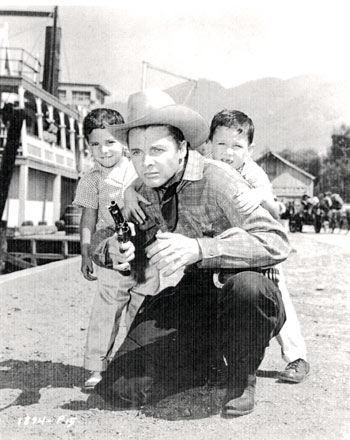 Terry, 6, and James Shannon, 4, seek protection behind their father Audie Murphy in this posed photo on the set of "Ride a Crooked Trail" ('58 Universal).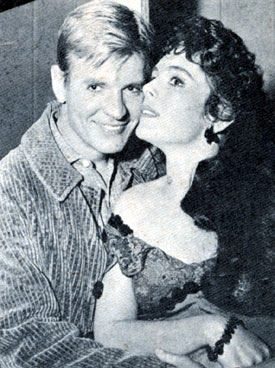 Will Hutchins with Erin O'Brien, his leading lady in two 1958 episodes of "Sugarfoot", "Short Range" and "A Wreath for Charity Lloyd".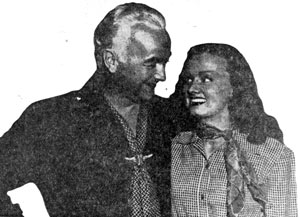 William Boyd (Hopalong Cassidy) and his leading lady Elaine Riley chit-chat during a break in filming "The Devil's Playground" ('46 U.A.).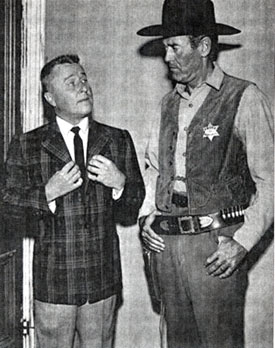 Henry Fonda in his character of Marshal Simon Fry on "The Deputy" guest starred on George Gobel's variety show in 1959.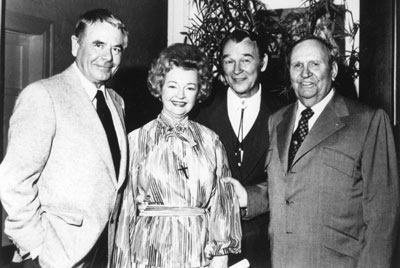 Glenn Ford, Dale Evans, Roy Rogers, Gene Autry at the Cowboy Hall of Fame ceremonies in Oklahoma City in 1977.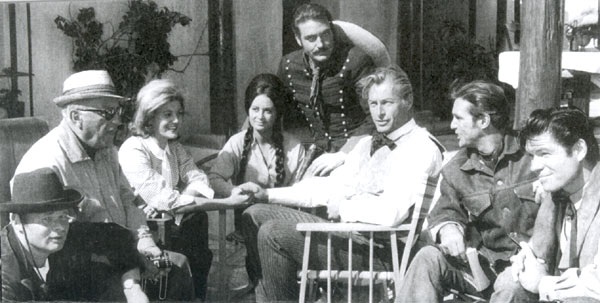 Relaxing between takes of "Pyramids of the Sun God", filmed in Yugoslavia in '65, are (L-R) Ralf Wolter, director Robert Siodmak, Tita Barker, Theresa Lorca, Rik Battaglia, Lex Barker , Gustavo Rojo and Kelo Henderson (former star of TV's "26 Men").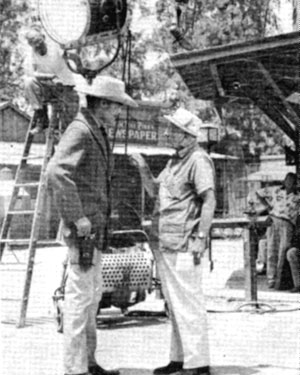 John "Lawman" Russell on the Warner Bros. lot with director Stuart Heisler.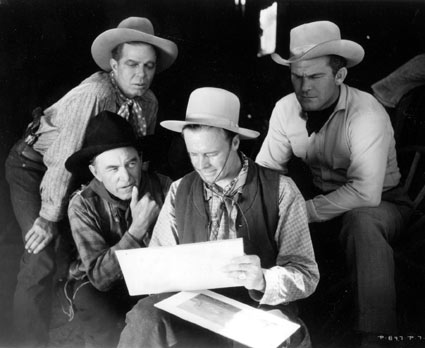 Hoot Gibson, Harry Carey and Guinn "Big Boy" Williams watch Wally Wales put finishing touches on a western landscape painting during a break in the filming of "Powdersmoke Range" ('35).
58 year old Gary Cooper with his wife, Veronica (nickname Rocky), leaves Cedars of Lebanon Hospital in Hollywood on June 10, 1960, after undergoing abdominal surgery 10 days earlier.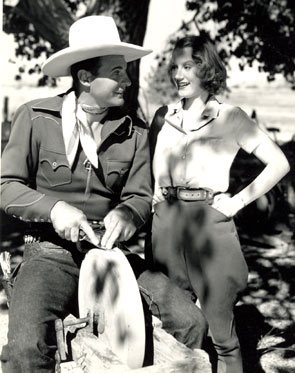 Ray "Crash" Corrigan instructs leading lady June Martell how to sharpen a knife during a break from "Wild Horse Rodeo" ('37 Republic).
Fess Parker tunes up his guitar for producer Walt Disney and director Norman Foster of 1955's "Davy Crockett, King of the Wild Frontier".
"Your fiddlin' friend" Spade Cooley and wife Ella Mae in better times. Cooley believed Ella Mae had an affair with Roy Rogers and bludgeoned his wife to death on April 3, 1961. Cooley was subsequently indicted for murder and sentenced to life in prison. After serving 8 years he was about to be paroled in early 1970. However, he died while on a furlough in November 1969.
Tom Mix with noted German director/actor Luis Trenker (1892-1990).
Ann Robinson and Hugh O'Brian share a laugh at a '50s soiree.
Candid shot of Tim Holt and Russell Simpson from "Gold is Where You Find It"
('38 Warner Bros.).
Photo taken during the making of "Lawless Rider" ('54 U.A.) with Johnny Carpenter (third from left). Stuntman/actor Lou Roberson is on the right. Roberson was stuntman Chuck Roberson's brother. Known in the business as a 'high man', he was killed in a bar fight in the '70s. Producer Alex Gordon, who also was an extra in the film, is behind Roberson in the large hat. (Thanx to Tom Weaver.)
Bill Elliott holds a slate for the next scene of "The Fabulous Texan" ('47) for Republic cinematographer Jack Marta.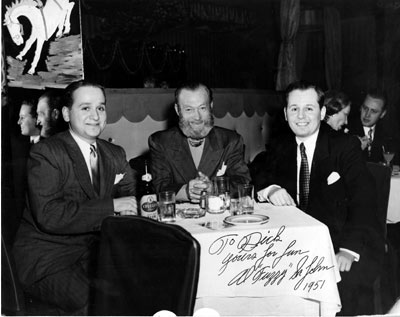 A very debonair looking Al "Fuzzy" St. John dines in 1951 with producer-brothers Richard and Alex Gordon. (Thanx to Tom Weaver.)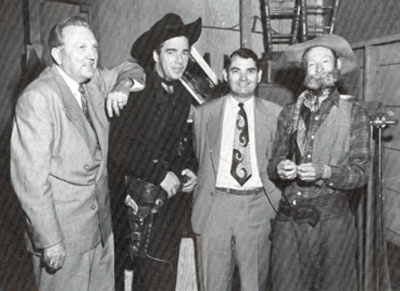 Behind the scenes of "The Dalton's Women" with Western Adventure Productions distributors Joy Houck (left) and J. Francis White between Lash LaRue and
Al "Fuzzy" St. John.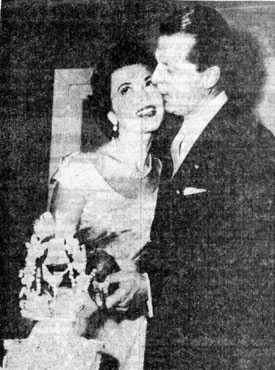 October 6, 1953, wedding picture of Ann Rutherford and husband producer William Dozier. Wedding was in New York.
In between scenes for TV's "Cimarron City", Audrey Totter is surrounded by former silent comedians, Hank Mann, Snub Pollard and Matthew McCue, all of whom now work as extras on the series.
The cast of "Black Saddle", Peter Breck (Clay Culhane), Ana-Lisa (Nora Travers) and Russell Johnson (Marshal Gib Scott) take a look at their latest script.
Christmas 1959 with the Rogers family (L-R) Dodie, Dusty, Dale, Roy, Debbie and Sandy.