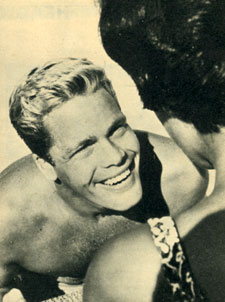 Trampas of "The Virginian", Doug McClure, emerges from the swimming pool
to greet a fan.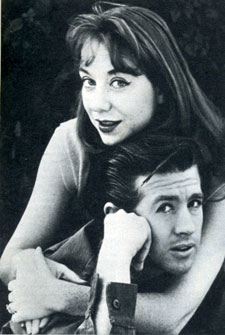 Clu Gulager ("Tall Man", "The Virginian") in 1961 with his wife Miriam Nethery.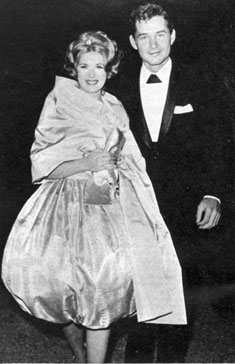 Connie Stevens, Cricket Blake on "Hawaiian Eye" with her frequent date in 1961, Gary Clarke, Steve on "The Virginian".
Clowning around with the Kellys...Jack and wife Donna, aka actress
May Wynn, in 1961.
A 1961 pose of a pre-"Wild Wild West" Bob Conrad.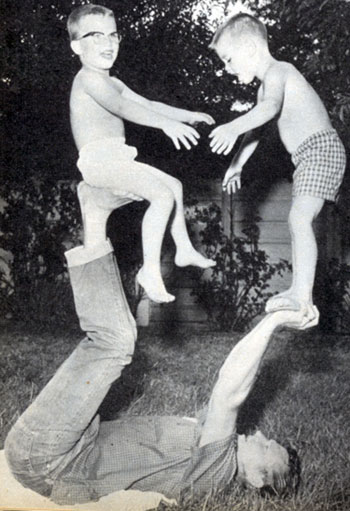 Star of "Outlaws", Don Collier, has a little backyard fun with his son Don Jr., 6, and stepson Dave, also 6. Don Jr. is Collier's son by his wife Pamela and Dave is the son of his then wife Joanne. This photo from 1961.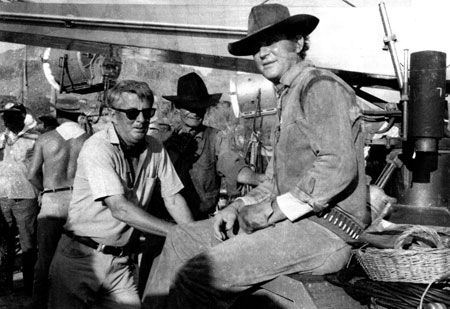 On location in hot Old Tucson, AZ, are director William Claxton and Don Collier, ranch foreman Sam Butler on "High Chaparral". (Courtesy "High Chaparral" website.)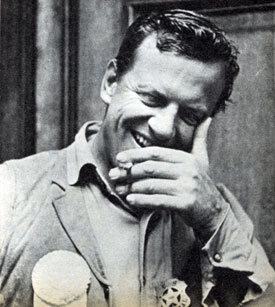 Cowboy Cancer alert! James Arness, Matt Dillon of "Gunsmoke", lights up.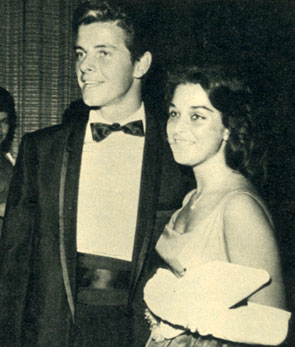 Peter ("Lawman") Brown in 1961 with his date singer Joanie Sommers who had a big Top 40 hit in 1962 with "Johnny Get Angry."
6' 2" craggy faced Richard Boone, star of "Have Gun Will Travel", with his son
Peter in 1961.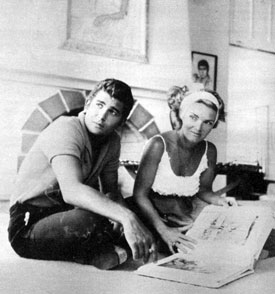 Eugene Orwitz...aka Michael Landon of "Bonanza" at home with his wife Dodie Frasier in '61.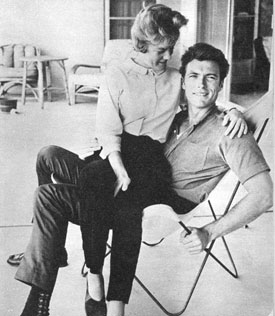 Rowdy Yates of "Rawhide"...Clint Eastwood in 1961 with his then wife
Margaret Johnson.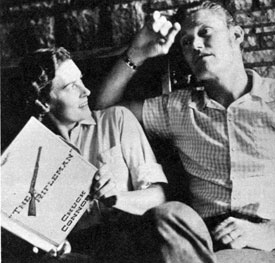 Chuck Connors runs his lines for a "Rifleman" episode with his wife Elizabeth in '61.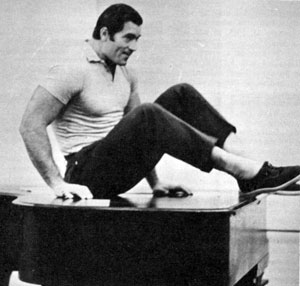 We have no idea why Clint "Cheyenne" Walker is on top of the piano!
On the other hand, Bob Fuller ("Laramie") seems to know what he's doing
with a piano.
Dale Robertson, star of "Tales of Wells Fargo", on "This is Your Life" in 1961 with his wife Lulu Mae Harding (they were married in November '59) and adopted daughter Rebel.
John Smith, star of "Laramie", with his wife actress Luana Patten whom he married June 4, 1960, after they met on an episode of "Cimarron City".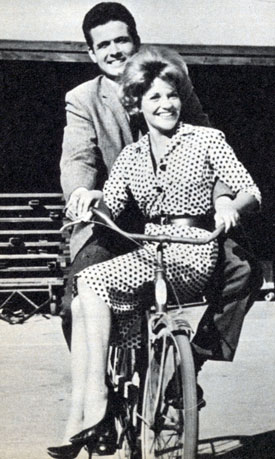 Newly married as of January 15, 1961, Mark Goddard, Cully on "Johnny Ringo", with his wife Marcia.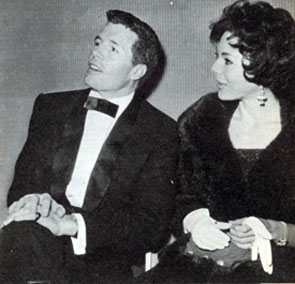 Flint McCullough on "Wagon Train", Robert Horton, with his singer wife Marilyn Bradley. They were wed December 31, 1960.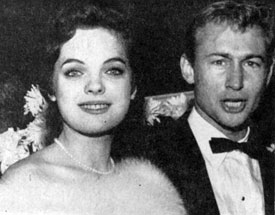 "The Rebel"...Nick Adams in 1957 with his date actress Lili Gentle (she was in "Sing Boy Sing" and "Mr. Hobbs Takes a Vacation").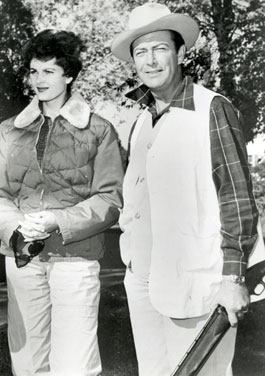 Robert Taylor with his wife actress Ursula Thiess on a hunting trip at Nilo Farms in Brighton, IL. Taylor was named honorary director of the '67 Winchester Claybird Tournament.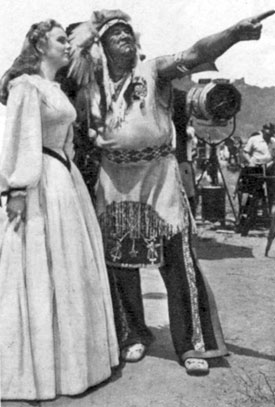 Songstress Deanna Durbin on the set of "Can't Help Singing" ('44) with famed Indian athlete Jim Thorpe.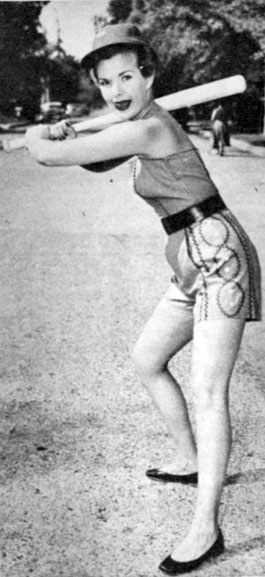 Speaking of athletes, "My Little Margie", Gale Storm is up to bat. Gale was a leading lady to western stars Roy Rogers, Audie Murphy and Rod Cameron.
Pallbearers at Wyatt Earp's memorial service in 1929 were (L-R) W. J. Hunsaker (Earp's attorney in Tombstone and noted L.A. attorney), George Parsons (member of Tombstone's Committee of Vigilance), John Clum (former Tombstone mayor and editor of the TOMBSTONE EPITAPH), silent star William S. Hart, Wilson Mizner (friend of Wyatt's during the Klondike Gold Rush) and cowboy star Tom Mix. (Thanx to Bud Norris.)