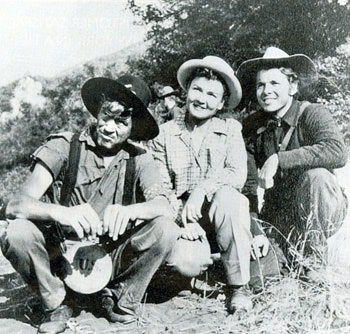 Director John Huston, reporter Lillian Ross and Audie Murphy on the set of
"Red Badge of Courage" ('51). (Thanx to Will Hutchins.)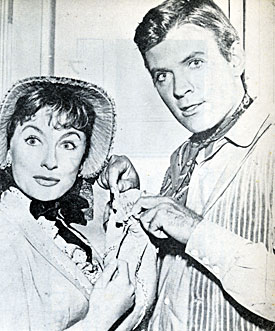 Will Hutchins and Annelle Stevens during a lighter moment in between scenes of "Sugarfoot: Toothy Thompson", Annelle's only credit.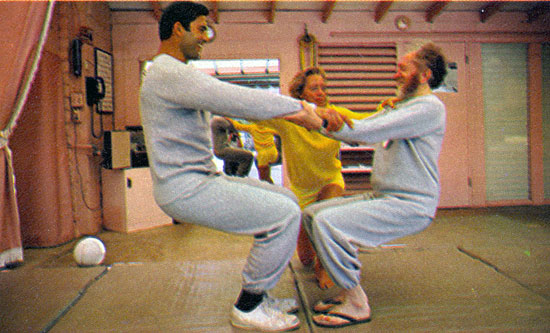 For three weeks four times a year men were allowed in the mid-'60s to take over from the ladies at the health-beauty-reducing resort The Golden Door just north of San Diego. Celebrities paid $500 and more a week to exercise to the utmost on 1200-calories-a-day. Above Clint Walker and Sam Jaffe in an isometric exercise. Below a beauty operator works on Clint Walker who refused a foot massage but submitted to manicure, hand massage and pink warming mittens.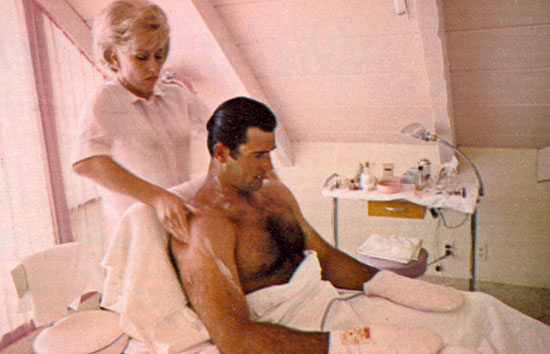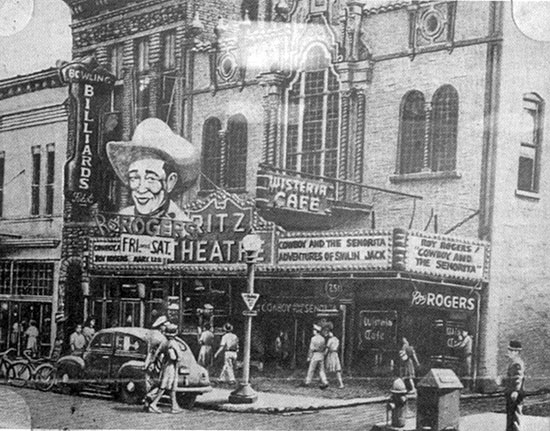 The Ritz Theater in Macon, GA, in 1944 showing "Cowboy and the Senorita" with Roy Rogers and Dale Evans plus a chapter of "The Adventures of Smilin' Jack".
(Thanx to Cash Stanley.)
The Post Cereals/Roy Rogers, Dale Evans float in the Pasadena Tournament of Roses parade in 1956. Roy and Dale consecutively won the Grand Prize and two Governor's Trophies. The stagecoach rocked, its wheels turned and the horses were in motion.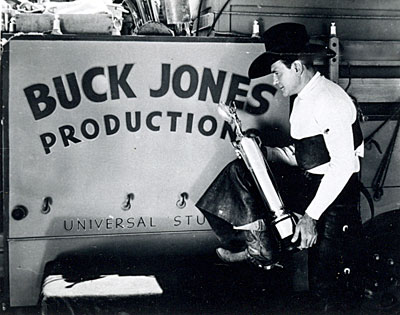 Buck Jones holds a trophy for ?? in front of a Universal Studios sign for his Buck Jones Productions '34-'37.
In 1965 at the New Mexico State Fair in Tingley Coliseum, Ken Curtis subbed for a ailing Roger Miller and brought the house down with his own version of "King of the Road". The same year Amanda Blake (below) is shown with her prize winning
hen at the fair.
Gary Clarke (Steve on "The Virginian") and Pat Woodell (Bobbie Jo on "Petticoat Junction") were married for 13 years from 1964 to 1977.
Quiz Kids Ruth Duskin and Joel Kupperman visit the Lone Ranger, Brace Beemer, and his horse Silver at the NBC studios in the early '40s.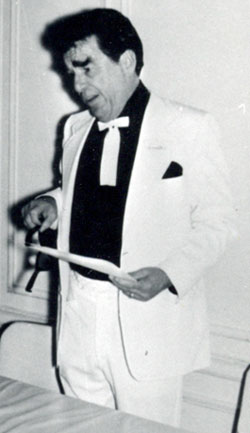 Lash LaRue at a mid-'70s festival.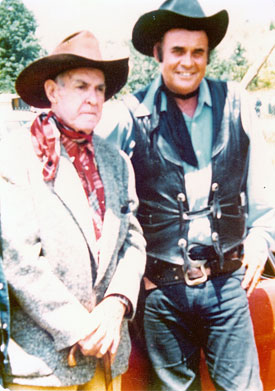 Ken Maynard and Sunset Carson in 1972 during the making of the unreleased "Marshal of Windy Hollow".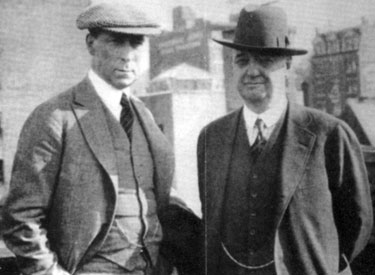 On October 7, 1921 just 18 days before his death, Bat Masterson (right) stands with William S. Hart on the roof of the NEW YORK MORNING TELEGRAPH building. (Thanx to Neil Summers.)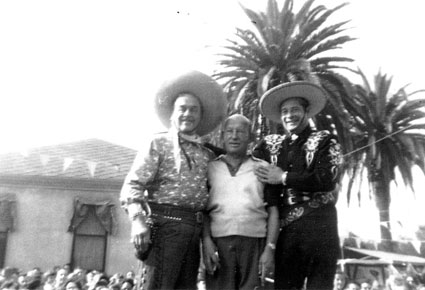 Leo Carrillo (Pancho), actor Vince Barnett and Duncan Renaldo (The Cisco Kid) at St. Catherine's Military Academy, Anaheim, CA, in 1954. (Thanx to Vince Guerriero.)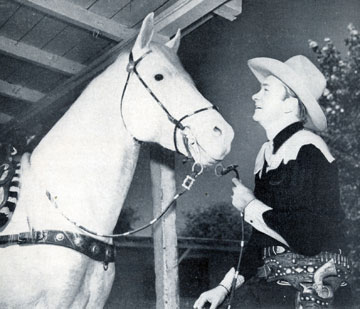 Tex Ritter and his great horse White Flash.
George O'Brien and Spencer Tracy in 1932.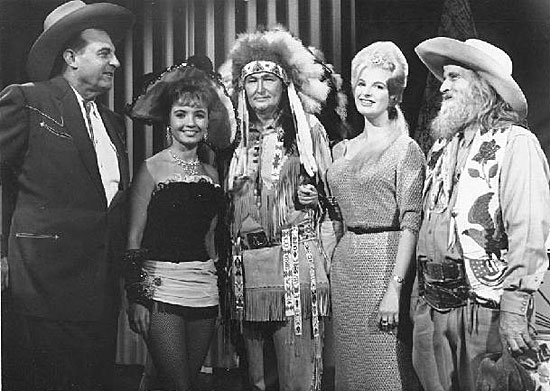 Ray "Crash" Corrigan and others appearing on Al Jarvis' "Let's Dance" TV program on Channel 7 L.A. in 1952.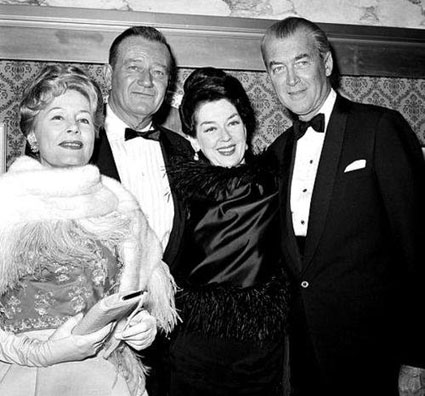 Irene Dunne, John Wayne, Rosalind Russell and James Stewart at the premiere of
"How the West Was Won" in 1962.
Enjoying the day on the "High Chaparral" set at Old Tucson—Cameron Mitchell, Leif Erikson and Linda Cristal. (Thanx to Marianne Rittner-Holmes.)
No complaints from the horse as Marilyn Monroe cuddles up on location for "River of No Return" ('54 20th Century Fox).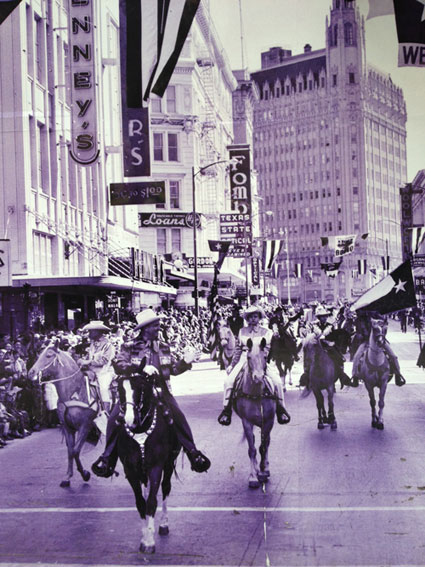 Gene Autry leads a parade in downtown San Antonio, TX. Gene was there for the Livestock Show and Rodeo in 1958.
Dan Blocker endorsement for Bonanza Sirloin Pit in Columbus, GA, in the '60s.