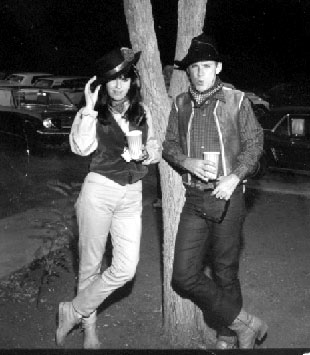 Will "Sugarfoot" Hutchins and his then wife, Chris, at a 1966 Halloween party thrown by Jimmy Hawkins, Diane McBain and Deborah Walley following the filming of "Spinout" with Elvis Presley. (Photo courtesy Jimmy Hawkins.)
Clayton Moore resorted to a variety of disguises on his "Lone Ranger" TV series. Here's a montage of those disguises.
Sunset Carson was visiting in Jackson, Mississippi, in the early '50s when he was approached by one of the city's newspaper owners and asked to visit the man's son at their home. The son, a big fan of Sunset's, had broken his leg and was housebound therefore unable to see Sunset while the cowboy was in town. Sunset agreed to visit the boy at his home. As you can see in the above picture, Sunset had his rifle with him and allowed the boy to hold the rifle for the picture. What Sunset failed to do was twofold. First he forgot to unload the rifle or to even tell the boy the rifle was loaded. What you don't see is the boy firing the rifle and wounding Sunset in the leg. The photo below shows the results as Sunset is being carried to an ambulance headed for the hospital. Moral of the story: Never allow anyone to play with a loaded gun. (The Jackson, MS, CLARION LEDGER photographer at the time was Cliff Bingham whose daughter, Marjorie Bowron, saved these photos and passed them on to Danny Brown of Blairsville, GA.)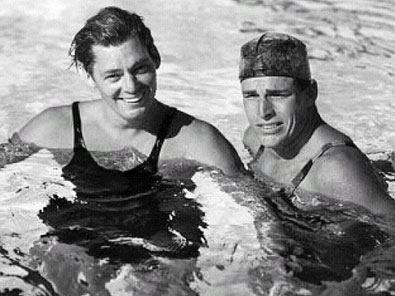 Two swim champs in 1932, Johnny Weissmuller and Buster Crabbe.
(Thanx to Bobby Copeland.)
Buster Crabbe must surely have enjoyed this publicity shot with Betty Grable taken in 1937. (Thanx to Bobby Copeland.)
Bobby (Little Beaver) Blake and a group of fans during a personal appearance in Greensboro, NC, sometime in the mid-'40s.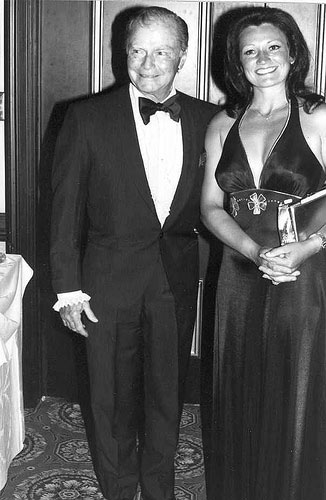 Don "Red" Barry and wife Barbara Patin at the National Film Society Convention, May 1979. (Thanx to Bobby Copeland.)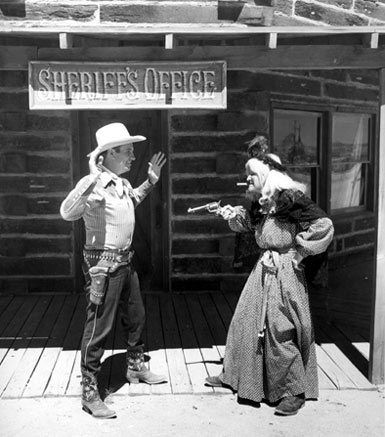 An apparent gag shot as Gene Autry is held up by an old witch on the streets of Pioneertown during the filming of Gene's TV show.
Gene Autry and his "Melody Ranch" radio show gang: (L-R top) announcer Tom Hanlon, The Rough Riders Trio (Jimmy Wakely, Johnny Bond, Dick Reinhart). (L-R seated) Shorty Long as portrayed by Horace Murphy, Mary Lee and Gene Autry.
(Thanx to Billy Holcomb.)
Hopalong Cassidy (William Boyd) gives a kiss to Natalie Trott, a 13 year old Bermuda schoolgirl who was the prize winner in Hoppy's Bermuda drawing contest, sponsored during Hoppy's three week holiday in the sunshine ilse. (Thanx to Bobby Copeland.)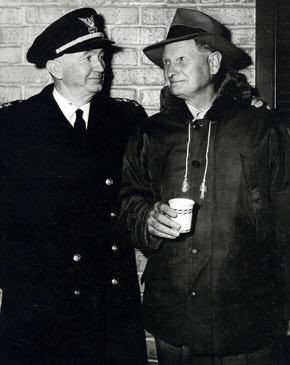 Coast Guard Chief Walter Brennan and producer/director Joe Kane take a coffee break from filming "Sea of Lost Ships" ('53 Republic).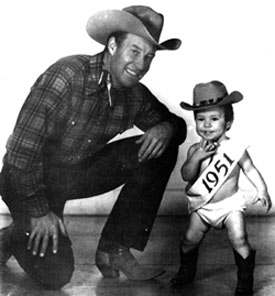 Bill Elliott was in Cisco, TX, just before Christmas 1950 to represent BACK IN THE SADDLE horseman magazine in their annual Christmas parade. While in Cisco Bill posed for the above two pictures with 14 month old Bonnie Jo Steffen, editor Randy Steffen's daughter. The photo on the left was used for the cover of BACK IN THE SADDLE (1/51) and the other was used in the interior of the magazine. The photo below was taken in the offices of BACK IN THE SADDLE.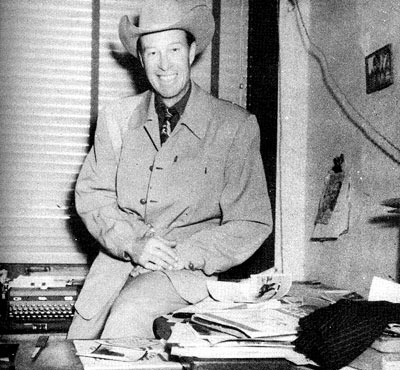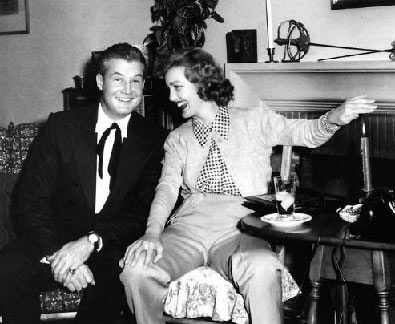 George Reeves and Virginia Grey enjoy a laugh together at a party. Would be interesting to know why Virginia is holding her hand over the candle.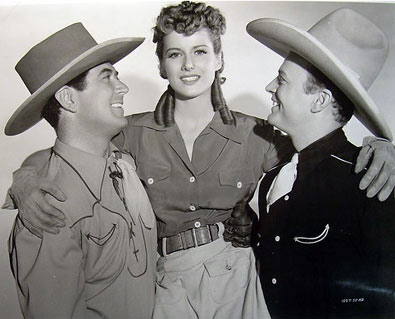 Johnny Mack Brown and Bob Baker give a lift to their "Riders of Pasco Basin" leading lady Frances Robinson. (Thanx to Bobby Copeland.)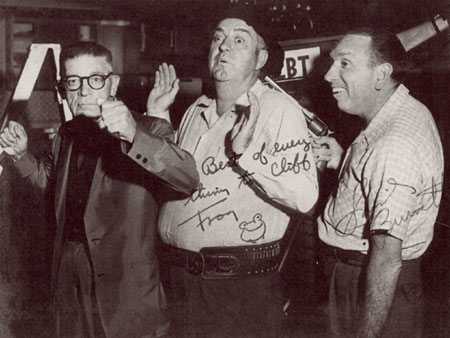 A local look-alike for the great stoneface, comedian Buster Keaton, and the real Frog, Smiley Burnette, do a little clowning around with THE CLARION LEDGER photographer, Cliff Bingham, in Jackson, MS. (Thanx to Danny Brown and Marjorie Bowron.)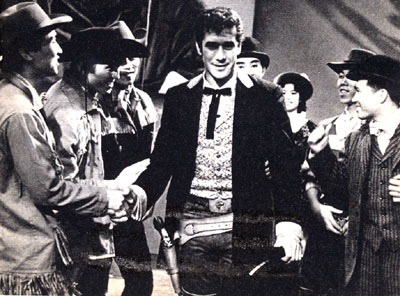 Robert Fuller, star of TV's "Laramie", was greeted by some 5,000 Japanese fans in April of '61 when he appeared in Japan at the invite of the president of the Pacific Television Corporation and self appointed head of the Bob Fuller Fan Club, Japanese division. Fuller visited six cities in 22 days. In Osaka police estimated the crowd at 500,000. Bob had tea with the Prime Minister and his wife, was photographed with one of the Emperor's favorite horses, had a friendly Judo bout with one of Japan's top experts and staged a two-hour TV variety show as a benefit for Japanese orphanages. Bob was presented with the Golden Order of Merit by a personal representative of the Empress. While in Japan he received over 1,000 gifts from fans. "The Japanese," said Fuller, "are the most wonderful people in the world."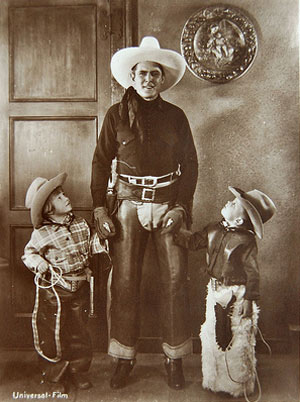 Ken Maynard with two young admirers, circa 1933. (Thanx to Bobby Copeland.)
John F. White is character actor/badman Dan White's grandson and provided the above photo to the b-westerns.com website. (L-R) Dan White, William S. Hart, Dan's wife Tilda holding Curtis (John's father). Standing in front is Nona Cooper, wife of actor Tex Cooper, and John's aunt June. Nona was a munchkin in "The Wizard of Oz".
Kelo Henderson, star of TV's "26 Men" ('57-'59), wouldn't get anywhere near an airplane today with that gun as he did for this publicity shot at the Phoenix airport during the filming of "26 Men".
Roy and Arlene Rogers with their newborn Linda Lou. The baby was born April 19, 1943 and weighed 6 and a half pounds. (Thanx to Bobby Copeland.)
Look what Joel O'Brien found "round back" at Old Tucson in Arizona when he visited there in 1972.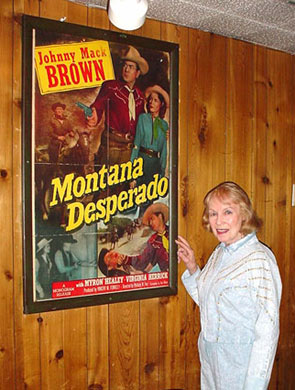 Leading lady Virginia Herrick, my wife Donna and I had dinner at a western themed restaurant in Las Vegas a few years ago and discovered a one-sheet of her hanging on the restaurant wall.