Fess Parker at his winery and vineyards in Los Olivos, CA, beside a large photo
of him as Davy Crockett.
Fess Parker and his Daniel Boone stand-in Carol Lynton in 1965.
Fess Parker battles the former Tonto—Jay Silverheels—as a renegade Cherokee on "Daniel Boone: The Quietists" (2/25/65).
Disney's Davy Crockett, Fess Parker, entertains Texas neighbor Ann Tynan in January 1956 at the Harwyn Club on East 52nd Street in New York City.
Fess Parker signs autographs for a group of "Davy Crockett" fans.
Fess Parker greets fans at Disneyland during its 40th Anniversary Celebration in 1995.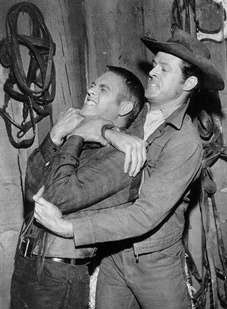 Robert Culp gets a grip on Steve McQueen on "Trackdown: The Brothers".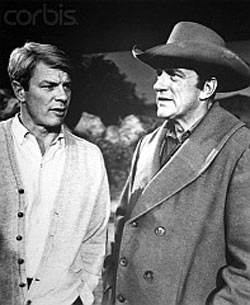 James Arness' brother, Peter Graves, directed the "Which Dr." episode of "Gunsmoke" which aired March 19, 1966.
Hugh O'Brian as Wyatt Earp and Robert Wagner guest on the "Ed Sullivan Show".
The Carradine brothers—Keith, David and Robert—at the Paramount Ranch in 1996.
Broncho Billy Anderson holds his honorary Oscar presented to him by the Motion Picture Academy at the 1958 Academy Awards. (Courtesy Bobby Copeland.)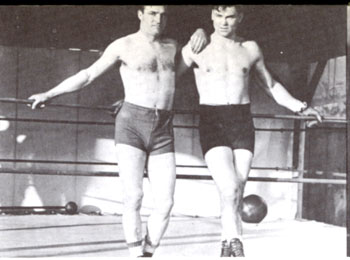 Tom Mix (L) visits boxing great Jack Dempsey for a workout in 1920.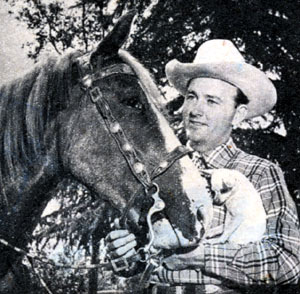 Jimmy Wakely with his horse Sonny and pet Chihauhau Snowflake.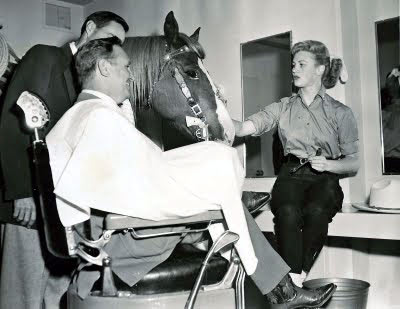 It's back in the make-up chair again for both Gene Autry and his
wonder horse Champion.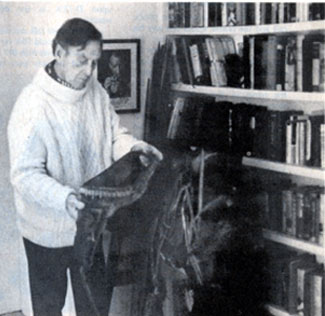 George O'Brien examines one of his RKO gunbelts as he reminisced for WESTERNER magazine in the summer of '75.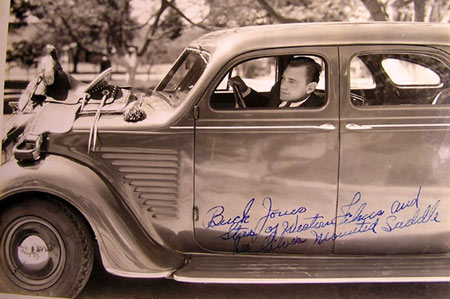 Buck Jones "saddles up" for a ride in his 1937 Chrysler. (Courtesy Bobby Copeland).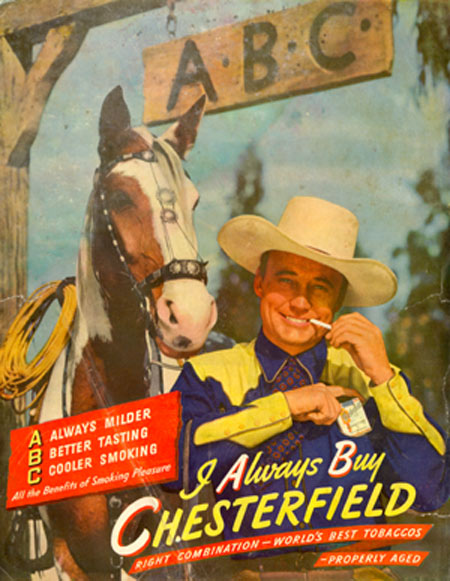 Cowboy Cancer Alert! Dave O'Brien lights up for a 1946 Chesterfield ad.
Perhaps ABC should stand for "Always Bad Cancer".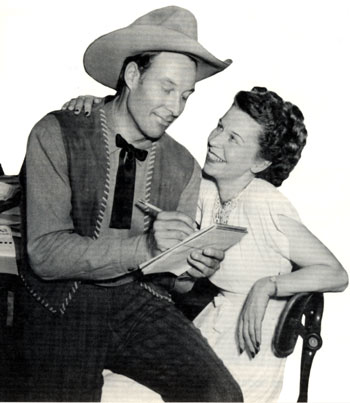 1947 publicity shot of Bill Elliott in a role reversal pose as he jots down dictation from his business manager Sally Thro.
"Tales of Wells Fargo" star Dale Robertson in the 1959 car given to him by his show's sponsor who equipped it with rifles, cowhide floor and pistols in the door.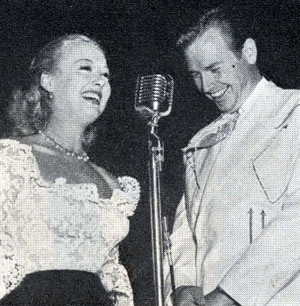 Republic star Adele Mara at a ceremony honoring Republic's new B-western
star Rex Allen in 1950.
Mr. and Mrs. Johnny Mack Brown dressed as Indians won a costume party
at Marion Davies' home.

Actress Louise Stanley strides out of court on February 7, 1941, following divorce proceedings from her husband, Monogram B-western star Jack Randall.
A young Roy Rogers and crooner Rudy Vallee do a little "gun-work".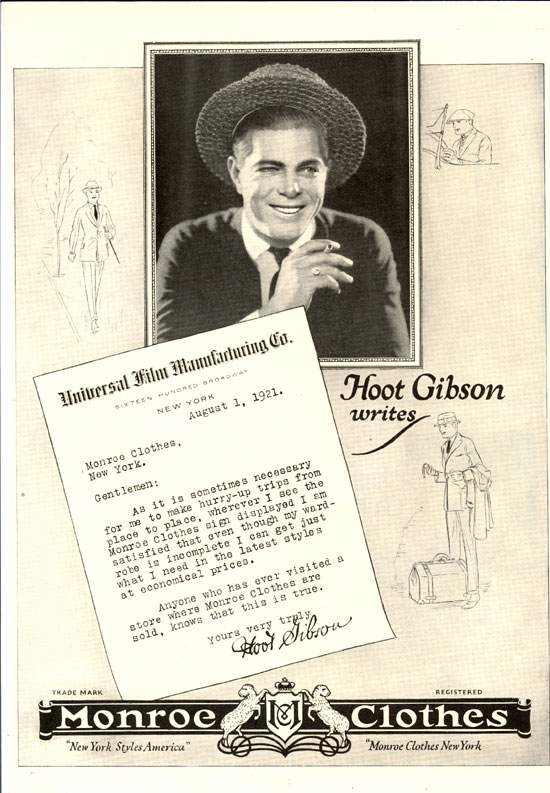 Hoot Gibson ad from THEATRE MAGAZINE for June 1922 endorsing
Monroe Clothes of New York.