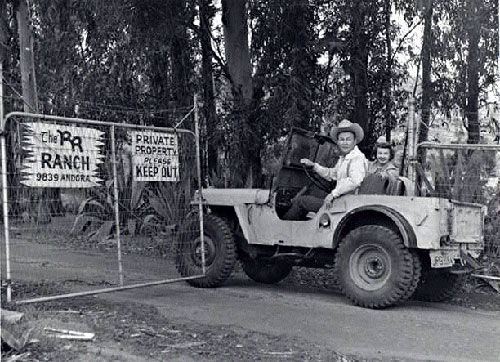 Roy and Dale at the gate to their ranch.
James Arness, Amanda Blake and Charles Marquis Warren who was producer of "Gunsmoke" for the first season and part of the second.
Gene Autry and Champion at London's Empress Hall in 1953.
Ken Maynard on Tarzan during his time with Cole Brothers Circus for the '37-'38 season.
First Universal Pictures promotional photograph in 1937 for their new
B-western star Bob Baker.
Ahhhhhhh...the good ol' days at the Victory Theatre in San Jose, CA, in 1937.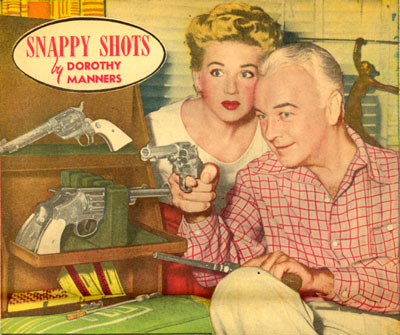 William Boyd (Hopalong Cassidy) and wife Grace Bradley pose for a King Features Sunday Supplement article in 1949.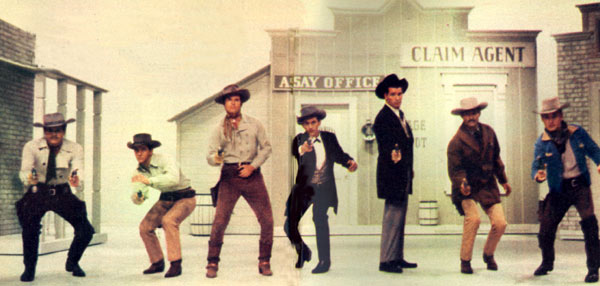 Warner Bros. cowboys got together for a photo op in New York while appearing on the "Pat Boone Show" in late 1958. (L-R) Wayne ("Colt .45") Preston, Peter ("Lawman") Brown, Ty ("Bronco") Hardin, Jack ("Maverick") Kelly, James ("Maverick") Garner, John ("Lawman") Russell and Will ("Sugarfoot") Hutchins. When Boone's wife Shirley visited the set with two of her four young daughters, somebody asked the 3 year old which cowboy she liked most. Linda Lee smiled prettily up at Will and whispered, "Sugah-foot."
6 ft. 6" Clint ("Cheyenne") Walker with his stand-in, 6 ft. 3" Clyde Howdy. Note Howdy's fitted step-in sandals with 3" thick soles strapped to his boots to give him a lift. (Thanx to Terry Cutts.)
The caption to this news photo was "Bret's Bart is worse than his bike."Jack Kelly and "Maverick" brother James Garner clowning around between scenes on the Warner Bros. backlot.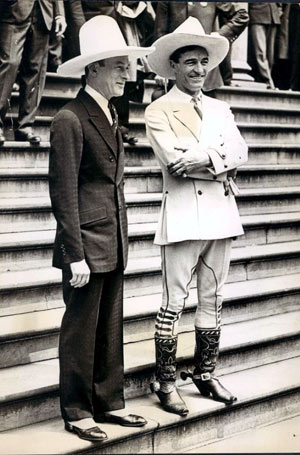 New York Jimmy Walker in 1928 with Tom Mix. (Thanx to Bobby Copeland.)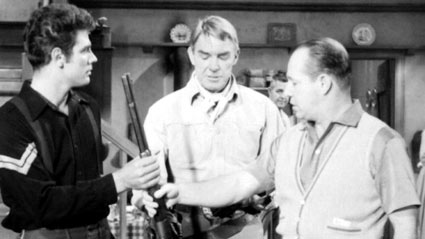 Michael Dante, playing a one-armed ex-cavalryman, Randolph Scott and director Budd Boetticher discuss cocking the rifle with one hand on the set of "Westbound" ('59).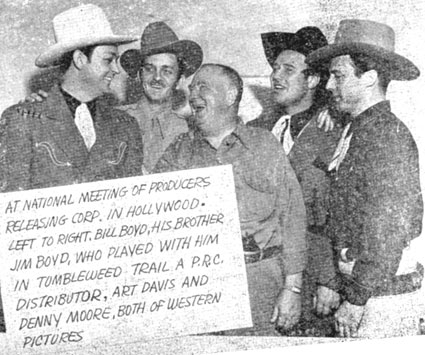 Rex Allen and a Tony Lama representative present President Ronald Reagan with some Tony Lama boots.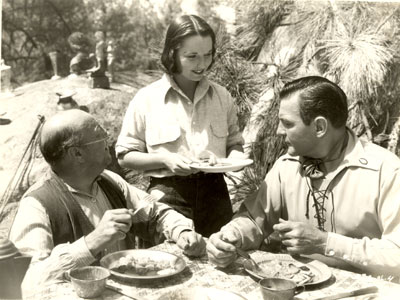 Harvey Clark, Louise Brooks and Buck Jones have a bite to eat on the set of Universal's "Empty Saddles" (1936).
Sunset Carson and leading lady Anne Jeffreys with Raleigh, NC, mayor Avery Upchurch in the late '80s. Upchurch was mayor from '83 to '93. (Thanx to Nikki Ellerbe.)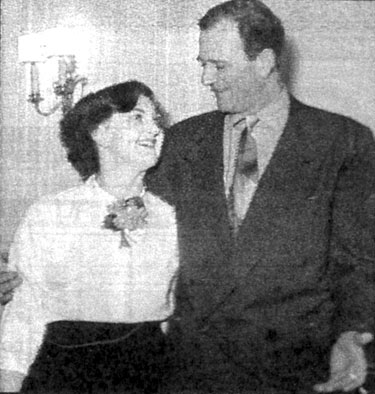 Jacqui McKenzie, a senior secretary at Republic Pictures Corporation in London, England, poses in the late '40s with John Wayne. (Thanx to Terry Cutts.)
Wish I knew more about this picture, obviously taken at Corriganville for some sort of beauty pagent or awards presentation. (L-R) unknown in fringe, possibly a musician, unknown face, Bill Hale, unknown, possibly another musician, Ray "Crash" Corrigan, Max Terhune and Monte Hale. Obviously taken in 1951 when Corrigan, Terhune and Bill Hale filmed an unsold TV pilot, "Buckskin Rangers".
Senator George Murphy (center) meets with Gilbert Roland (left), Pat O'Brien and Cesar Romero. Murphy was a Senator '65 to '71. Roland and Romero had both played the Cisco Kid on screen. (Thanx to Bobby Copeland.)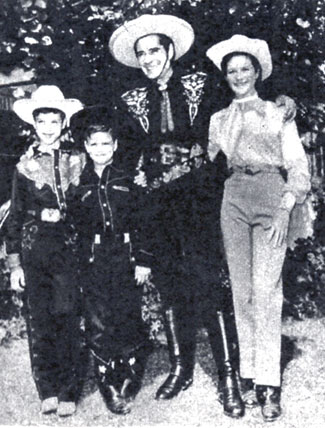 The Cisco Kid, Duncan Renaldo at home with his three children, Stephanie, Jeremy and Richard in January 1959. (Thanx to Terry Cutts.)
The late "Lone Ranger" radio and TV announcer Fred Foy and John Hart as the Lone Ranger in a radio episode recreation at the SPERDVAC 25th anniversary convention.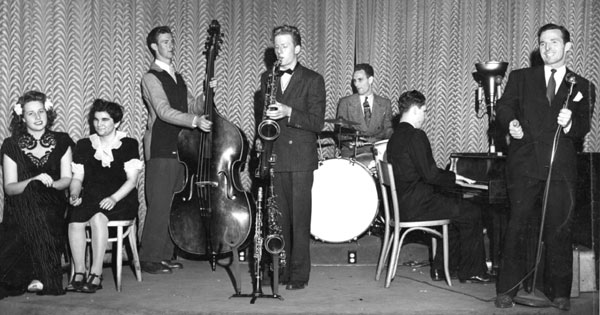 In the late '40s and early '50s, B-western cowboy Johnny Carpenter (right) through the auspices of his Heaven on Earth Ranch headed up and MC'd an all blind band. Johnny said, "This kind of presentation gets the blind boys and girls jobs in the entertainment field."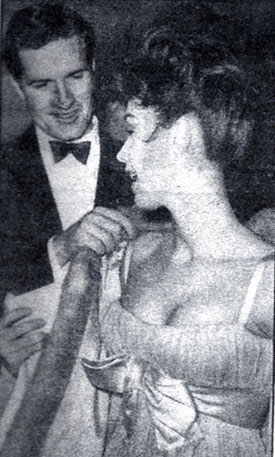 All spiffed up, Hugh ("Wyatt Earp") O'Brian escorts British actress Jackie Lane to the opening night in London of Tennessee Williams' play, "The Rose Tatoo" in 1959. (Thanx to Terry Cutts.)
Herb Jeffries (right) sings for Bob McLaughlin on Los Angeles' KLAC-TV's "Picture Album" in February 1949.
Texas Governor "Coke" Stephenson (governor from '41-'47) (left) and State Representative Harley Sadler welcome Lee "Lasses" White and Jimmy Wakely to the state capitol in Austin, Texas, (circa 1946) when Jimmy made a Bond sales talk to the Texas State Legislature.