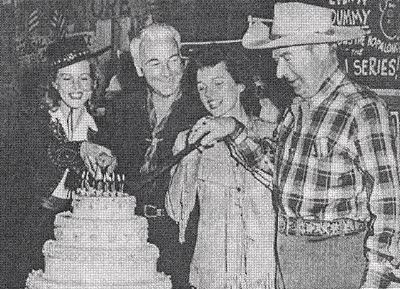 After the 50th Hoppy they had a party. (L-R) Barbara Britton, William Boyd aka Hopalong Cassidy, Jane Wyatt and producer Harry "Pop" Sherman.
Martin Sheridan claims he interviewed Buck Jones at his radio station after Buck's visit to a Children's Hospital. Sheridan reportedly escorted Buck to the Cocoanut Grove for a dinner in his honor about 9:30. This could be the last photo taken of Buck Jones. (Courtesy Kenneth Kitchen.)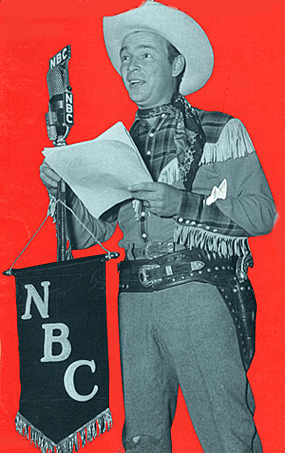 Roy Rogers reads script on his NBC radio program.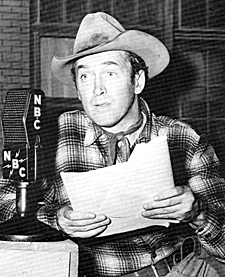 James Stewart holds his script for his role as Britt Ponset, "The Six Shooter" radio show which aired on NBC from Sept. 20, 1953 until June 24, 1954. When the series came to TV it was renamed "Restless Gun" and starred John Payne. Many of the radio scripts were rewritten for TV.
John Wayne had a lot to do with James Arness ending up on "Gunsmoke". Wayne turned down the series and recommended Arness for the part.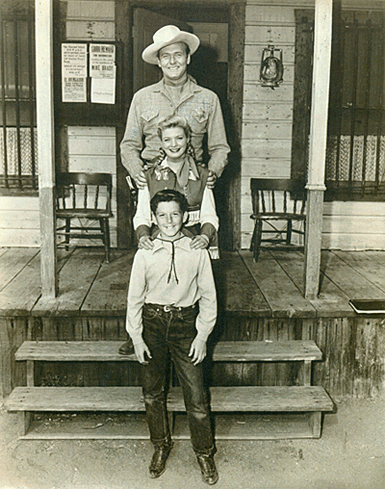 "Annie Oakley" TV show. Brad Johnson, Gail Davis, Jimmy Hawkins. Circa 1954.
(Thanx to Jimmy Hawkins.)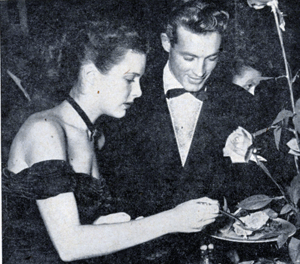 Guy ("Wild Bill Hickok") Madison out on the town for dinner with date
Cathy Downs in 1947.
Bill ("Kit Carson") Williams in 1954 with his two children William and Jody all suited up in their own Western gear.
At the Cattle Baron's Ball in Dallas, Texas...(L-R) Will and Barbara Hutchins, Peter Brown, Johnny Crawford, Monte Hale, Iron Eyes Cody.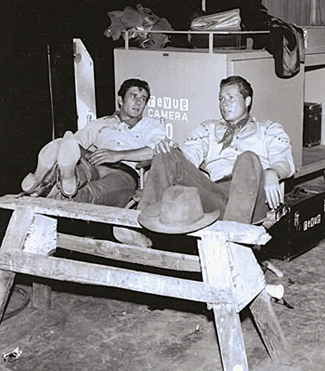 "Laramie" stars Robert Fuller and John Smith kick back and relax between scenes.
(Courtesy Terry Cutts.)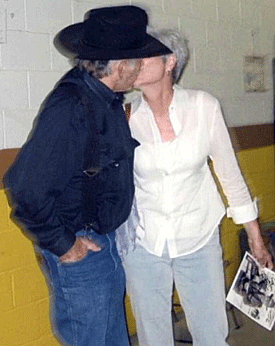 "The Virginian" James Drury gives a kiss to an admiring fan.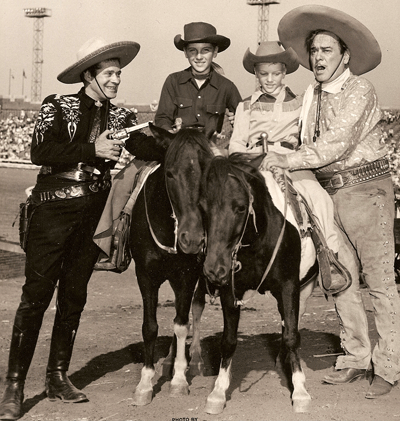 At a rodeo Duncan Renaldo ("The Cisco Kid") and Leo Carrillo (Pancho) have a little fun with Butch and Danny Dent. (Courtesy Johnny Dent.)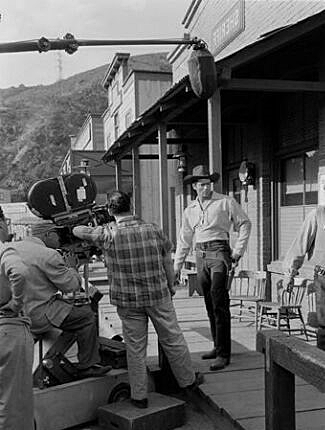 Clint Walker filming another episode of "Cheyenne" on the Warner Bros. backlot.
(Courtesy Terry Cutts.)
A pensive Audie Murphy relaxes at home.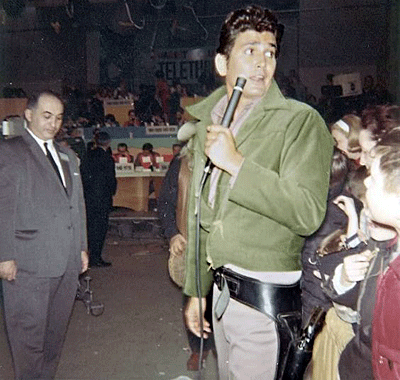 Michael Landon at a WKBW-TV Buffalo, New York telethon.
(L-R) unidentified staffer, Sergio Leone, Lee Van Cleef, Clint Eastwood, unknown woman, during the filming of "For a Few Dollars More". (Courtesy RetroFan magazine.)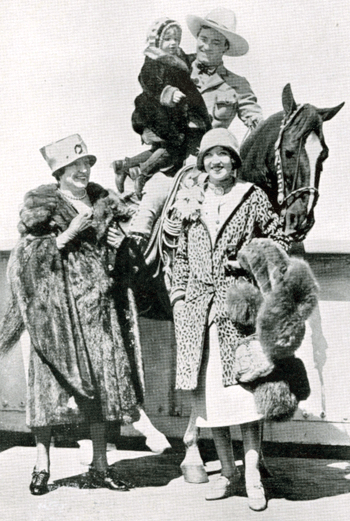 Tom Mix on Tony with his daughter. Beside them Tom's mother (left) and wife (right).
Johnny Mack Brown with Universal serial producer Henry MacRae. Unknown
players on the right.
A photographer surprises Amanda Blake as she sheds her Miss Kitty
"Gunsmoke" costume.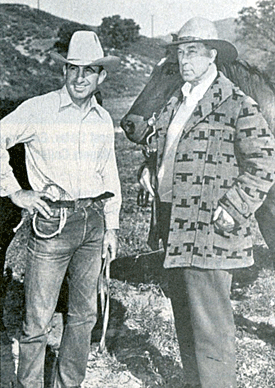 William S. Hart (right) with Andy Jauregui at the Jauregui ranch in
Placerita Canyon in 1938.
Young cowgirl Walleen Zanutto of Wallowa, OR with Lash LaRue.
Montie Montana mails a letter in style!
John Wayne looks over a script in his home den. Portrait on the wall is by
artist John Decker.
Gabby Hayes cuts his birthday cake while filming "Tall in the Saddle" ('44).
Co-star Audrey Long gives Gabby a kiss.
See ya here next month, Pards.