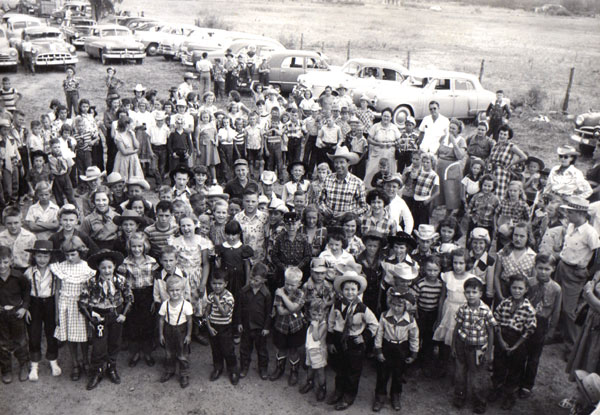 Bill Elliott with an admiring group of fans. Judging from Bill's clothes and age and the cars, this looks to be in the early '50s. (Thanx to Bob Terry.)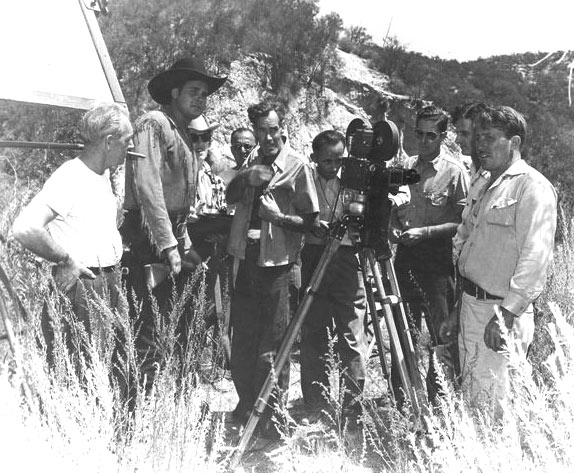 We're on location with Sunset Carson (second from left) and director Oliver Drake (next to Carson, unbuttoned shirt) for another of Sunset's very low budget Yucca westerns. (Thanx to Bobby Copeland.)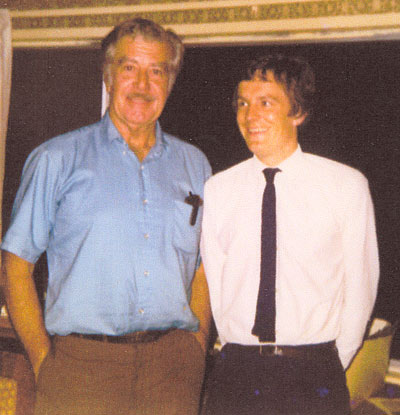 John Brooker of England (R) visited with PRC's Texas Ranger James Newill in 1970.
A western that never was. In the early '50s Bob Gilbert Productions with Oliver Drake as director filmed much of "Osage", however the film was never completed. (L-R) Noel Neill, Liz Marshal and Smith Ballew. (From Boyd Magers' Oliver Drake collection.)
Tim Holt greets a group of young fans in 1947 in front of the State Theater in Sherman, TX, showing his "Thunder Mountain". (Photo courtesy Billy Holcomb.)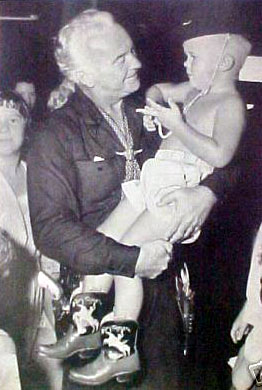 Hopalong Cassidy might not be quite so happy if he'd noticed his young fan was wearing Roy Rogers boots! (Thanx to Bobby Copeland.)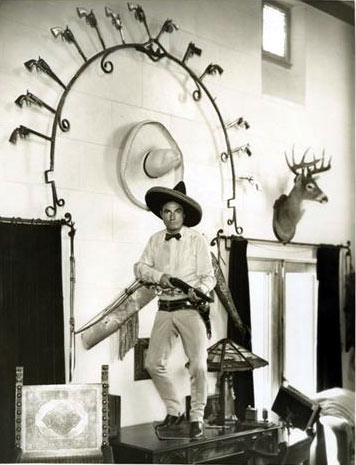 Tom Mix inside his Beverly Hills mansion. (See photo below.) The horseshoe shaped arch above him is now in the Dewey, OK, Tom Mix Museum. (Thanx to Bud Norris.)
Tom Mix mansion in Beverly Hills, California.
Kay and Ray Whitley with daughter Judy when they appeared in Dublin, TX, for the Gene Autry/Everett Colburn Rodeo...most likely in the late '40s or early '50s. (Courtesy Les Adams.)
(L-R) Producer Alex Gordon, Bob Steele, Warren White, unknown, and low budget shlockmeister Ed Wood at the famous Brown Derby restaurant in Hollywood in 1952. White was the head of a production company named Commodore Pictures. The group was there to discuss a proposed TV series starring Bob Steele as a border patrolman. (Courtesy Chuck Anderson.)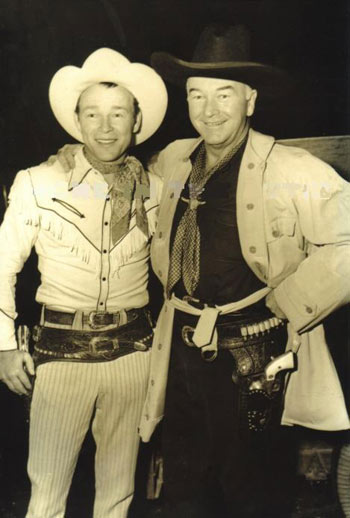 Roy Rogers and Hopalong Cassidy. Photo looks to be from the late '30s or very early '40s. (Thanx to Bobby Copeland.)
Allan "Rocky" Lane studies a few feet of film.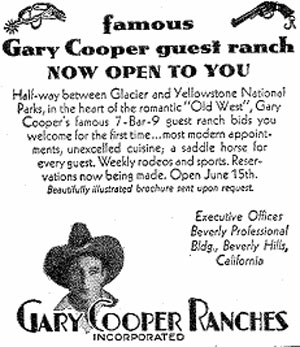 Gary Cooper Guest Ranch ad from 1934. What a great place this would have been to spend a week!
Candid photo taken in Monument Valley in 1948 during the making of "Fort Apache". (L-R) Dick Foran (leaning against car), unknown wrangler, Lois Rordin, John Wayne, Eva Petty, Henry Fonda, John Agar. Eva's husband worked as a driver on the film. (Thanx to John Stovall.)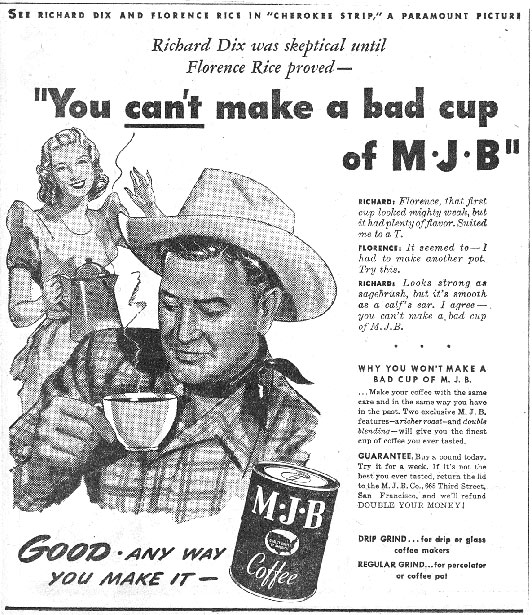 Richard Dix endorses MJB Coffee in a newspaper ad from October 26, 1940.
Newspaper columnist Cobina Wright (L) hosted a cocktail party for William Boyd and wife Grace Bradley in May '52 to honor the Boyds on their 15th wedding anniversary and on Hoppy's signing of a new 10 year TV contract. (Thanx to Bobby Copeland.)
What adoring young female fan in the '50s wouldn't have loved to be in this position with the very handsome Rex Allen. Photo taken at one of his many rodeo appearances.
Jimmy Rout III, age 4 and a half, gets some six-gun tips from Roy Rogers and Dale Evans on September 27, 1967 at the Tennessee Mid-South Fair.
Clayton Moore as the Lone Ranger met with Vice President Richard Nixon in the Capitol building in Washington on June 16, 1958. Nixon met with Moore in support of the Lone Ranger's Peace Patrol Bond Rally.
Mr. and Mrs. Buster Crabbe look through a scrapbook of Buster's screen adventures. (Thanx to Bobby Copeland.)
Eddie Dew and Smiley Burnette get made up for a scene in Republic's "Beyond the Last Frontier" ('43). Harry Woods was the heavy in the film. (Note: At first I believed Dew resembled Bob Livingston and atributed this photo to him, but the source of the photo, John Brooker, offered correction. He actually obtained the photo from Dew's private collection.) (Thanx to John Brooker of England for the photo and correction.)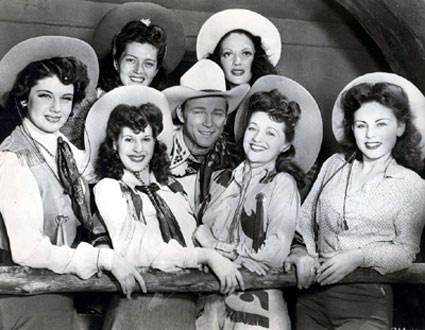 Roy Rogers and a group of Las Vegas cowgirls. Probably taken while Roy was making "Heldorado" in '46. Can anyone ID any of these ladies? (Courtesy Michael Veitch.)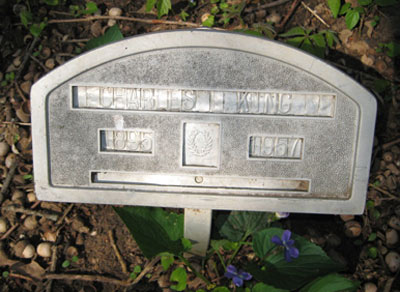 The gravesite of legendary B-western badman Charlie King. Oakwood Cemetery, Whitesboro, Texas. (Thanx to Bobby Copeland.)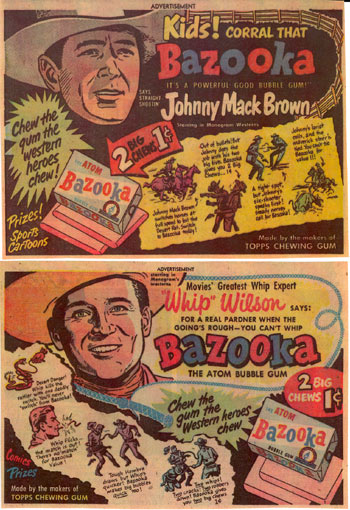 Donna Magers sez, "Bazooka was the best bubblegum! Much better than Swell." Obviously, Johnny Mack Brown and Whip Wilson thought so. Did they call it Bazooka 'cause it "popped" so good?
Hoot Gibson makes a personal appearance at Big Swed's car dealership in Los Angeles. Swed is on the right. Photo probably taken in the '50s.
During the 1940 President's Birthday Ball at the White House, on special request from Mrs. Eleanor Roosevelt's grandchild, Gene Autry came down for a formal introduction.