"Howdy! Welcome to another terrific array of Western Treasures photos!"
George O'Brien in 1932.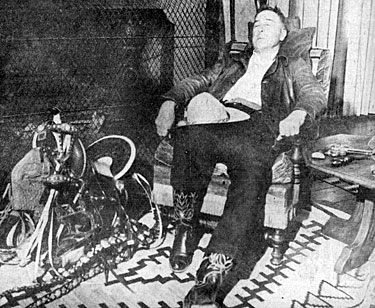 William S. Hart takes a bit of a rest on his 66th birthday in 1958.
John Wayne as Davy Crockett and Richard Widmark as Jim Bowie ride into the Alamo in a tracking shot from "The Alamo" ('60).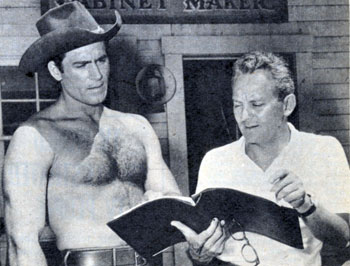 Clint Walker and director Walter Doniger go over the script for another episode of "Cheyenne".
Offscreen, RKO cowboy star James Warren preferred something other than a horse.
Rod Cameron takes a break from filming "Frontier Gal" ('45 Universal).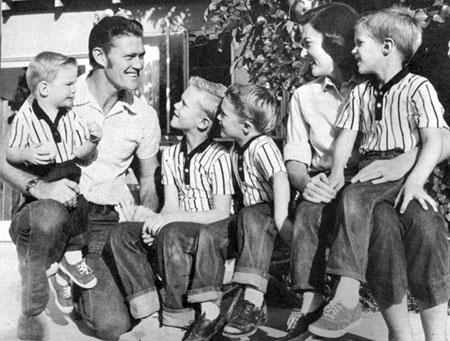 Chuck Connors and family in 1959. Michael, Jeff, Steven, Kevin and wife Elizabeth.
Great affection between Rinty and Lee Aaker (Corp. Rusty) on "The Adventures of Rin Tin Tin".
A night on the town at Ciro's for Jock Mahoney and wife Maggie in 1957.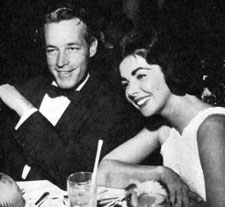 TV's "Wild Bill Hickok", Guy Madison, and wife Shelia enjoy a night out in 1957.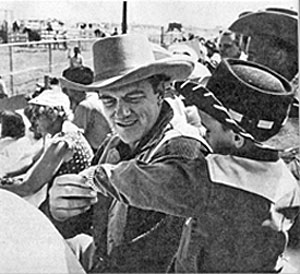 James Arness and a "Gunsmoke" admirer at a 1957 rodeo appearance.

Earl Holliman, star of TV Western "Hotel de Paree" was the hands-on president of Actors and Others for Animals beginning in 1976. This photo is from 1979.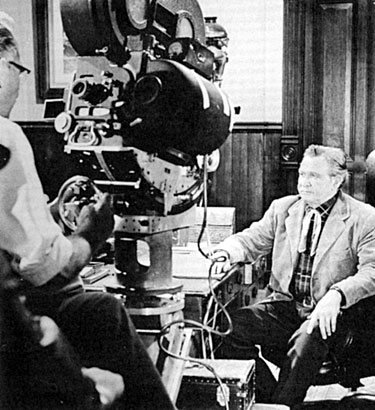 Barton MacLane prepares to shoot a scene for TV's "Outlaws" in 1960.
Director Douglas Heyes explains the next "Outlaws" scene to star Don Collier.
Party time in 1951 Hollywood. (L-R) Hugh O'Brian, Vanessa Brown, Barbara
Lawrence and Dick Erdman. The game they're playing involves a timed effort by a blindfolded contestant to pick up scattered pieces of cotton with a spoon and deposit
them in a large pot.
While filming "Girl of the Golden West" in 1938 star Jeanette MacDonald is serenaded by flutist Buddy Ebsen and banjoist Cliff Edwards. Jeanette doesn't seem particularly impressed with the music.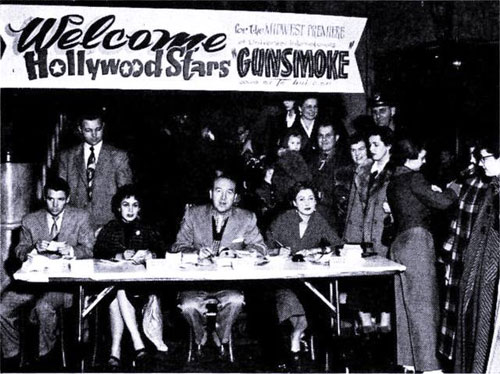 Audie Murphy and Susan Cabot promoting "Gunsmoke" ('53 U-I) in Waterloo, Michigan. (Thanx to Billy Holcomb.)
Candid shot taken during the making of "Hands Across the Border" ('44 Republic). Roy Rogers and the Sons of the Pioneers with veteran stuntwoman Nellie Walker. Bob Nolan inscribed the photo to former stuntman and serial star Joe Bonomo who had worked with Nellie years before. (Courtesy Ed Hulse.)
Gene Autry puts on his spurs for a photo shoot. (Thanx to Billy Holcomb.)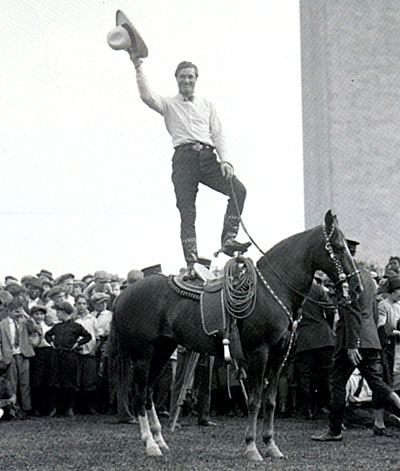 Tom Mix entertains a group of boys with a stunt on Tony on May 21, 1925.
(Thanx to Greg Parrish.)
Leo Carrillo in his tack room at his Carlsbad, CA ranch.
Rodeo champion Yakima Canutt wrestles a steer circa early '20s.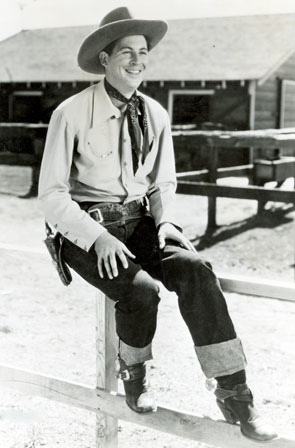 Monogram B-Western star Jack Randall.