Lest We Forget...
The Silent Cowboy Stars!
Tom Mix and Tony in 1926.
Art Acord on Buddy in 1926.
Pete Morrison in July 1926.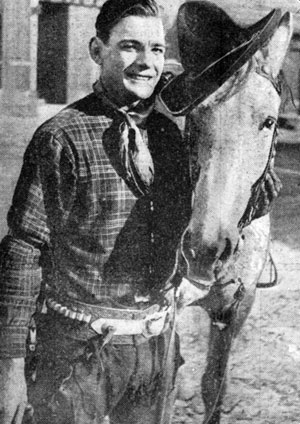 Buck Jones in 1920.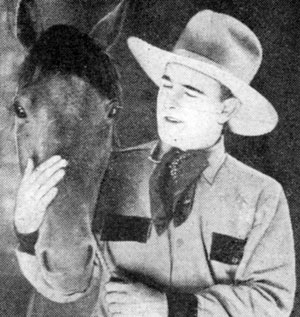 Buddy Roosevelt and his horse Pardner in 1925.
Marie Walcamp was a serial heroine prior to WWI and made many 2-reel westerns. Known as the "Daredevil of the Movies", offscreen this lion was a pet of hers. Photo from 1920.
Dustin Farnum and serial heroine Ruth Roland in 1920.
The first western star, Broncho Billy (left), with a group of unknown men in 1920.
Star of "The Covered Wagon" ('23), J. Warren Kerrigan, relaxes by taking
a swim in 1920.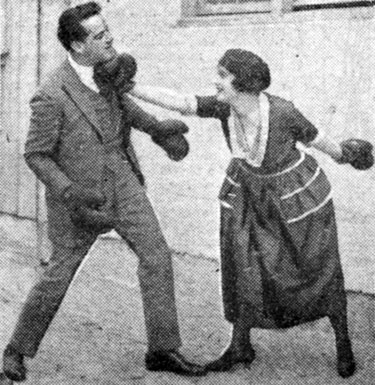 William Russell and Helen Ferguson have a friendly round with the gloves in 1920. Russell was among the Top Ten western stars from 1916-1921. Ferguson was in westerns with Hoot Gibson, Harry Carey, Buck Jones, Tom Mix and others. She was married to William Russell from 1925 til his death in '29.
William S. Hart in 1920 indulging in one of his favorite sports, bowling.
Harry Carey on his ranch in 1920 with a donkey and one of his favorite dogs. Harry also had cattle, rabbits and turkeys on the ranch.
Jack Hoxie and Ann Little (left), stars of the 1919 western serial "Lightning Bryce" with producer and co-star Paul Hurst (kneeling right) and other members of the cast. Ann Little in the larger photo.
In 1920 former circus daredevil turned serial and western star Eddy Polo (left) meets with J. J. Corbett, the one-time heavyweight champion boxer.
William Duncan arranges a new "death" for himself for a 1920 serial chapter ending. During the years 1910-1915 Duncan starred for Selig in scores of short films. In 1917 he starred in and directed his first of ten serials, "The Fighting Trail". He also continued to make western features.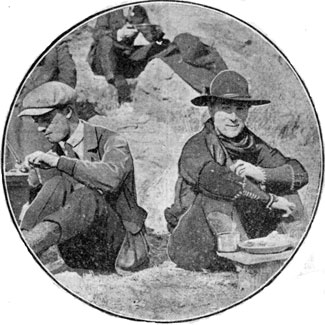 William S. Hart and his oft-time director/writer Lambert Hillyer in 1920. Hillyer directed and/or wrote something like 19 Hart features. He went on to direct B-western greats like Buck Jones, Tim McCoy, Charles Starrett, Bill Elliott, Russell Hayden, Tex Ritter, Tim Holt, Johnny Mack Brown, Rod Cameron, Jimmy Wakely, Whip Wilson
and others.
Lambert Hillyer directs William S. Hart and Ann Little in a scene for "Square Deal Sanderson" (1919).
On location for "The Toll Gate" (1920), William S. Hart (left) and Lambert Hillyer get in a little target practice.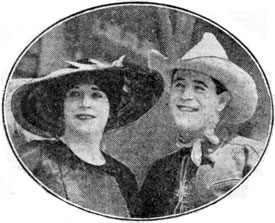 "America's Pal", Neal Hart had been in films since 1914. By 1919 Hart formed his own production company. Dorothy Drake made several two-reelers with Hart.
Tom Mix in 1921 with a pony he has just broken.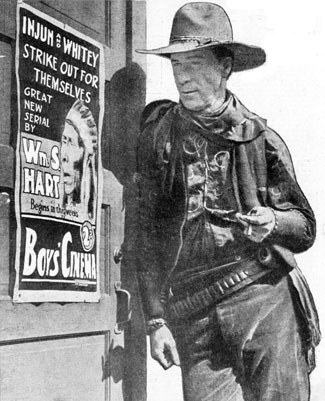 William S. Hart admires a poster promoting a story he wrote for the June 4, 1921, edition of England's BOYS' CINEMA WEEKLY. (Note the cigarette in Hart's hand.)
Kid Kowboy Wesley Barry has his own ideas about his productions. Seen here having a confab with one of his directors. Barry not only expresses his opinions but writes down notes for the benefit of the film's staff. After his starring days, Barry became an assistant director in 1946 and graduated to a director on TV's "Wild Bill Hickok" and others.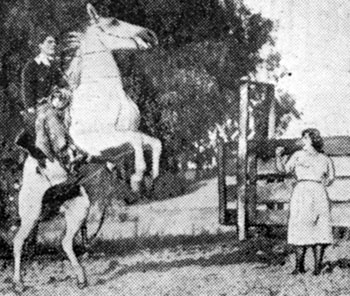 Maryon Aye cowers as Bob Reeves rares his horse in "Streak of Yellow" (1922).
Art Acord lines up a camera shot with his horse Darkey in 1922.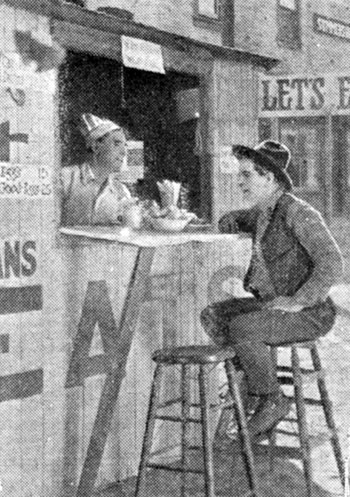 Lunch break for Hoot Gibson while filming "The Galloping Kid" ('22 Universal).
The 1923 version of the "The Spoilers" was the second screen version of Rex Beach's tale of early gold rush days in Nome. Here the cast is at lunch in the Santa Ynez mountains. Director Lambert Hillyer is in the white jacket with his back to the camera. Actor Ford Sterling has on the checkered shirt, Noah Beery is wearing the black hat and Milton Sills has on the light colored hat.
Following the big fight in the 1923 version of "The Spoilers", director Lambert Hillyer (left) and actor Ford Sterling carry Noah Beery (McNamara) while Milton Sills (Roy Glenister) limps beside the stretcher.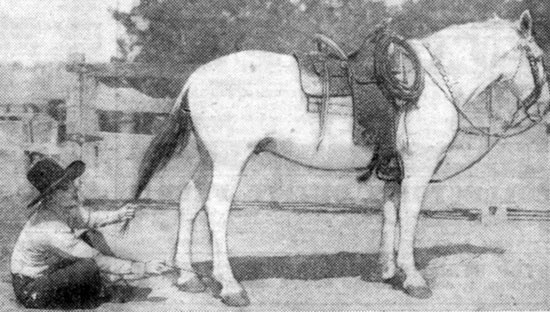 Buck Jones in 1926 proving his horse, Eagle, won't kick.
Buck Jones teaches his horse Eagle how to cross his legs. 1926.