Tim Holt making a speech after accepting an award at ComicCon '72 in Oklahoma City in June 1972. It was the only festival of any kind Tim attended.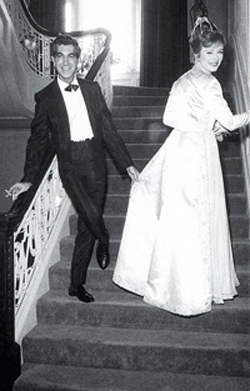 Amanda (Miss Kitty) Blake at an awards ceremony with forner child actor, fashion critic and fashion designer Mr. Blackwell.
Good friends on and off screen, Gail ("Annie Oakley") Davis and Brad
(Deputy Lofty) Johnson.
At a Republic Pictures Reunion in 1972 are (L-R) Director Bill Witney, William Benedict, unknown, unknown, George deNormand, Frank Coghlan, Kirk Alyn, unknown, Tom Steele, Dave Sharpe.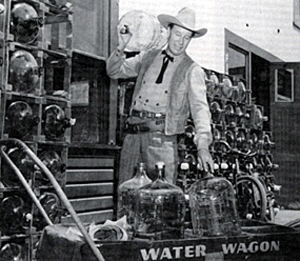 Publicity photo of Bill Elliott loading bottles onto the Republic Studio Water Wagon.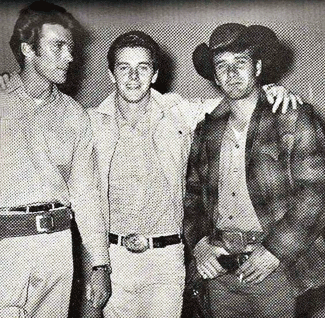 A Gathering of Guns—Clint ("Rawhide") Eastwood, Peter ("Lawman") Brown
and Robert ("Laramie") Fuller.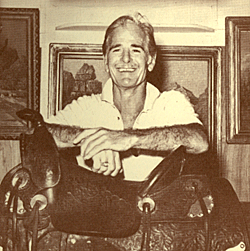 Dave Sharpe with the saddle he used in many Westerns.
Magazine layout publicity shot of Republic's Lynn Merrick and Don Barry.
The Manassa Mauler, Jack Dempsey, World Heavyweight Champion from 1919-1926, clowns around with Gene Autry.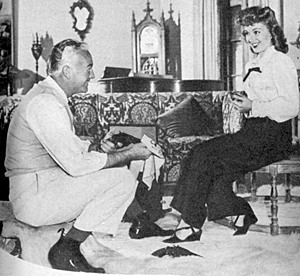 William "Hopalong Cassidy" Boyd polishes his guns in his living room with attentive wife Grace Bradley.
James "Maverick" Garner on the backlot at Warner Bros.
Johnny Western, James Arness and Steve McQueen at the September 1958 dedication of Gunsmoke Street in Dodge City, Kansas. Note Milburn Stone and Amanda Blake above Johnny on the dais. Also in attendance, not pictured, were Chill Wills, David Janssen, Robert Culp. (Thanx to Johnny Western.)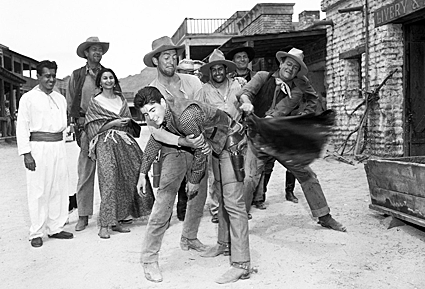 Dean Martin and John Wayne seem to be giving Ricky Nelson a "chaps spanking" on the set of "Rio Bravo".
John and Millie Ericson draw startled looks from whatever John ("Broken Arrow") Lupton is saying!
Monte Hale and Adrian Booth endorse Rodeo Western Shirts from Mayfair.
Meanwhile, back at the ranch...Lash LaRue endorses RC Cola.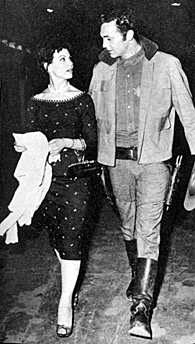 Pat Conway, star of "Tombstone Territory", with girlfriend and actress
Pamela Duncan.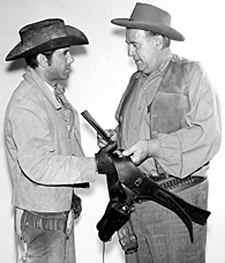 Looks like former Republic badman Roy Barcroft was now a marshal or sheriff on "The Betrayers" episode of "Laramie" wih Robert Fuller.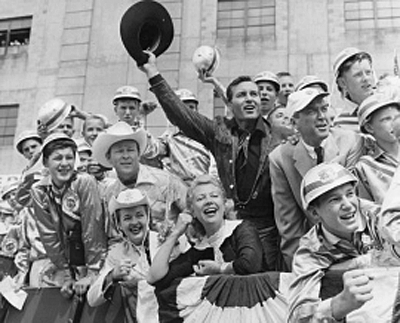 Soapbox Derby fans Roy Rogers, Dale Evans, Dinah Shore, George Montgomery and James Stewart sit in the stands with young racers and fans August 18, 1957 at Derby Downs in Akron, Ohio.
Tex Ritter on the Grand Ole Opry in the '50s with comedian Rod Brassfield.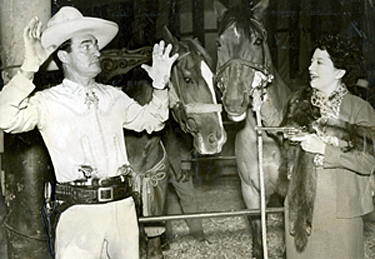 Helen Morgan of "The George White Scandals" scolds Tom Mix, "Let me and my guests into your circus...or else!" July 4, 1936.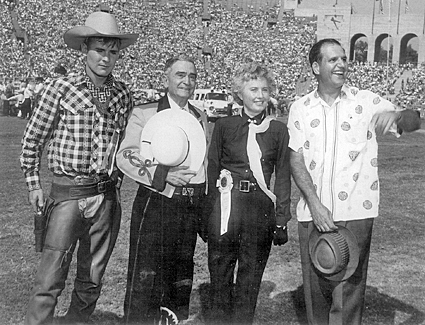 Will ("Sugarfoot") Hutchins, Barbara ("Big Valley") Stanwyck and ??? attend one of L.A. Sheriff Gene Biscaluz's Rodeos.
Tommy Ivo, better known in drag racing circles as TV Tommy and Instant Ivo, was well known in the '50s-'60s drag racing community. He was inducted into the Motorsports Hall of Fame of America in 2005 and ranked number 25 on the National Hot Rod Association Top 50 Drivers from 1951-2000. Tommy was a fixture in several Charles Starrett Durango Kid B-Westerns as well as episodes of "The Lone Ranger", "Tall Man", "Sugarfoot" and others.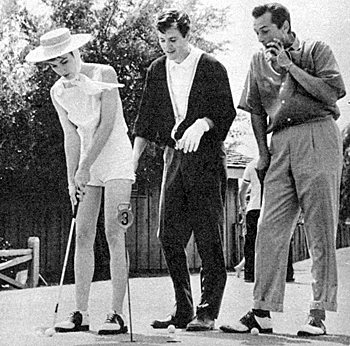 Richard ("Big Valley") Long and his at the time actress wife Mara Corday with their good pal and equally avid golfer Jack ("Maverick") Kelly.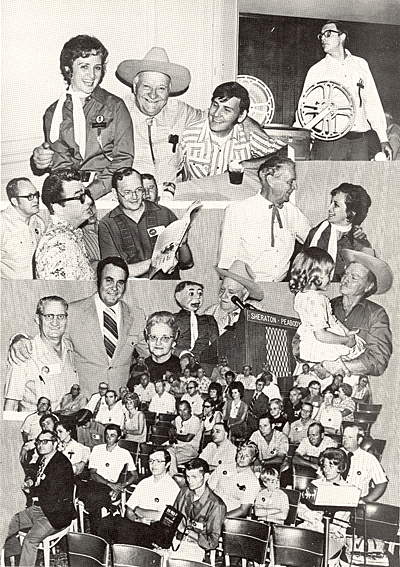 Were you there? The first Memphis Western Film Festival in 1972 with guest stars
Max Terhune, Lash LaRue, Sunset Carson, Russell Hayden and Don Barry.