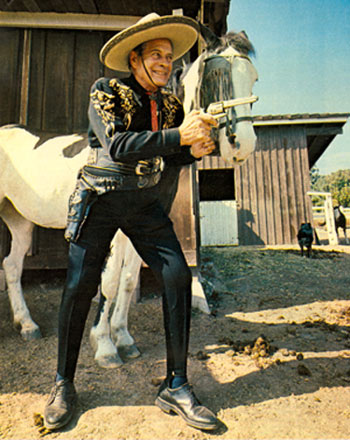 An elder Duncan Renaldo relives some "Cisco Kid" memories, but check out his footgear!
Charles Starrett at 71, reliving Durango Kid memories for an interview in February 1975.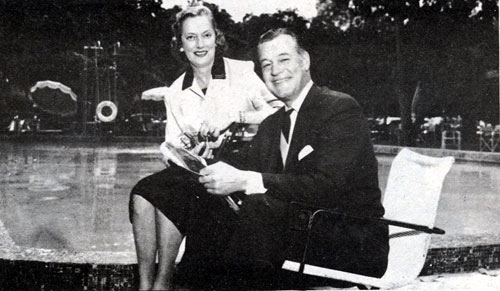 Charles Starrett and wife Mary relax beside their pool.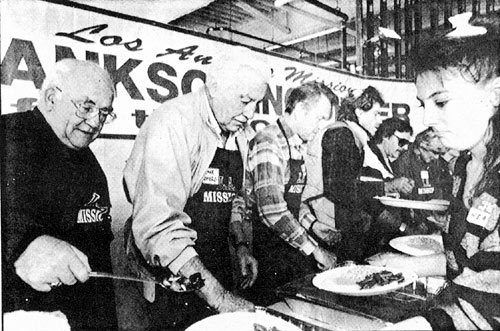 Actors Ed Asner, Cesar Romero (Cisco Kid), Earl Holliman (TV's "Hotel de Paree") help dish up Thanksgiving dinners for the homeless at the L. A. Mission in November '90.
Eddie Dean, country singer Emmylou Harris and Herb Jeffries at an Autry Museum tribute to the singing cowboys in 1992.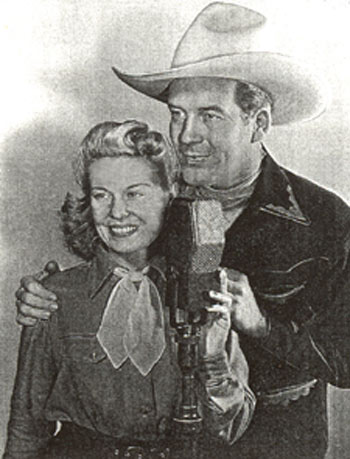 Martha Mears and Dick Foran were featured on "Dr. Pepper's 10-2-4 Ranch" radio show in 1942, broadcast over 122 stations.
Duncan Renaldo, the Cisco Kid, fits his pal Leo Carrillo, Pancho, with a pair of boots at the Justin Boot plant in Fort Worth, TX, during the company's 75th anniversary in 1954.
Duncan Renaldo, The Cisco Kid, at 72 in 1976.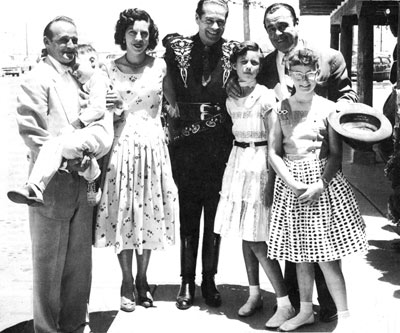 Albuquerque, NM, event promoter Frank Crosby (left) and his family welcome The Cisco Kid (Duncan Renaldo) and Pancho (Leo Carrillo) to Albuquerque circa 1953.
Tex Williams and Rex Allen take Rex's dog Butch for a stroll during a break in the filming of Rex's "Colorado Sundown" ('52 Republic).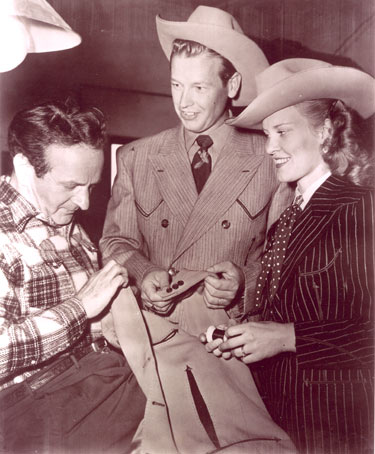 Rex Allen and his wife Bonnie check out a new Nudie suit at Nudie's N. Hollywood tailor shop.
Ken "Festus Haggen" Curtis on "Gunsmoke" endorses Chaparral dogfood in 1983.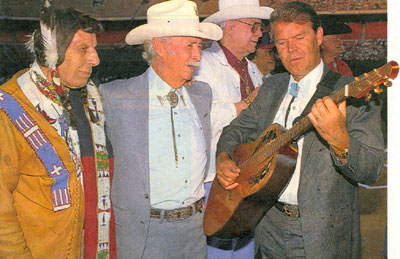 Iron Eyes Cody, Eddie Dean, Monte Hale and Glen Campbell at a Golden Boot Awards.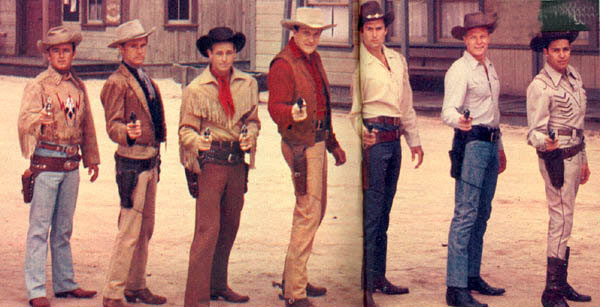 Photo above is from the June 22-28, 1957, TV GUIDE, hence the crease in the middle of Clint Walker.
In this rare photo, left to right, Dick Jones as "Buffalo Bill Jr.", John Lupton of "Broken Arrow", Guy Madison as "Wild Bill Hickok", James Arness of "Gunsmoke", Clint "Cheyenne" Walker, Peter Graves of "Fury" and Dale Robertson of "Tales of Wells Fargo"—although we never saw hin in that fancy outfit.
Photo below is from the same 6/57 issue depicting five new TV western heroes. (L-R) Will "Sugarfoot" Hutchins, Richard Boone, Paladin on "Have Gun Will Travel", James Garner as "Maverick", Ward Bond, Major Seth Adams on "Wagon Train" and James Best, set to star in "Pony Express". (The pilot was made but didn't sell. It later sold starring Grant Sullivan.)
Clayton Moore, the Lone Ranger, at his home in Las Angeles, CA, in 1992.
Classic photo of John Wayne, Randolph Scott and director Budd Boetticher on the set of "7 Men From Now" ('56) which starred Scott and was produced by Wayne's Batjak Produc-tions.
Lucille Norman and Randolph Scott take a break from filming "Carson City" ('52 WB).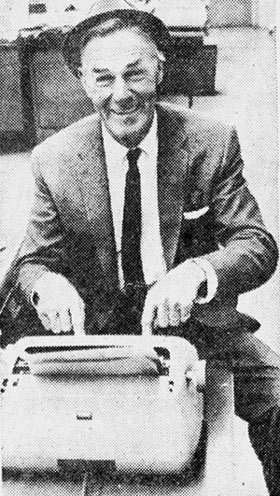 A more urbane Randolph Scott pecks at a typewriter in 1963.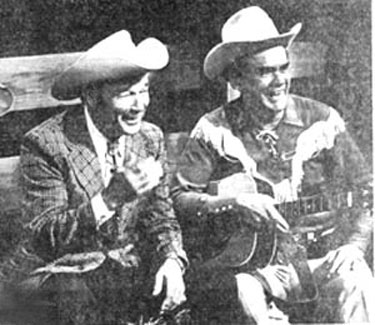 Roy Rogers guested on "Fred Kirby's Rascals" on WBT-TV in Charlotte, NC, in November 1975 as he promoted the release of "Mackintosh and T. J.".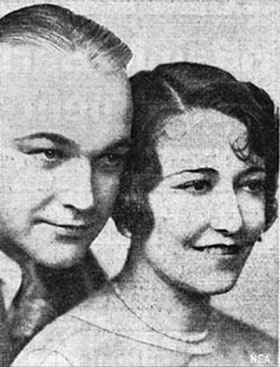 Newlyweds William Boyd and Dorothy Sebastian. 12/23/30 photo. The couple hopped a plane, flew to Las Vegas, hunted up a justice of the peace, were married, and quickly flew back to Hollywood as each had to be at the studio the following day.

Panoramic view of the uncounted thousands of Hopalong Cassidy fans who came to greet Hoppy in Chicago on a cold 17 degree day, January 14, 1950. Hoppy gave a free outdoor show in a parking lot beside Medinah Temple near Ohio Street and Wabash Avenue. Six thousand youngsters filled the temple to capacity at each of the three indoor shows with Hoppy on screen ("Dangerous Venture") and in person.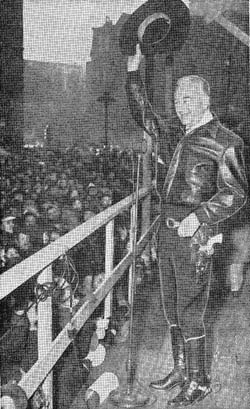 William "Hopalong Cassidy" Boyd waves his hat to the crowd at the outdoor show in Chicago.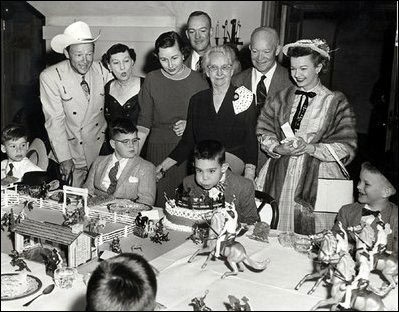 Roy Rogers and Dale Evans help Mamie Eisenhower (next to Roy), Barbara and John Eisenhower (son and daughter-in-law of the president), unknown relative?, and President Dwight D. Eisenhower celebrate grandson David's birthday at the White House in 1956. (Photo courtesy Jerry Dean.)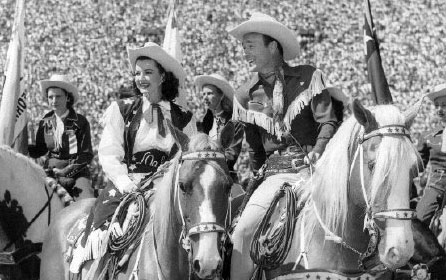 Dale Evans and Roy Rogers before a crowd of over 100,000 at the Sheriff's Rodeo at the L. A. Coliseum in 1949.