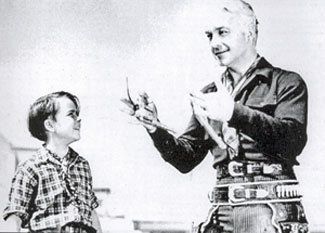 Willliam Boyd (Hopalong Cassidy) impresses young Dickie Jones with some fancy gun handling during the making of "The Frontiersman" ('38 Paramount).
John Smith and Bob Fuller on location for an episode of "Laramie".
An unknown stuntman shows off for Kirk Douglas during the filming of "Along the Great Divide" ('51) in Lone Pine, CA.
Reshearsing a song for a charity affair are Allan "Rocky" Lane (sans hairpiece), Buddy Baer, Tim Spencer, Hoot Gibson, Andy Devine, Ken Curtis and Roscoe Ates.
Toby Wing and Tom Mix stir up a little breakfast aboard the famed "42nd Street" General Electric Kitchen Special. The train traversed the U.S. in early 1933. Stars aboard included not only Mix and Wing but Lyle Talbot, Laura LaPlante, Glenda Farrell, Bette Davis, Eleanor Holm, Preston Foster, Leo Carrillo, Lois January and others.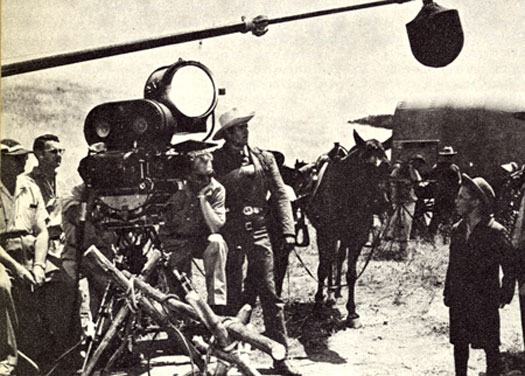 Clint Walker and crew prepare for a "Cheyenne" scene.
In between working on their Warner Bros. shows, Clint "Cheyenne" Walker instructs Will "Sugarfoot" Hutchins on the proper use of gym weights.
Meanwhile, in another gym, Jock Mahoney takes a break and watches
Clint Eastwood work out.
Rodeo queen and Monogram B-Western leading lady Reno Browne looks at some of her many rodeo trophies.
Republic's juvenile star Twinkle Watts bowls a few frames with a little help
from Roy Rogers. Circa 1945.
Wayne Morris and wife Patricia (O'Rourke...Peggy Stewart's sister) attend the opening of the Ice Follies in Hollywood in the Winter of '46. Wayne and Pat were married from '42 until his death in '59.
Attending Universal founder Karl Laemmle's 67th birthday on January 17, 1934 are (L-R) Boris Karloff, Hugh Enfield (aka Craig Reynolds), Ken Maynard, Laemmle (in front of Maynard), Margaret Sullivan, Vince Barnette, Andy Devine and Karl Laemmle Jr.
Western tailor Nudie's wife Bobbie and daughter Barbara pose with Bill Elliott.
Cameron Mitchell of the "High Chaparral" attends a play in Hollywood
with his wife Camille.
Chuck Connors talks about "the rifle" with Charlton Heston.
Dick Cavett interviews John Wayne on the set of his final film "The Shootist" in '76.
Badman LeRoy Mason and Bob Nolan of the Sons of the Pioneers wait for their call to do a scene in Monte Hale's "Home on the Range" ('46 Republic).
Gene Autry visits Richard Dix and director George Nicholls Jr. on the set of "Man of Conquest" ('39 Republic).
Director Frank McDonald shows Gabby Hayes and Dale Evans a location for their scene in "Along the Navajo Trail" ('45 Republic).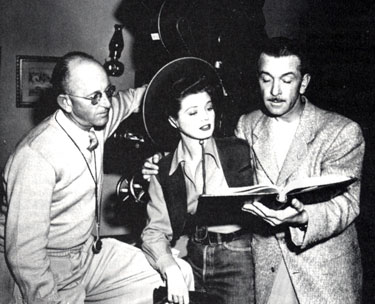 Director John English (right) goes over a script with Gail Davis and Republic
cameraman Bill Bradford.
George O'Brien is ready to shoot a scene for "Last of the Duanes"
('30 20th Century Fox).
Not Western but certainly an interesting photo of 'How Movies Are Made'. Taken in 1935 while filming "O'Shaughnessy' Boy" with Wallace Beery. The director with the pipe is Richard Boleslawski.