Hopalong Cassidy waves to an adoring crowd at the Cotton Bowl in Dallas, TX,
in October 1952.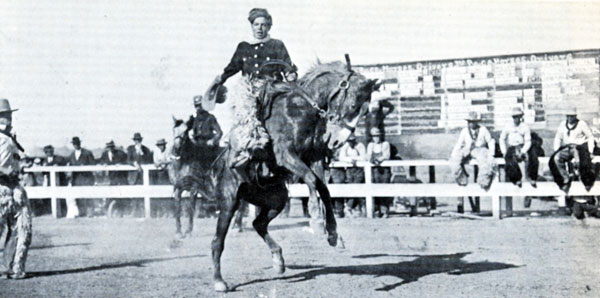 An early day photo of Hoot Gibson making a rodeo ride on Sky Rocket.
Early Western star Jack Hoxie with his granddaughter Georgianna Malaby.
Dale Robertson shakes hands with fans at Tingley Coliseum during the New Mexico State Fair in Albuquerque in 1959.
TV's "Stoney Burke", Jack Lord, receives an honorary membership into the Albuquerque Sheriff's Posse during his appearance at the 1964 New Mexico State Fair.
"Bonanza"'s Lorne Greene and his wife Nancy at their 1961 wedding.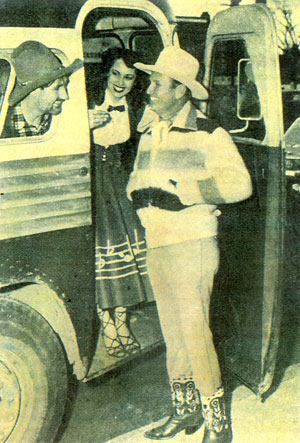 Pat Buttram and Gene Autry chat with Maryjane Johnson (later Maryjane Dodson) of Florida. (Thanx to Dave Owens.)
Will "Sugarfoot" Hutchins and Wayde "Colt .45" Preston go over a script
at Warner Bros.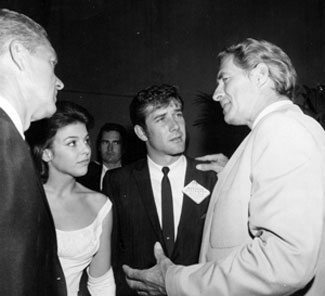 Jock Mahoney tells a few Tarzan stories to Bill Williams, Patti Lyons and Robert Fuller in 1962. (Thanx to Terry Cutts.)
Brothers in the saddle...Johnny Crawford of "The Rifleman"
and Bobby Crawford of "Laramie".
On the Universal backlot, Clint Eastwood shares a joke with actress Arlene Golonka during the filming of "Hang 'Em High". That's director Ted Post approaching the couple.
Having a little fun with Trigger...comedian George Gobel, Roy Rogers and Dale Evans. (Thanx to Janet Brayden and REMINISCE magazine.)
Sgt. Preston of the Yukon (Richard Simmons) and The Lone Ranger (Clayton Moore) appeared together at the Shrine Circus in Harrisburg, PA. Roy E. Walters Sr., Freeman and Noble of Zembo Temple, stands between them. (Thanx to
Janet Brayden and REMINSCE magazine.)
John Wayne teaches some youngsters the art of playing Chess during a break
from filming "Hellfighters". (Thanx to Bobby Copeland.)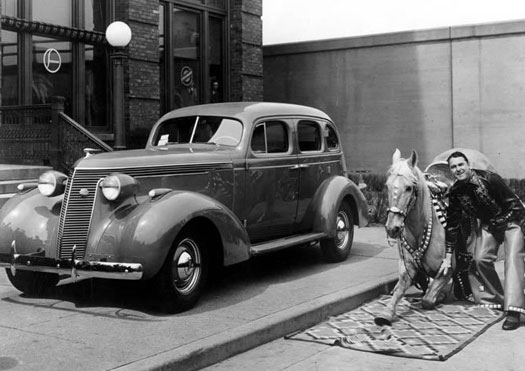 Ken Maynard and Tarzan beside Ken's new 1937 Studebaker. (Thanx to Bobby Copeland.)
Tom Mix visits a Boston, MA, Boy Scout troop. (Thanx to Jerry Whittington.)
Clint Walker always stayed in shape while making "Cheyenne"
...and he still does to this day.
A health food nut in 1966...Will "Sugarfoot" Hutchins.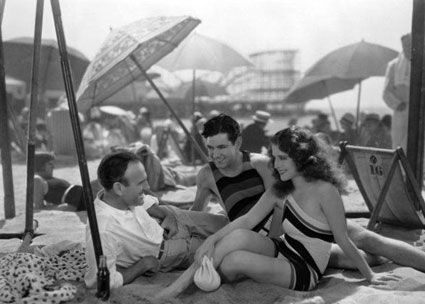 A day at the beach with director Sam Wood, Johnny Mack Brown and Norma Shearer.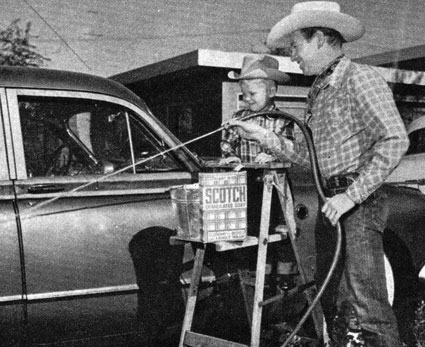 Before you jump to conclusions...that's a brand of soap Rex Allen and his son Rex Jr. are using to wash their car.
Madge Bellamy and George O'Brien on location for "The Iron Horse" in 1924,
directed by John Ford.
A great action shot from TV's "Cowboy G-Men" starring Russell Hayden. The badman is caught by the camera in freefall from the rooftop.
"The Virginian", James Drury, with his second wife from '68-'79, Phyllis Mitchell.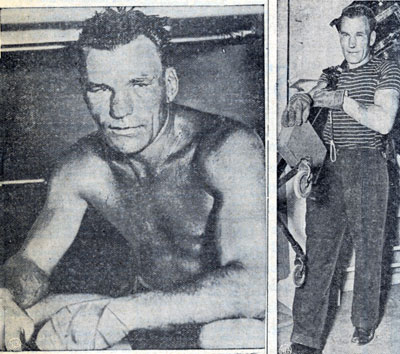 Two photos of 36 year old Jack Roper in February 1939. Roper was in training for his World Heavyweight Boxing Championship fight with Joe Louis. In the fight on April 17, 1939, Roper was KO'd in the first round. Roper, who had scored nine first round knockouts in his career briefly stunned Louis in the first round before being knocked out in 2 minutes 22 seconds. The entire fight can be seen on You Tube. Roper compiled a professional boxing record of 54-44-9 with 27 knockouts. Roper was born March 25, 1904, in Ponchatoula, LA. Besides his boxing career, he acted in films from 1928-1952 and worked in between films as an electrician in movie studios. Roper's Westerns were "Flaming Frontiers" serial ('38) w/Johnny Mack Brown; "Wall Street Cowboy" ('39) w/Roy Rogers; "Heroes of the Saddle" ('40) w/The Three Mesquiteers; "West of Carson City" ('40) w/Johnny Mack Brown and Bob Baker; "Ridin' the Cherokee Trail" ('41) w/Tex Ritter; "North from the Lone Star" ('41) w/Bill Elliott; "Lone Star Lawmen" ('41) w/Tom Keene; "Rolling Down the Great Divide" ('42) w/Lee Powell, Art Davis and Bill Boyd; "Dakota" ('45) w/John Wayne and a "Cisco Kid" TV episode in '50. He's also in seven Joe Palooka Monogram features in the late '40s. Roper died at 62 November 1, 1966, of throat cancer.
Since so many Westerns were made about Frank and Jesse James, we thought this February 2, 1939, newspaper article was of interest.