Dale Robertson clowns on the piano with Steve Allen on a
"Steve Allen Show" in 1958.
James Arness as "Gunsmoke"' s Matt Dillon on the "Ed Sullivan Show" January 12, 1958. (Thanx to Terry Cutts.)
Johnny Mack Brown, Fay Wray and Jesse Lasky at a Gary Cooper home party.
(Thanx to Bobby Copeland.)
Circa mid-'20s, Tom Mix stands beside a camera truck. (Thanx to Page Williams.)
At Corriganville, Ray "Crash" Corrigan gets a hug from an adoring fan.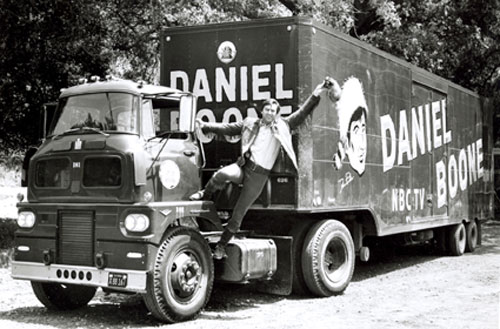 Ready for the fourth season of "Daniel Boone", Fess Parker waves a go-ahead from the cab of the 40 ft. 20th Century-Fox property truck. (Thanx to Neil Summers.)
On the Warner Bros. backlot producer Bill Orr (center) talks with Wayde ("Colt .45") Preston, Clint ("Cheyenne") Walker, Will ("Sugarfoot") Hutchins and James ("Maverick") Garner. (Thanx to Neil Summers.)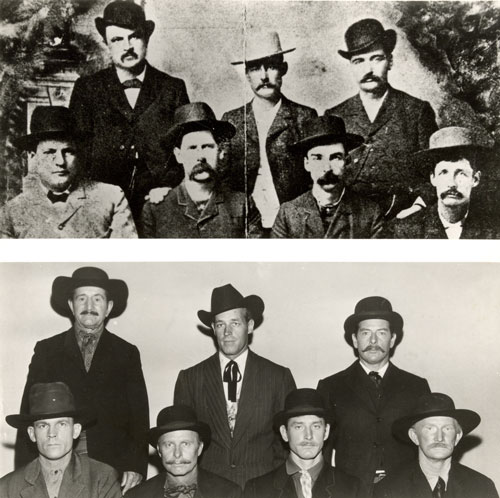 "Death Valley Days" researchers obtained an actual photo of the famous Dodge City Peace Commission (top) to use as typecasting for the "Extra Guns" episode starring Guy Madison (below center). Top photo (L-R) are W. H. Harris, Luke Short, Bat Masterson, Charlie Bassett, Wyatt Earp, Frank McClain and Neil Brown. (Thanx to Neil Summers.)
Michael Landon poses in front of the "Bonanza" map. (Thanx to Neil Summers.)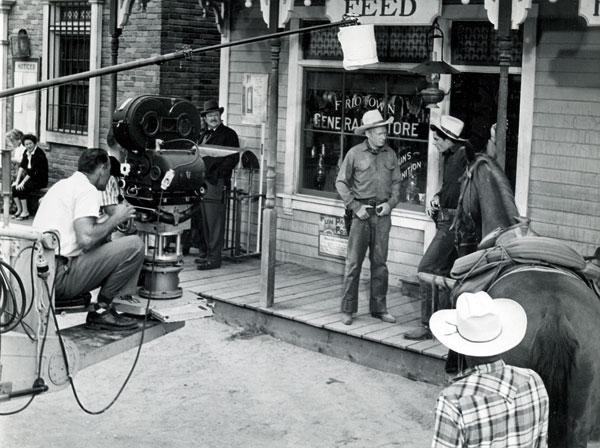 Shooting a scene for Disney's "Texas John Slaughter" with Harry Carey Jr. and Tom Tryon. Character actor Hugh Sanders stands on the left. (Thanx to Neil Summers.)
Hugh O'Brian and friend relax poolside at the Broadmoor Hotel in Colorado Springs, CO, in the early '60s.
Hoot Gibson and his leading lady stand beside a Universal Sound truck in the early '30s.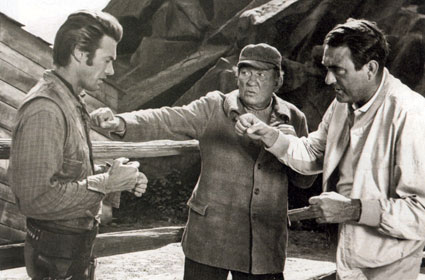 Victor McLaglen and son Andrew McLaglen (directing) give Clint Eastwood a few pointers on the proper way to throw a punch on the set of "Rawhide" in '59.
John Wayne sits idly by as director Andrew McLaglen provides some direction to Yvonne De Carlo on the set of "McLintock!" ('63).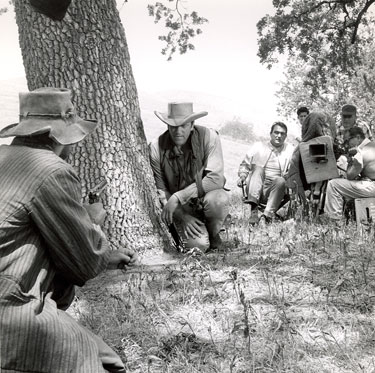 Director Andrew McLaglen guides James Arness through a scene for "Gunsmoke".
(Thanx to Neil Summers.)
Maurice Chevalier goes western with William S. Hart in 1932.
The casts of two Warner Bros. westerns were shooting on adjacent locations when they came together for this photo in 1949. (L-R) Bob Steele, Bruce Bennett, James Brown, Wayne Morris, Joel McCrea, Victor Jory. Steele, McCrea and Jory were working on "South of St. Louis" while Bennett, Brown and Morris were working on "The Younger Brothers".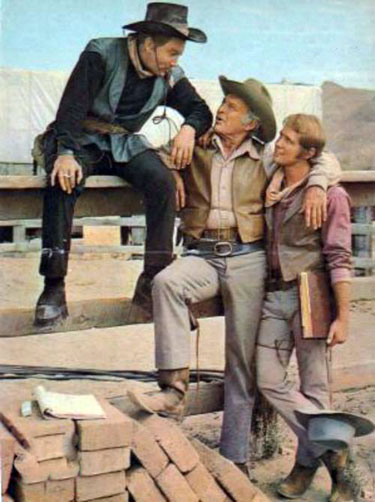 Cameron Mitchell, Lief Erickson and Mark Slade take a break from filming of TV's "High Chaparral". (Thanx to Marianne Rittner-Holmes.)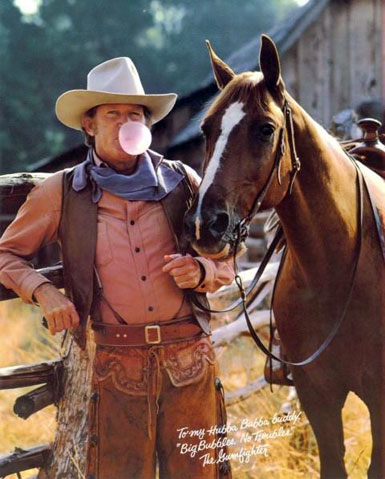 Foreman Sam of "High Chaparral", Don Collier, and his famous Hubba Bubba Bubble Gum commercial.
Fans gather round as Dub Taylor and Don Collier film a Hubba Bubba Bubble Gum commercial. (Thanx to Marianne Rittner-Holmes.)
Rod Cameron gets a fencing lesson in preparation for "Pirates of Monterey" ('47 Universal). (Thanx to Bobby Copeland.)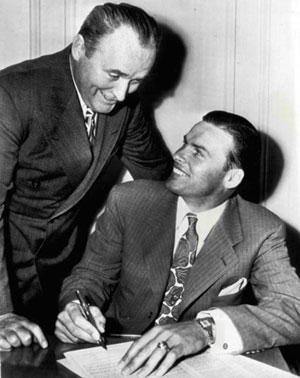 John Kimbrough starred in "Sundown Jim" and "Lone Star Ranger" for 20th Century Fox in 1942. He later served as an Army pilot in the Pacific Theater of Operations during WWII. Returning from service Kimbrough played football with the Los Angeles Dons of the All America Football Conference. Here L.A. Dons manager Slip Madigan is with Jarrin' John whose football career was cut short by a series of heart attacks that started when he was only 30. He was forced to leave the game in '48 after three seasons with the Dons.
Roy Rogers rears Trigger in front of the Arcadia Theater in Temple, TX, in 1943.
(Thanx to Donna Brooks Brisbin.)