William S. Hart and Will Bill Elliott. Elliott revered Hart and molded his screen presence after Hart. (Photo courtesy Bruce Hickey of Australia.)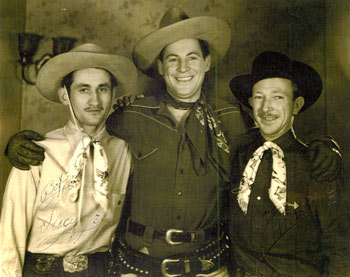 As best we can determine, this photo of Jack Randall was taken in Houston, TX, during a personal appearance in the late '30s. The other two fellows in the photo signed it and put a Houston address in the margin below the photo, possibly hoping Randall could get them into his pictures. Best guess is they are members of a Houston music group as both have on identical bandanas. Fellow on the left signed "Bob Slacy" (or could be Stacy if he forgot to cross his T). Man on the right signed his picture George Christie. Author Merrill McCord who wrote the definitive book on Randall and his brother Bob Livingston, BROTHERS OF THE WEST, tells us he knows Randall sang at his personal appearances, so chances are he used local western musicians to accompany him. (Photo courtesy Gordon Gregersen.)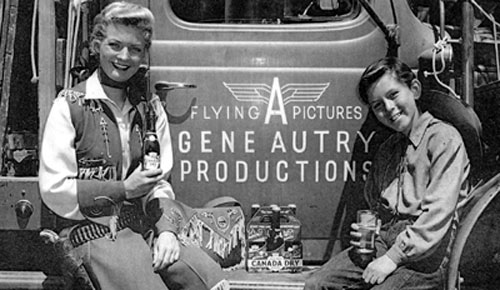 Gail Davis as Annie Oakley and Jimmy Hawkins as her kid brother Tagg pause beside a Gene Autry Flying A equipment truck in 1953 to enjoy some Canada Dry. (Photo courtesy Jimmy Hawkins.)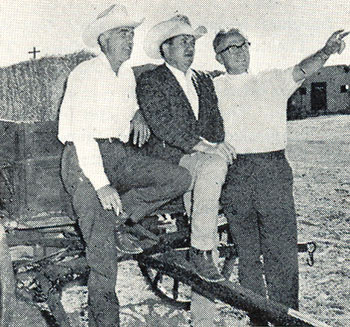 (L-R) J. W. Eaves, western writer Max Evans and Santa Fe, NM, independent producer Fred Patton as they began work in June 1968 for the first western movie street on the Eaves Ranch near Santa Fe. Several TV series and movies had already been shot on the ranch before the townsite was constructed for "Cheyenne Social Club" ('69).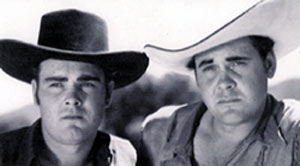 Sunset Carson (R) and his brother Dale who appeared with Sunset in several of Sunset's lowbudget Yucca Pictures in 1948.
Autographed photo of Tom Keene circa early '40s reads "Jean, you're a chicky. Best Wishes Always, Tom Keene." (Photo courtesy Bobby Copeland.)
Monte Hale entertains a group of young fans at a theatre in 1946. (Note the poster of Jane Russell in "The Outlaw" behind Monte.) (Photo courtesy Mrs. Joanne Hale and The Autry National Center.)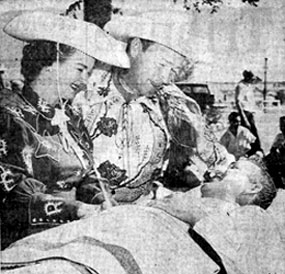 Newspaper photo of Roy Rogers and Dale Evans, starring at the New Mexico State Fair in October, 1957. Visiting local hospitals, here they talk with Rex Richards who recalled meeting Roy back in 1947.
Uncredited B-western bit player Harry "Rube" Dalroy, also known as the Mayor of Gower Gulch, as he chalks up another mayoral victory on April 11, 1952. Dalroy, who was in his early 70s when this photo was taken, appeared in over 110 westerns from 1923 through 1952. Usually seen as a barfly or background townsman, his last appearance seems to be in Bill Elliott's "Waco" ('52). Gower Gulch, of course, was the popular gathering spot for Hollywood's Poverty Row cowboys.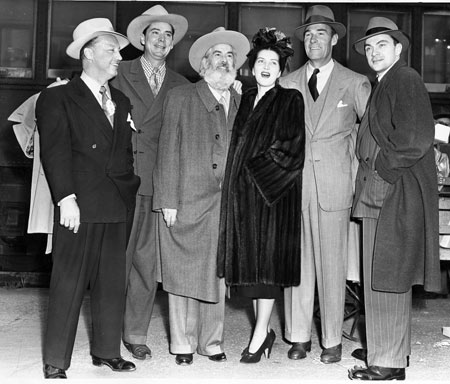 (L-R) Producer Bill Thomas, stars Russell Hayden, Gabby Hayes, Catherine Craig, Randolph Scott and Larry Blake in San Francisco during a promotional tour for the Pine-Thomas production of "Albuquerque" ('48 Paramount). (Oddly, Larry Blake is not in the movie.)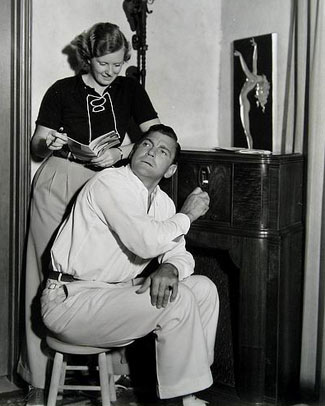 Are Buck and Dell Jones trying to tune in Buck's "Hoofbeats" radio program? (Photo courtesy Bobby Copeland who wants you to note the photo or statuary on top of the radio.)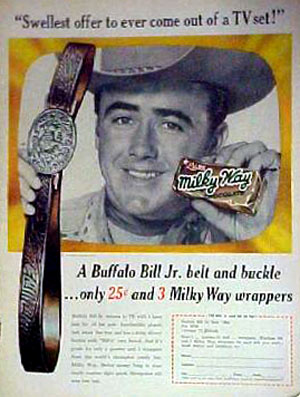 Sure wish I had one of these. The belt, not the Milky Way. Dick Jones starred on "Buffalo Bill Jr." from '55 to '56. (Courtesy Ray Nielsen.)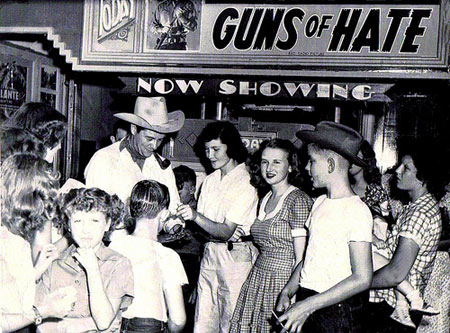 What a day this must have been in Mangum, OK, in August 1948! RKO's Tim Holt was in Mangum for a rodeo and parade and stopped off at not just one, but two, theatres both showing "Guns of Hate" ('48). Top photo shows Tim at the Temple Theatre with the bottom photo taken at the Greer Theatre the same day. (Photos courtesy Billy Holcomb.)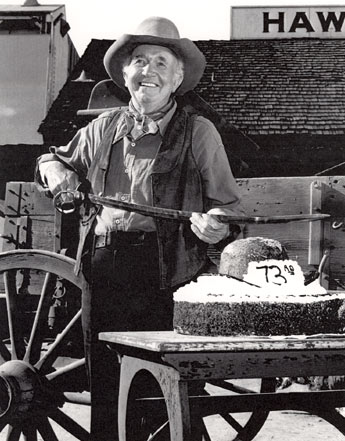 Walter Brennan jokingly celebrates his 73rd birthday on the set of his series "The Guns of Will Sonnett". (Photo courtesy Neil Summers.)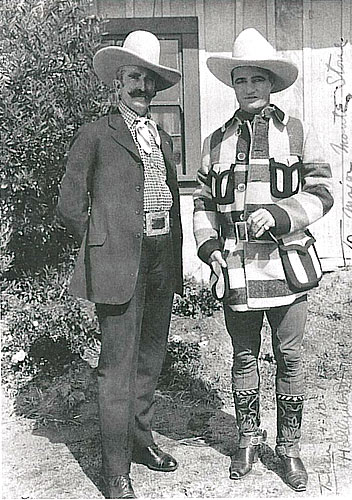 Rare photo of bit player Tex Cooper and Tom Mix. Probably taken in the early '20s although the "Taken" date on the right of the photo seems to read 4-10-1, which makes no sense. (Photo submitted by Bobby Copeland.)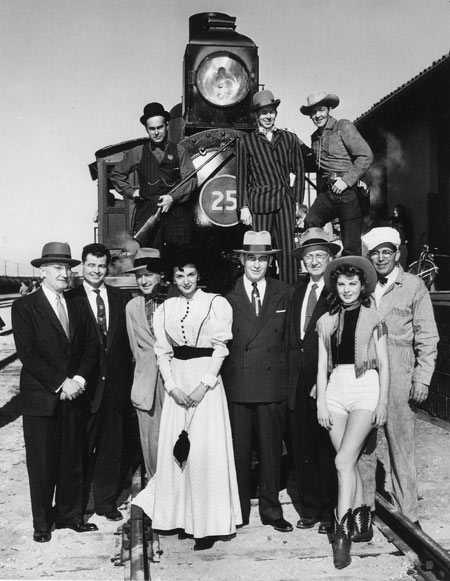 Actress Jan Shepard (in shorts) represented Union Pacific Railroad as Miss Union Pacific for two years, circa '52-'54. She did all advertising for Union Pacific during that time. Her husband-to-be, Dick London is standing on top of the train, to the right. London played Morgan Earp on Hugh O'Brian's "Wyatt Earp" TV series.
He had the most gorgeous head of hair in westerns! Dale Robertson gets a trim in Jackson, MS, during a personal appearance there. (Photo courtesy Danny Brown.)
1946 photo of Eleanor Roosevelt with the Goldwyn Girls during a publicity tour for the movie "The Kid From Brooklyn". B-western actress Virginia Belmont is in the back center, hat on, directly behind Mrs. Roosevelt. The only other ID'd girl is Shirley Ballard at the bottom left. Can anyone ID any of the other ladies? Belmont co-starred in B-westerns with Johnny Mack Brown, Jimmy Wakely, Hopalong Cassidy and in the serial "Dangers of the Canadian Mounted" ('48).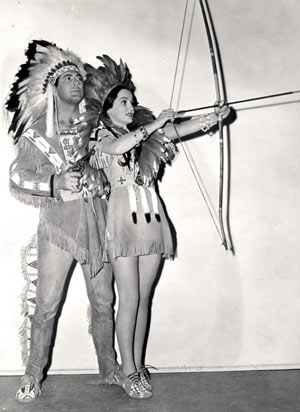 1942 Universal Pictures publicity photo of Johnny Mack Brown and an unknown starlet. Possibly taken as promotion for Abbott and Costello's "Ride 'Em Cowboy" which co-starred Brown and Dick Foran. (Photo submitted by Bobby Copeland.)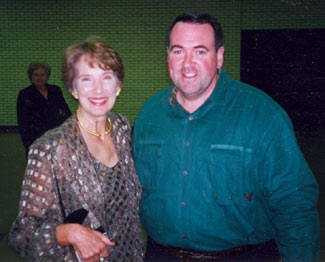 Julia Adams attended a film festival in Little Rock, AR, in October, 2000, and had this picture taken with then governor and later presidential candidate Mike Huckabee.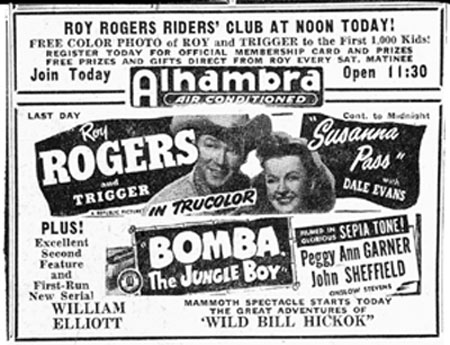 If only we could go to the movies today and see this kind of entertainment! This ad from the good old days of 1949.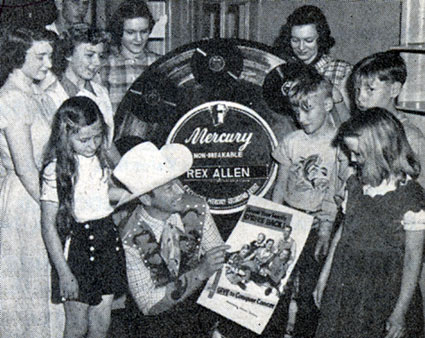 Republic's Rex Allen poses in June 1951 with a group of children against the backdrop of an enlarged Mercury Record (his label) during a cross country tour for the Cancer Drive.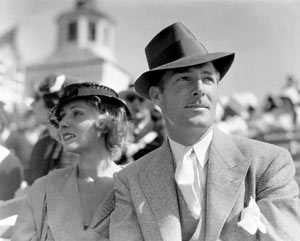 Randolph Scott and Vivian Gaye at the July 2, 1933, Los Angeles National Air Races. (Photo submitted by Bobby Copeland.)
Ken and Kermit Maynard's boyhood home in Vevay, IN, as it looks today. (Photo courtesy Richard Dzwonkiewicz.)