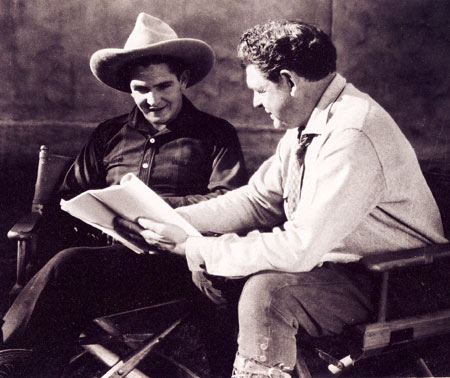 Bob Steele and his father, director Robert Bradbury, look over a script for one of Bob's early B-westerns.
Rex Bell and his "It Girl" wife, Clara Bow. (Thanx to Bobby Copeland.)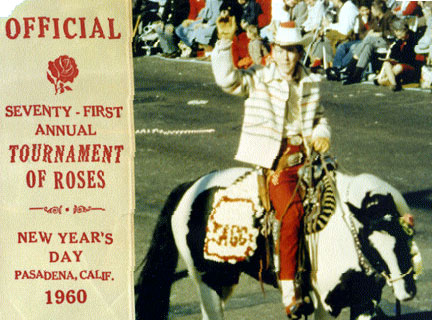 Jimmy Hawkins, Tagg Oakley on TV's "Annie Oakley", rides Pixie in the Tournament of Roses Parade.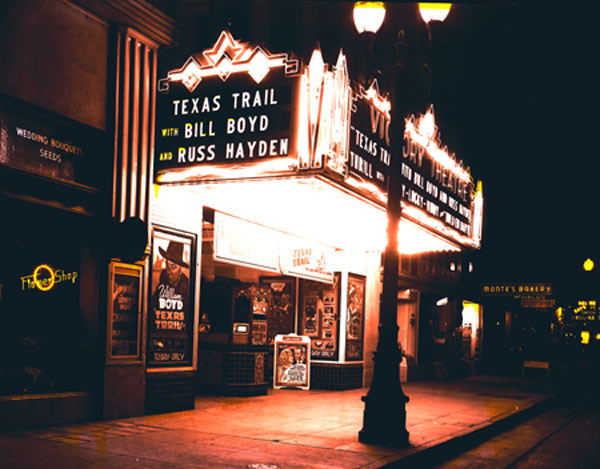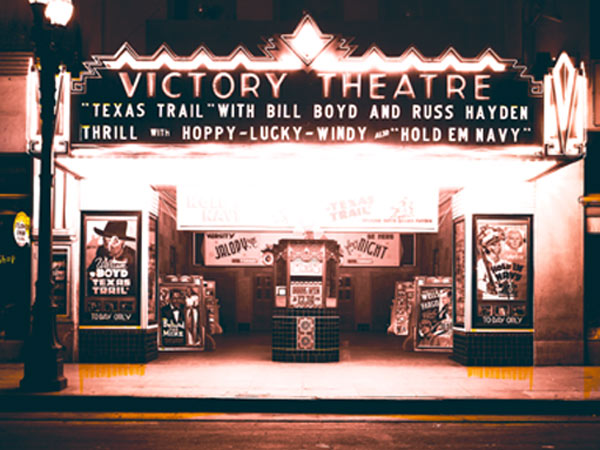 Nostalgia! Here's the way we used to enjoy going to the movies. Two shots of the Victory Theatre (anybody know in what town this theatre might have been?) in 1941 showing a double feature of Hoppy's "Texas Trail" (in re-release) and "Hold 'Em Navy" with Abbott and Costello. Notice the poster to the right of the boxoffice shows "Wells Fargo" with Joel McCrea as coming soon.
Jan(e) Clayton and Russell Hayden in a scene from "In Old Mexico". At the time this picture was taken (7/28/38) Russ and Jan were engaged to be married.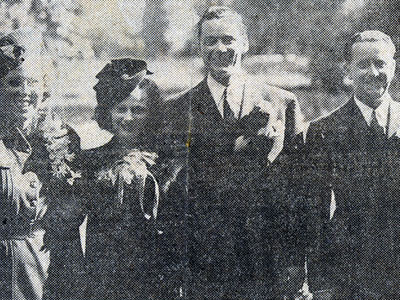 Actress Jan(e) Clayton (of Tularosa, NM) and her new husband Russell Hayden who was then working on the Hopalong Cassidy series as Lucky. The couple was married in October 9, 1938 in Tularosa. (L-R) Miss Leota Bradford, bridesmaid; Jan Clayton, Russell Hayden and Hayden's brother, F. J., of North Hollywood, CA. The Haydens Honeymooned in San Francisco.
Apologies for the water damage on this photo which came from Russell Hayden's private files which we acquired several years ago. As a matter of fact, all the above material came from those files. This gag-publicity shot of Jackie Coogan (left) and Russell Hayden (right) was made during the filming of their "Cowboy G-Men" TV series. ('52-'53). We believe the man in the middle, being handed money by Coogan and Hayden, to be director Reg Browne. Can anyone confirm or deny?
1933 promotional photo of Buster Crabbe and Frances Dee (aka Mrs. Joel McCrea) taken while the couple were making "King of the Jungle" for Paramount. (Thanx to Bobby Copeland.)
(L-R) NBC programming executive Alan Livingston, Lorne Greene, "Bonanza" creator David Dortort speak with another NBC programming executive Jerry Stanley in 1959, the year "Bonanza" debuted on NBC. Livingston's brother, Jay Livingston, and Ray Evans wrote the "Bonanza" themesong. Incidentally, it was Livingston who later, at Capitol Records, ignoring reccomendations, decided to release the Beatles' records in the U. S. (Photo from BONANZA GOLD, Vol. VII, #4.)
Tom Mix learns to walk after being kicked by a horse eight weeks previously. With him is his wife, Mabel Ward. Photo taken December 4, 1935. Mix was kicked by an angry horse while appearing with a circus in Alva, OK. He finished the circus tour, appearing before the public in a wheelchair.
Kelo Henderson, star of TV's "26 Men", displays his expertise in six-gun handling and fast draw before a group of attentive "Indians" in Germany while Kelo was filming "Pyramid of the Sun God" with Lex Barker in 1965.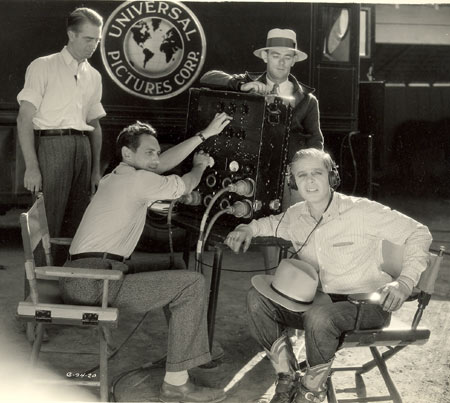 Two behind the scenes pics of Hoot Gibson as he checks out the sound recording on his early 1929 Universal sound westerns.
Gabby Hayes introduces Roy Rogers to Richard Dix on the set of "Man of Conquest" in which Dix played Sam Houston. Hayes had a character role in the big budget Republic feature which was released in 1939. (Thanx to Bobby Copeland.)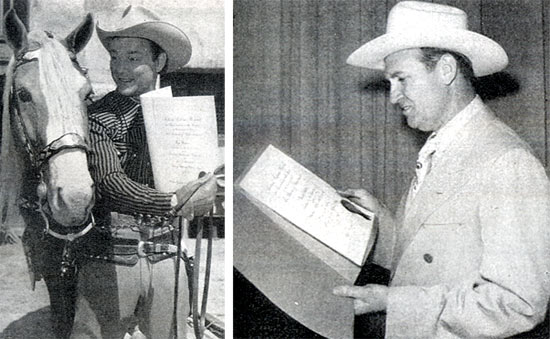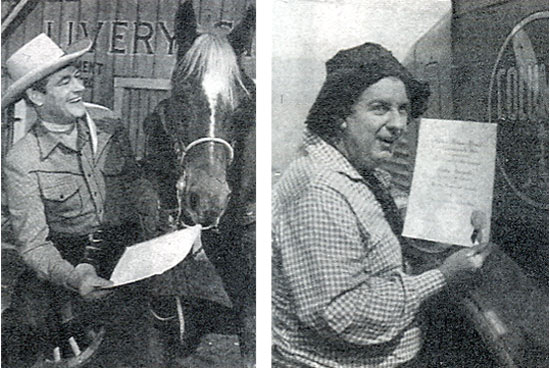 "Look Trigger, we're #1," Roy Rogers seems to be telling his golden palomino. Roy was voted #1 by the motion picture exhibitors of America for the MOTION PICTURE HERALD tradepaper's annual poll of "The Ten Best Moneymakers" in the western field. Other winners pictured are Gene Autry, Charles Starrett, Smiley Burnette, Gabby Hayes, William Boyd and Johnny Mack Brown. Director Michael Curtiz (bottom right) was voted Champion of Champion Directors for the seventh consecutive year.
Tim McCoy recruiting among the Bannock Indians at Fort Hall, Idaho, in 1922 for Jesse Lasky's "The Covered Wagon" ('23). The man on Tim's right wears the typical old time Bannock hairstyle. The man on Tim's left, Black Thunder, has his left hand wrapped in a blanket to hide his bear claw.
Wayne Morris on a tour of military bases in France, Germany, Austria and Italy in May, 1954, talks with some soldiers at the Carlton Hotel in Frankfurt, Germany. As a Navy pilot flying off the U. S. S. Essex, Morris shot down 7 Japanese planes and helped sink several enemy ships. (Thanx to Bobby Copeland.)