Cowboy Product Endorsements and Merchandising! Vol. 1
Ad from PLAYTHINGS magazine January 1950. (Thanx to Billy Holcomb.)
A Wheaties breakfast for Roy Rogers. (Thanx to Jerry Whittington.)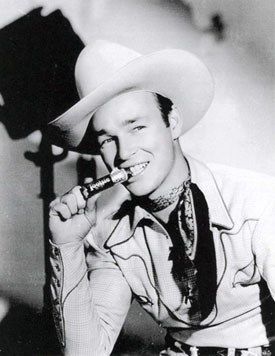 Roy Rogers enjoys a Tootsie Roll.
Roy had his own chain of restaurants...many are still open in the Eastern
part of the country.
October 1949.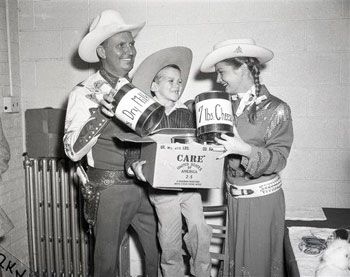 Gene Autry, Gail "Annie Oakley" Davis and five year old Mark Ryan help promote C.A.R.E. in 1956 Chicago. (Thanx to Roy Bonario.)
Like Roy, Gene Autry enjoyed his Wheaties also. (Thanx to Jerry Whittington.)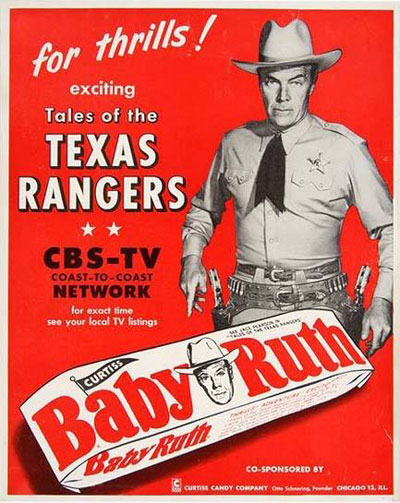 Curtiss Candy of Chicago sponsored "Tales of the Texas Rangers" starring Willard Parker as Jace Pearson and Harry Lauter as Clay Morgan.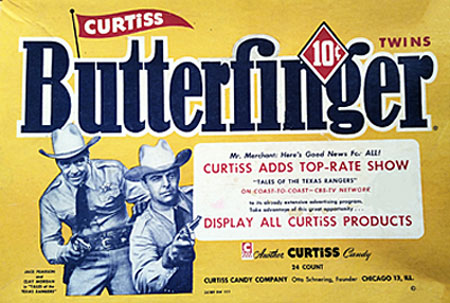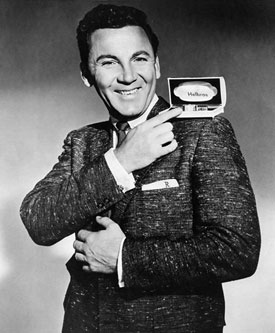 Cameron Mitchell of "High Chaparral" touts Helbros Watches in 1957. (Thanx to Marianne Ritner-Holmes.)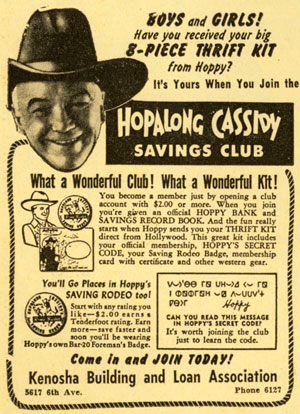 In the '50s Hoppy Savings Clubs were a staple at many banks and Savings and Loan associations. This 9/16/52 ad is from a Kenosha, WI newspaper.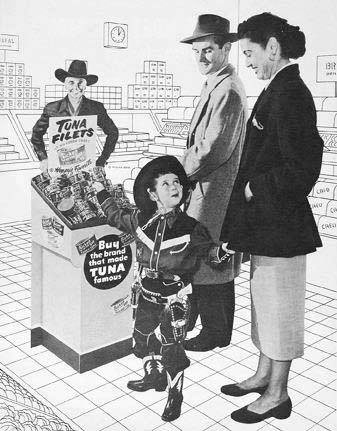 Hopalong Cassidy was tied in with hundreds of products in the '50s including
Chicken of the Sea tuna.
RCA gave us a color "Bonanza" in 1959.
"The Lone Ranger" and Cheerios were synonymous in the '50s.
Without a doubt the biggest TV Western star of them all, Clint "Cheyenne" Walker endorses Acme Boots in this montage. (Thanx to Lonnie Chapman.)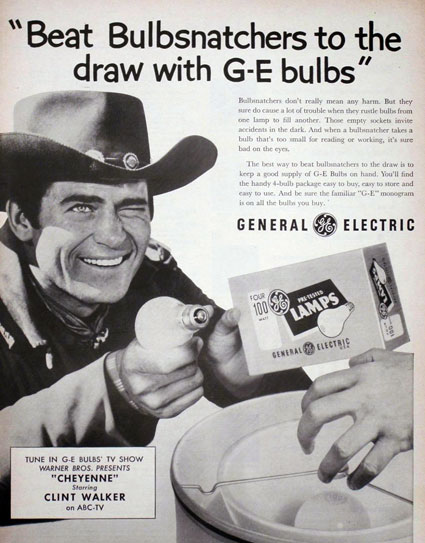 G-E was one of the sponsors of "Cheyenne".
Canada Dry didn't use her name but that's Gail Davis as Annie Oakley.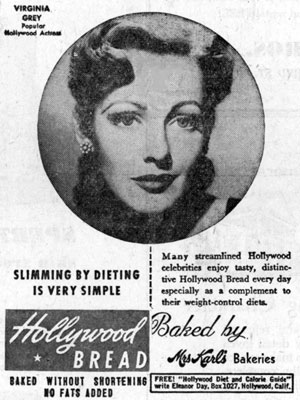 Lovely Virginia Grey endorses Hollywood Bread in this 2/19/50 ad. The oft times Western actress co-starred in "Secret Valley" ('37) w/Richard Arlen, "Bells of Capistrano" ('42) w/Gene Autry, "Idaho" ('43) w/Roy Rogers, "Wyoming" ('47) w/Bill Elliott, "Desert Pursuit" ('52), "Fighting Lawman" ('53), "Forty-Niners" ('54) all with Wayne Morris, "No Name on the Bullet" ('59) w/Audie Murphy and TV Westerns such as "Trackdown", "Yancy Derringer", "Wagon Train", "Stagecoach West", "Virginian" and "Bonanza".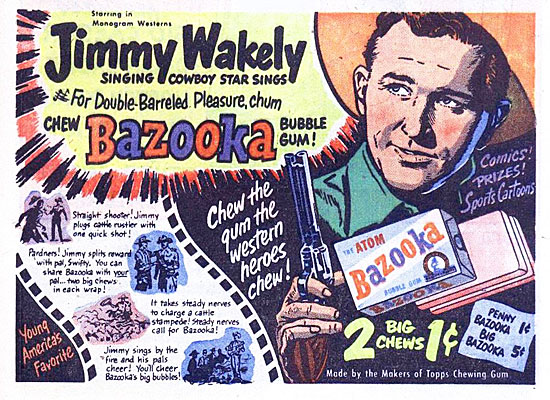 Here's Jimmy Wakely, one of the many B-Western stars Bazooka used to sell
their bubble gum.
Gary Cooper for Chesterfield on 7/15/40.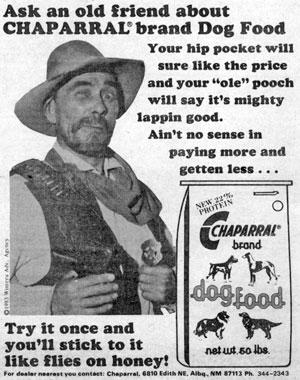 Ken Curtis as Festus in 1983.
Ken Curtis wears Tony Lama boots.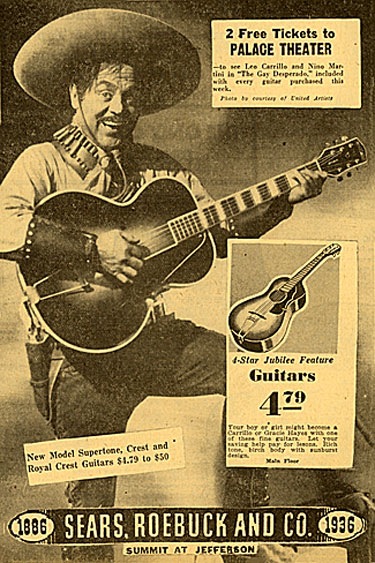 The way the ad reads, "photo courtesy of United Artists", I wonder if Leo Carrillo even knew he was endorsing guitars for Sears, Roebuck and Co. This ad dated 12/2/36.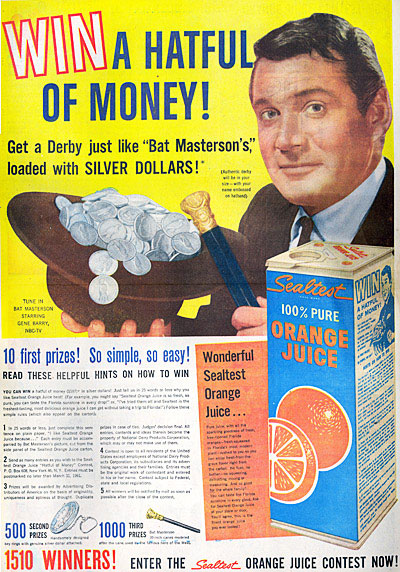 Wonder how many silver dollars Bat's hat held. This ad from 1/8/61.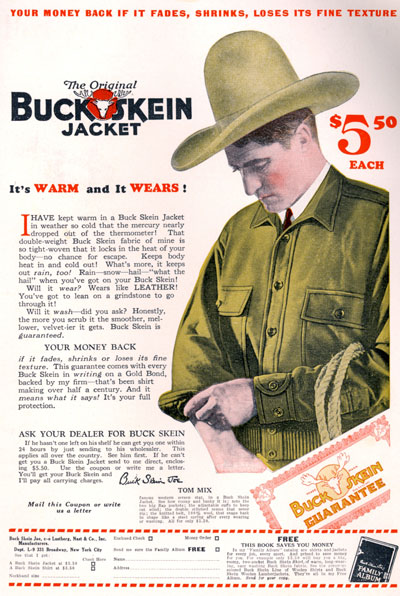 This Tom Mix endorsement for Buck Skein jackets is from September 1928.
Viceroy Cigarettes sponsored "Wanted Dead or Alive" as well as "The Texan". This ad from July 1959.
Steve McQueen's gun and holster set advertised here in December 1960 is one TV
Western collectible I've never seen for sale in later years.
You could have gotten your free Wyatt Earp Buntline Special at this Albuquerque, NM Fedway store in March 1959.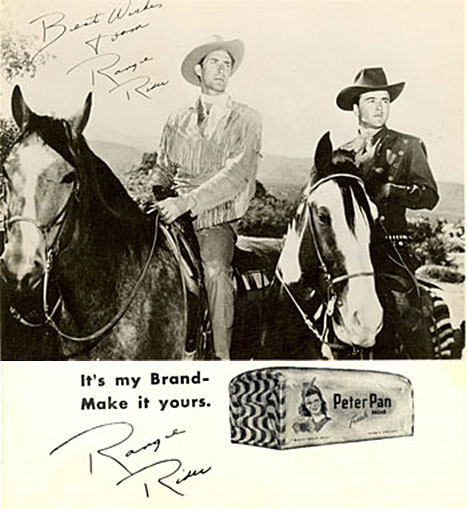 Jock Mahoney was the Range Rider with Dick Jones as Dick West.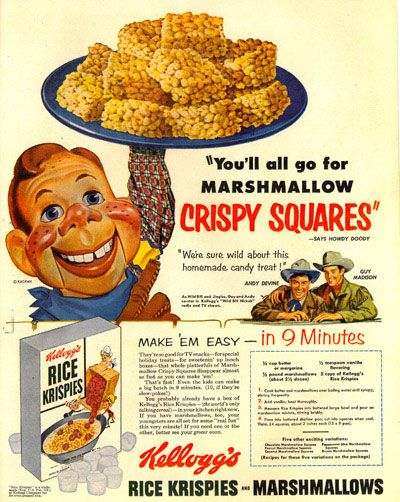 Kelloggs sponsored "Wild Bill Hickok" on radio and TV. This ad with Howdy Doody
is from 1953.
Jingles talks to the PurOlator man in 1952.

Andy Devine was appearing with Bill Elliott in "The Last Bandit" in 1949 when he endorsed Coleman Folding Camp Stoves.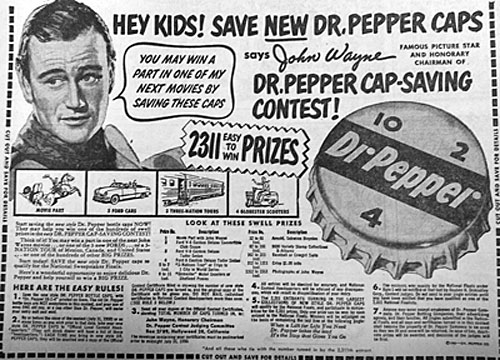 I wonder if anyone ever really won a part in one of Duke's movies by saving
Dr. Pepper bottle caps. (Thanx to John Bickler.)
Sadly, this ad speaks for itself. (Thanx to Jerry Whittington.)