Former Republic B-Western star Monte Hale entertains James Dean and others during a break in the filming of "Giant" in which Monte had a small part.
Gloria Winters and Kirby Grant celebrate Christmas. Penny and "Sky King".
A-Western and TV Western ("Texan") star Rory Calhoun with his wife Lita Baron and children Cindy and Tami.
Buster Crabbe as Kaspa the Lion Man in 1933 having lunch with his
co-star of "King of the Jungle".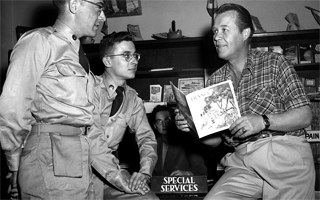 STARS AND STRIPS magazine photo of fighter ace Wayne Morris with two others.
Tradepaper advertisement for low-budget B-Western star Bill Cody and his son Bill Cody Jr. In actuality Bill and his son made three Spectrum B-Westerns in '34-'35 ("Frontier Days", "Reckless Buckaroo", "Vanishing Riders"). This advertised '36-'37 series was never finished and Bill and his son only made one, "Outlaws of the Range", in '36. Jr. went on to appear in B's with Tom Keene, Johnny Mack Brown, Charles Starrett and others.
Here's one for the ladies! On the beach with PRC B-Western star, Dave O'Brien.
On the Republic backlot, Allan Lane, Sunset Carson and Bob Livingston roll their own. Not the best thing for kids in the '40s to be seeing their heroes smoking.
(Thanx to Merrill McCord.)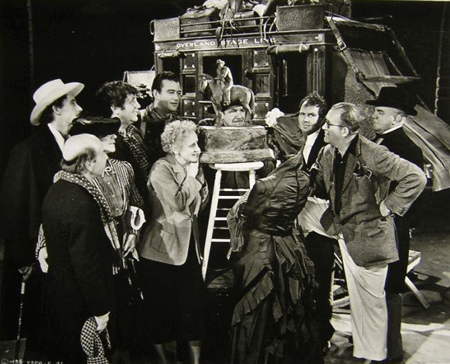 The cast and some of the crew of "Stagecoach" present an award to
director John Ford (right).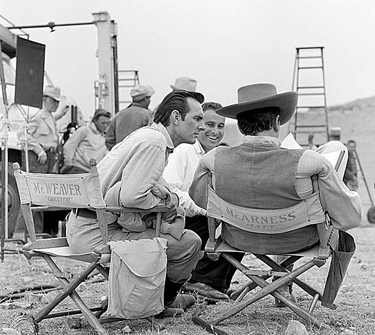 Dennis Weaver, unknown, and James Arness look over their script for the next episode
of "Gunsmoke" on June 8, 1961.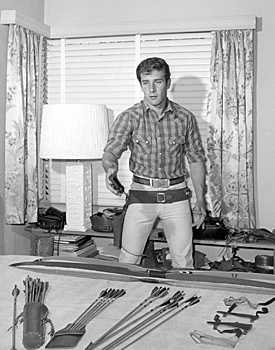 Star of "Laramie" and "Wagon Train", Robert Fuller, practices his fast draw before a display of bows and arrows. Not sure why that is!!
Jock Mahoney checks his bow and arrows alongside his children,
Sally, Princess and Ricky.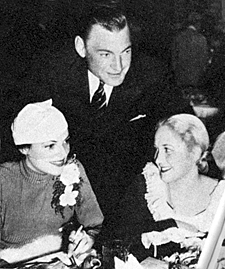 On the town in 1938 with Buck Jones and actress Marie Burton and Anne Bradford.
Jon Hall and his songttrss wife Frances Langford watch as the finish sign tells them their horse came in second at a Santa Anita race in 1948. From '47 to '52 Hall starred in six Westerns. "Michigan Kid", "Vigilantes Return", "Last of the Redmen", "Deputy Marshal" (with wife Langford), "When the Redskins Rode", "Brave Warrior".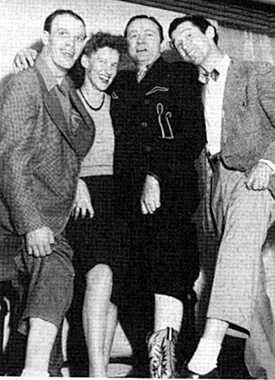 Eddy Arnold, Minnie Pearl, Tex Ritter and Roy Acuff at Minnie's home.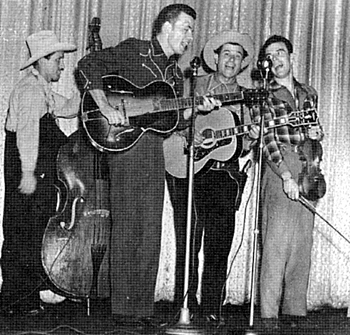 Ray Whitley (second from right) in the '40s with Bill Cullahan on Bass.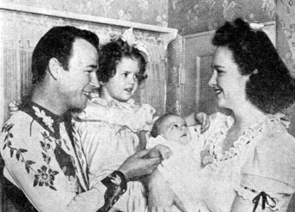 Roy Rogers, three year old Cheryl, April 1943-born Linda Lou and Roy's wife Arline.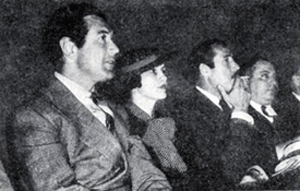 Here are Mae West's guest at an Olympic Auditorium fight match in 1934.
(L-R) Johnny Mack Brown, his wife Connie, actor John Miljan, unknown. Other guests included Marlene Dietrich and director Josef von Sternberg.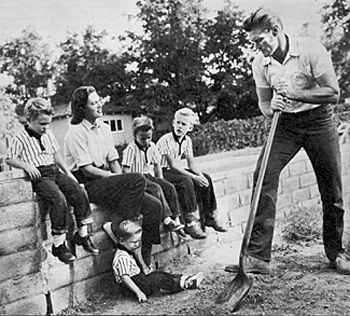 "The Rifleman", Chuck Connors, does a little yardwork in 1962 while his wife, Elizabeth, and four sons (Michael, Jeff, Stephen and Kevin) look on.
Old friends reunite at the Hollywood Paladium in September 1976 for a tribute to the Sons of the Pioneers. (L-R) steel guitar genius Leon McAuliffe, recording giant Art Satherley, Gene Autry and Jimmy Wakely.
Jimmy Wakely and wife Inez with their children, Deanna, Carol and Lindalee. Lindalee wrote the book on her father.
Bill Elliott goes against union regulations as he helps move some props to the set.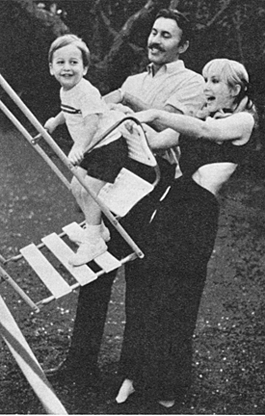 Michael Ansara ("Law of the Plainsman") with his wife acterss Barbara
Eden and son Matthew.
Hugh ("Wyatt Earp") O'Brian with Eddie Fisher and Debbie Reynolds at a Thalian's party in 1956. The Thalians is a charitable organization founded by actors in 1955 devoted to mental health causes.
B-Western leading lady, Vivian Austin, in January 1945 wears a pair of circular garters to keep her stockings straighter. Under the name Vivian Coe she co-starred in "The Adventures of Red Ryder" serial with Don Barry. She also made B-Westerns with Rod Cameron and Eddie Dew at Universal.