Good friends! Guy "Wild Bill Hickok" Madison, Rory Calhoun and wife Lita Baron.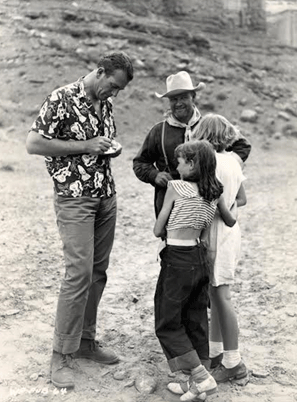 John Wayne signs a couple of autographs on location for "Fort Apache".
(Thanx to Ken Kitchen.)
Six foot four, 200 pound Jock Mahoney in his garage workshop.
Adrian Booth and Forrest Tucker engage in a game of Monopoly between scenes on a Western film.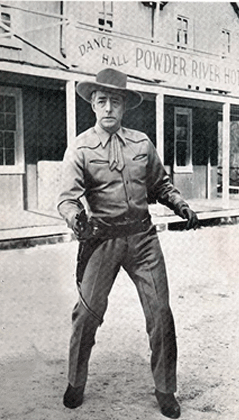 In 1948 Kenne Duncan, usually a heavy in B-Westerns, starred in "Powder River Gunfire", a 25 minute Western to be used when he made personal appearances. Unfortunately, no prints seem to exist today. (Thanks to Ken Kitchen.)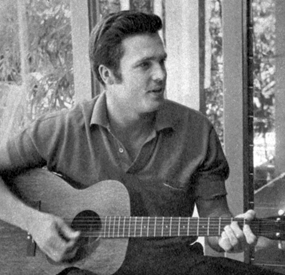 Ty "Bronco" Hardin tries harder practicing guitar in 1960.

A gathering of stuntmen...and directors in 1973. (L-R) Harvey Parry, Spencer Gordon Bennet, George De Normand, Dave Sharpe, John Hagner and Edward Finney.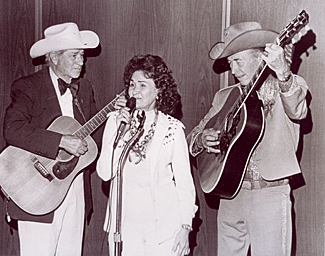 Ray Whitley and Eddie Dean accompany an unknown songstress.
Comedian Red Skelton and his wife chat with James Arness at CBS
on January 29, 1959.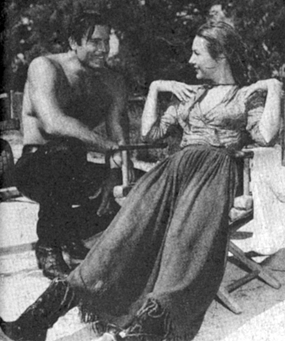 Between scenes while making "Fort Dobbs", Clint Walker chats with Virginia Mayo.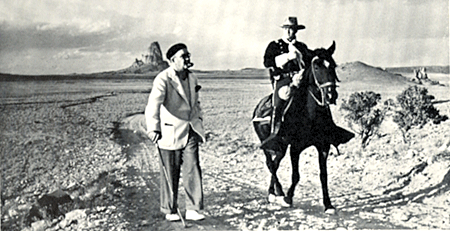 Director John Ford and Tim Holt in Monument Valley while making "Stagecoach".
While making "Stagecoach", director John Ford checks out a shot through the viewer of John Wayne and George Bancroft.
Clowning around in between scenes, Doug McClure mugs for the camera with James Drury on "The Virginian". Note the cigarette in Drury's right hand.
Universal Studios backlot...with the Western Street middle top right.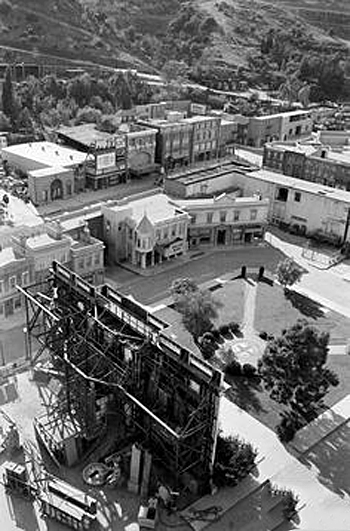 Universal backlot in 1963.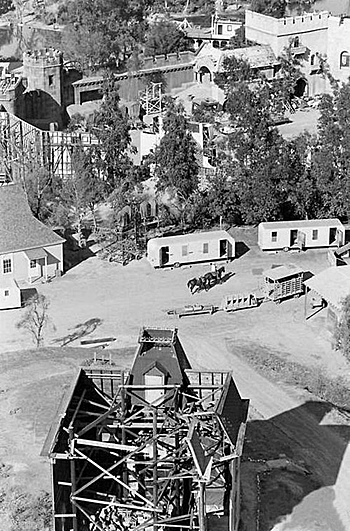 Universal backlot from the back side. The "Psycho" house seen from the rear.
The Warner Bros. "Dodge City" promotional junket. (L-R standing) Rosemary Lane, Gilbert Roland, Frank McHugh, unidentified Indian, Maxie Rosenbloom, Pricilla Lane, Errol Flynn, unidentified below Flynn, John Garfield, unidentified, Wayne Morris, unidentified, John Payne, unidentified, Alan Hale. (L-R front row)unidentified, Hoot Gibson, Ann Sheridan, Buck Jones, Big Boy Williams, Humphrey Bogart, Jean Parker.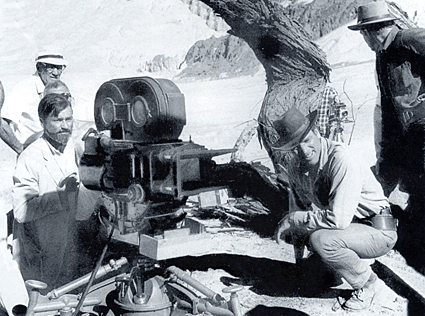 Shooting a scene for "The Professionals", cinematographer Conrad Hall (directly behind camera) and Burt Lancaster.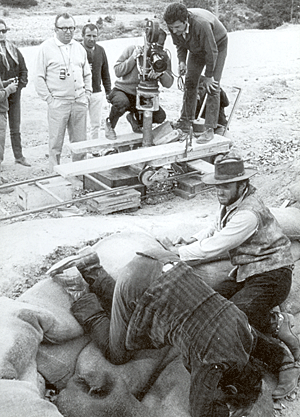 Director Sergio Leone (in white shirt) films a scene with Clint Eastwood and Eli Wallach just after the explosion of Branson Bridge in "The Good, the Bad and the Ugly".
While seemingly the exterior of the hotel room window in broad daylight, this close-up of Charles Bronson shooting a man atop the clock tower across the street for "Once Upon a Time in the West" was actually filmed in the studio.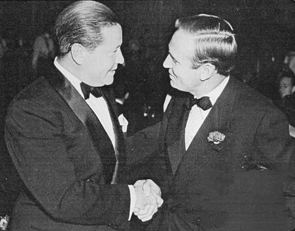 Jack Oakie greets Gene Autry at a charity dinner on November 18, 1939.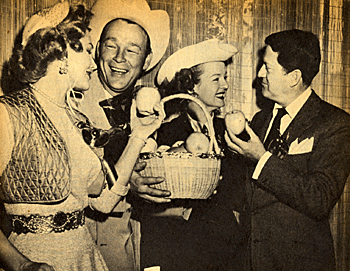 Roy Rogers received the 1954 Hollywood Women's Press Club award, The Golden Apple, for most cooperative male star. Virginia Mayo (left) just missed out in the Women's division. Roy's wife Dale Evans and actor/husband of Mayo, Michael O'Shea congratulate them.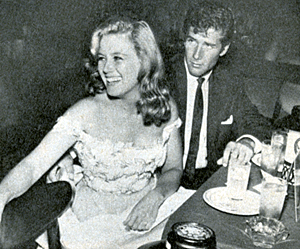 Robert Fuller and date Kathy Nolan in 1960.
Vivienne Gaye, Randolph Scott, Virginia Cherill, Cary Grant at the
Riviera Polo Club in 1933.
Minor Columbia B-Western star Jack Luden.