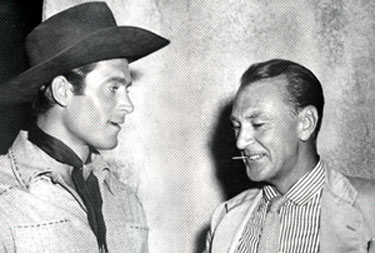 Clint "Cheyenne" Walker and Gary Cooper meet for a chat on the
Warner Bros. back lot.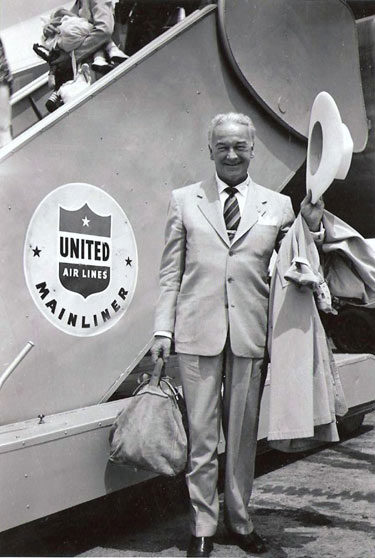 William Boyd in civilian clothes ready to board...or was he deplaning this United Airlines flight? Circa late '40s early '50s. (Thanx to Bobby Copeland.)
Carole Lombard presents a polo trophy to (L-R) James Gleason, Leslie Howard, Will Rogers, Spencer Tracy and Johnny Mack Brown for their victory over the producers' team in '34 at Uplifters Polo Field in Santa Monica. (Photo from TCM.)
James Stacy takes a break between scenes of his "Lancer" TV series in which he starred as Johnny Madrid (Lancer). February, 1969.
Gene Autry loved Mary Lee's singing voice in his Republic westerns. Two thirds of Gene's fan mail asked about Mary. Theatre owners commented "Not enough of this amazing youngster."
Gene Autry's Champion gets the best of care from "Dude" Chick, head wrangler for all of Gene's Flying A shows. According to Jimmy Hawkins (Tagg on "Annie Oakley") Chick was a former wrestler.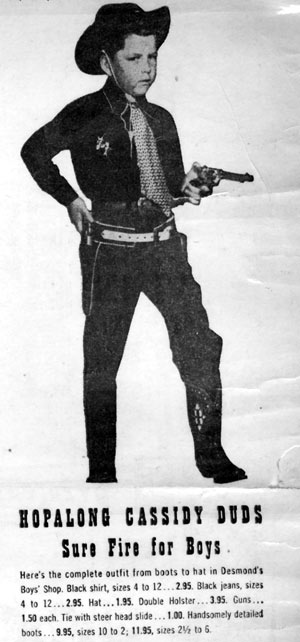 Before he was Tagg Oakley on TV's "Annie Oakley", Jimmy Hawkins was Hopalong Cassidy for this L.A. newspaper ad. In the '40s and '50s Jim was the Desmond Boy for the leading department store in L.A. Photo was taken by Tom Kelley who shot the famous Marilyn Monroe nude calendar photo. (Photo courtesy Jimmy Hawkins.)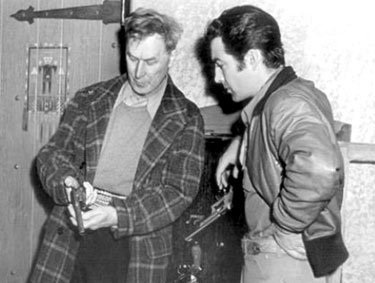 William S. Hart gives a little firearm instruction to Robert Taylor during the making
of "Billy the Kid" ('41 MGM).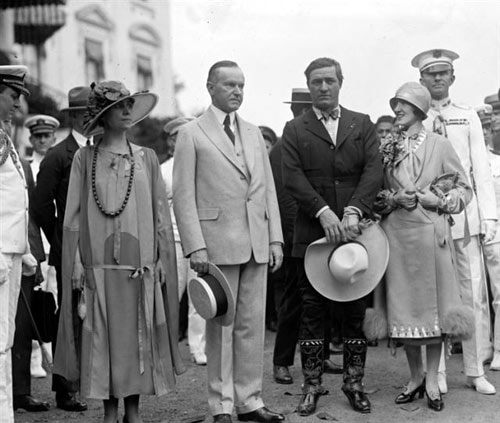 Tom Mix and his wife meet with President Calvin Coolidge and his wife in 1925. (Thanx to Bobby Copeland.)

A little cheesecake! Myrna Dell at age 21 circa 1945. Myrna co-starred with Bob Livingston in "Raiders of Red Gap", The Trail Blazers (Ken Maynard, Hoot Gibson, Bob Steele) in "Arizona Whirlwind" and Tim Holt in "Guns of Hate" as well as several A-westerns and TV westerns. Full interview with Myrna in our WESTERNS WOMEN book.
Leading lady Pamela Blake poses with Ray "Crash" Corrigan during a break in the filming of "Wyoming Outlaw" ('39 Republic) with The Three Mesquiteers.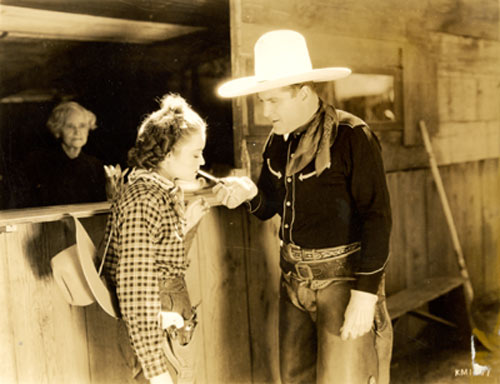 Ken Maynard lights up for leading lady Lona Andre between scenes of "Trailing Trouble" ('37 Grand National).
Director Ida Lupino has a script conference with "The Virginian" stars James Drury and Doug McClure along with guest star Alice Rawlings for the "Dead Eye Dick" episode of June '66.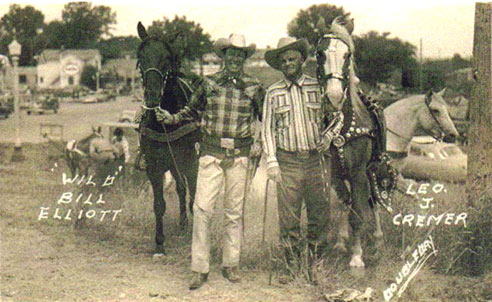 Wild Bill Elliott and rodeo legend Leo Cremer at Big Timber, Montana, in 1950.
(Thanx to Billy Holcomb.)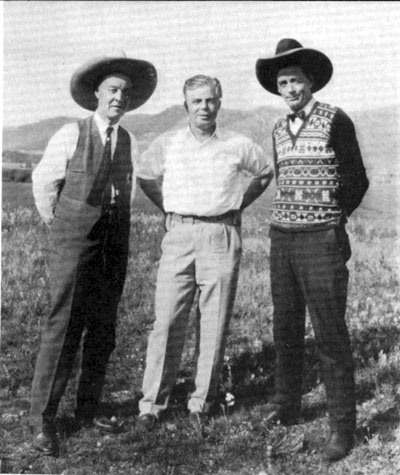 Hoot Gibson was in Calgary, Canada, in 1925 to film his Universal western "Calgary Stampede". With Hoot here are George Webster (left), mayor of Calgary, and Guy Weadick (right), a wild west vaudeville performer who was instrumental in staging the first Calgary Stampede in 1912.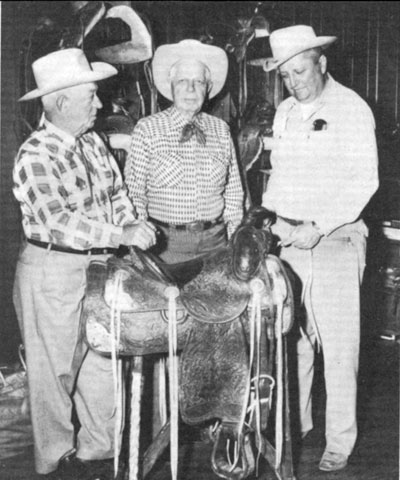 Hoot Gibson, in 1958, with the Hamley Trophy saddle he won as All Around Champion Cowboy at the 1912 Pendleton Round-Up. That was the first time such an award had been up for grabs. Hoot had entered five events, saddle bronc riding and the relay, pony express, roman, and wild horse races. Shown with Hoot are Lester Hamley (left), owner of Hamley and Company and Jack Stangier (right), president of the
Pendleton Round-Up.
Richard Devon always wanted to be a badman, even at 7 years old. (Photo courtesy Pat Devon.)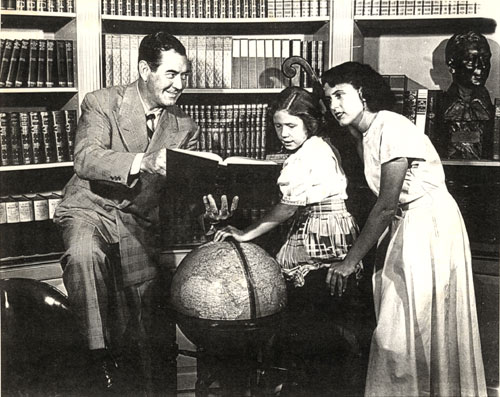 Johnny Mack Brown at home with daughters Cynthia and Janie. Circa mid-'40s.
Anne Jeffreys and singer John Raitt rehearsing for "Three Wishes For Jamie" which debuted on Broadway in mid-1952.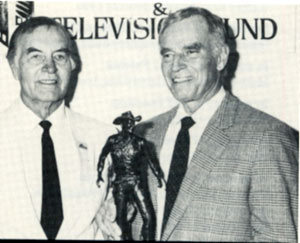 George Montgomery (left) presents Charlton Heston with the 1992 Hollywood Westerner Hall of Fame President Reagan Award. The bronze, created by George, recognizes actors for lifetime achievement in westerns.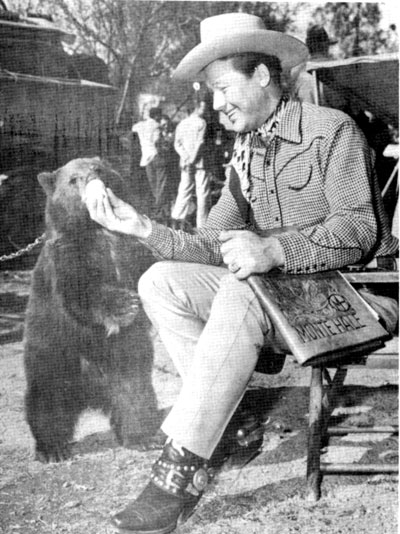 During a break in the filming of "Home on the Range", Monte Hale takes an opportunity to feed the bear. Note the leather script cover under Monte's arm.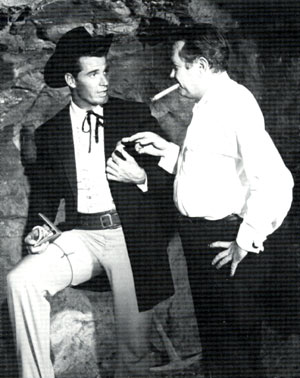 James Garner and writer/director Montgomery Pittman while making "Maverick: Pappy" (9/13/59).
Leo Carrillo and Charles Bickford find a little diversion with a jukebox inbetween scenes for Universal's "Riders of Death Valley" serial ('41) filmed around Mojave, California.
"Riders of Death Valley" producer Henry McCrae and leading lady Jeanne Kelly take a break between serial scenes.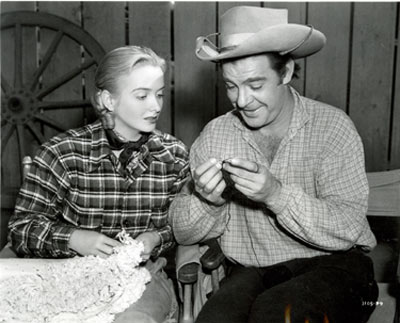 Definite incongruity here as Lon Chaney Jr. shows Jeanne Kelly the intricacies of tatting (a technique for handcrafting a particularly durable lace constructed by a
series of knots and loops) between scenes for the Universal serial "Riders of Death Valley" ('41).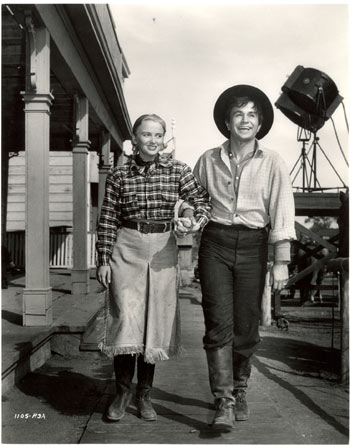 Jeanne Kelly and Noah Beery Jr. take a stroll on the Universal back lot between scenes of "Riders of Death Valley" ('41).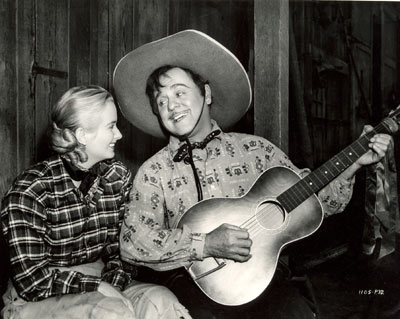 Leo Carrillo serenades Jeanne Kelly in this off-stage shot during the making of "Riders of Death Valley" ('41).