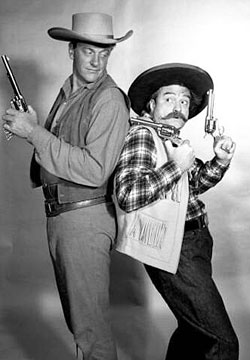 James Arness as Matt Dillon on the "Red Skelton Chevy Special" in 1959.
(Thanx to Terry Cutts.)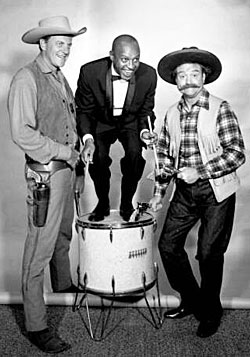 James Arness, Scatman Crothers on the "Red Skelton Chevy Special" in 1959.
(Thanx to Terry Cutts.)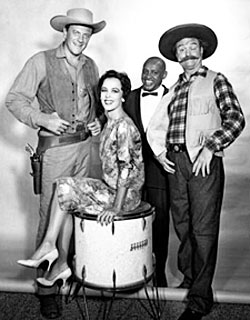 James Arness, Carol Burnett, Scatman Crothers on the
"Red Skelton Chevy Special" in 1959. (Thanx to Terry Cutts.)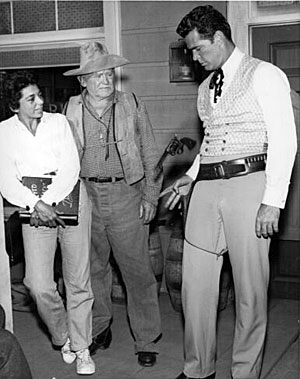 Warner Bros. scriptwriter Marion Hargrove and longtime character actor Bud Osborne watch James "Maverick" Garner practice a gun trick. (Thanx to Terry Cutts.)
Gene Autry in 1952 with a young J. Harvie Wilkinson who has been judge of the U.S. Court of Appeals for the 4th Circuit in Richmond, VA since 1984.
(Thanx to Tinsley Yarbrough.)
A CBS ribbon cutting for ??? with Clint Eastwood and Paul Brinegar of "Rawhide", Tina Louise of "Gilligan's Island", and Robert Conrad and Ross Martin of
"Wild Wild West". (Thanx to Terry Cutts.)
At a horse show in Jackson, MS, the Virginian, James Drury, takes time out to look at MAD Magazine's spoof on his series calling him James Droopy and the Virginiaham.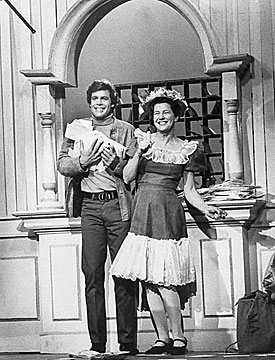 Doug McClure, Trampas on "The Virginian", and Minnie Pearl haul in the mail
for a TV special.
William Boyd and Andy Clyde filming another Hopalong Cassidy adventure in the Alabama Hills of Lone Pine, CA.
John Smith of "Laramie" and his bride Luana Patten in 1962. They were married in 1960 but divorced in '64.
Jack Kelly aka Bart Maverick and his wife Donna prepare to enter their new 1952 three bedroom home.
Out for dinner in 1951...Gene "Bat Masterson"; Barry and his wife Betty.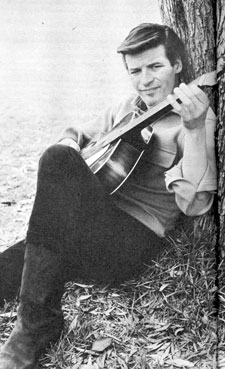 Peter Breck of "Black Saddle" and "Big Valley" was also a talented singer. If you can find Peter's "Just Kickin' Back" CD, listen to "Back Home is not a place, it's a time" written by Alan Wayne Johnson.
Robert Horton of "Wagon Train" with his wife Marilynn (Bradley). The couple performed together in dozens of musical dinner theatre and summer stock personal appearances.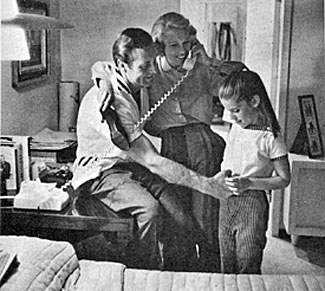 At home in 1957 with George Montgomery, Dinah Shore and their daughter Missy.
Sleepytime...Michael Landon and friend.
Roy Rogers and Audie Murphy promoting NBC's "Chevy Show" (9/27/59), one of 14 color one hour Sunday programs broadcast between '58-'60 that Roy and Dale hosted. During the program, Roy, Audie and Eddy Arnold sang together.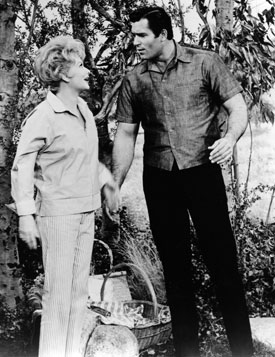 Clint Walker played a character named Frank Winslow twice
on the "Lucy Show"...'65 and '66.
Tom Mix, Jim Thorpe and some friends. Photo taken Dec. 25, 1932 and
signed by Jim Thorpe.
Bill Elliott in Cheyenne, Wyoming!
Bill Elliott and Vera Ralston (center) along with the Sons of the Pioneers (L-R) Pat Brady, Hugh Farr, Bob Nolan, Lloyd Perryman, Tim Spencer and Karl Farr were in Cheyenne, Wyoming in 1947 to promote Elliott's Republic film "Wyoming".
Bill and his fans enjoy some cotton candy.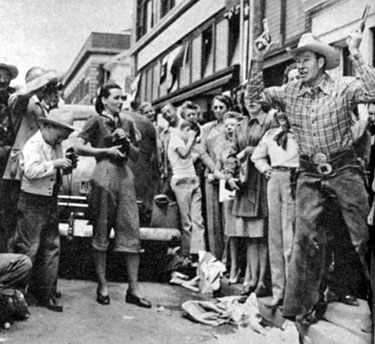 Two gun Wild Bill poses for pictures.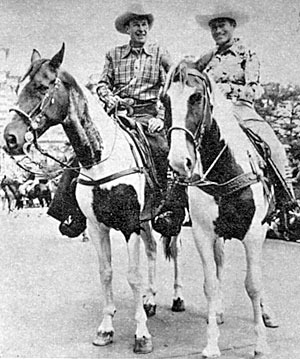 Montie Montana came along with Elliott to provide trick riding entertainment.
The Sioux Indians took one look at Vera Ralston and named her Princess Yiota (Beautiful One) during ceremonies giving her induction into the Ogalala tribe.
And a hearty "Hi Yo Silver, Kemo Sabe" for another month from
The Lone Ranger and Silver!