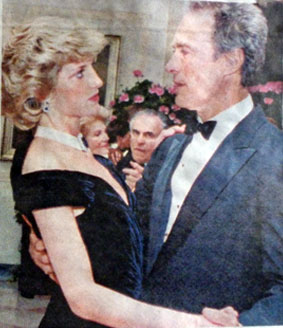 Clint Eastwood shares a dance in 1985 with England's late Princess Diana.
(Thanx to Terry Cutts.)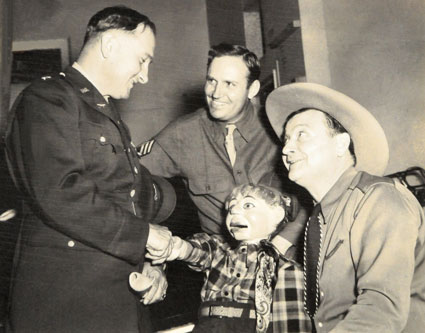 T/Sgt. Gene Autry introduces his friends Max Terhune and Elmer to one of Gene's officers in 1942.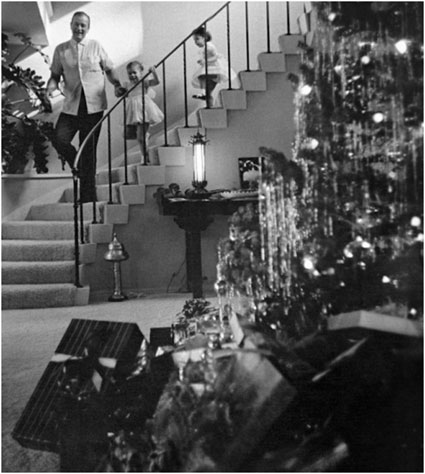 John Wayne celebrates a '50s Christmas with daughters Aissa and Marisa.
(Thanx to Jerry Whittington.)
Gary Cooper and William Boyd chat with director Cecil B. De Mille in 1940.
(Thanx to Jerry Whittington.)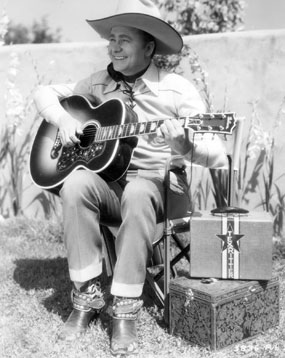 Rehearsing on the range—Tex Ritter.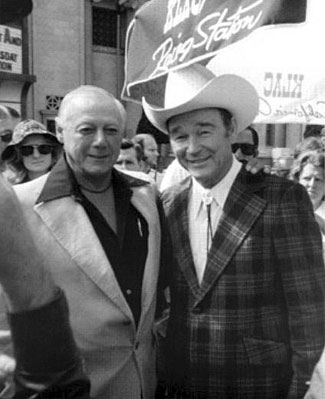 Bob Nolan and Roy Rogers attending a function for KLAC, Los Angeles radio.
Ooh La La! Republic cheesecake. Janet Martin, Adele Mara, Dale Evans in Oct. 1945.
(Thanx to Janey Miller.)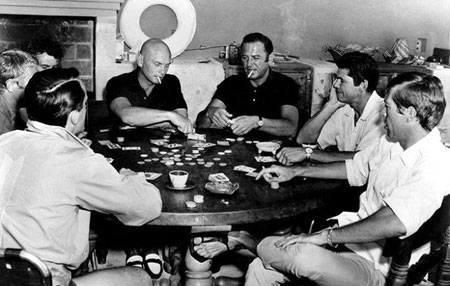 Poker with the "Magnificent 7". (L-R) Robert Vaughn, Steve McQueen, Horst Bucholtz, Yul Brynner, Brad Dexter, Charles Bronson, James Coburn.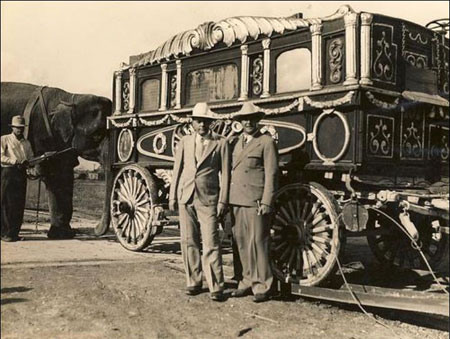 George Christy and Ken Maynard at Christy's South Houston quarters in 1936.
(Thanx to Jerry Whittington.)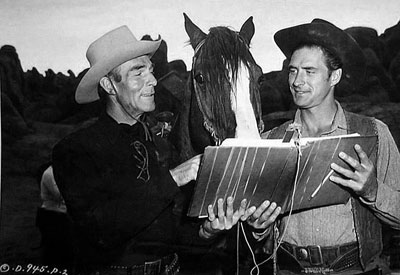 Randolph Scott and Jocko Mahoney check over the script for "The Doolins of Oklahoma" ( '49 Columbia). (Thanx to Bobby Copeland.)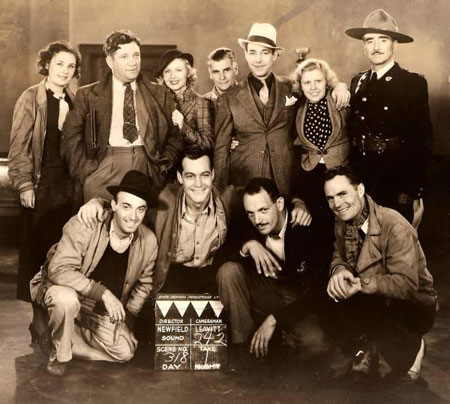 Cast and crew of the Canadian made "Undercover Men" ('35). (L-R standing). Unidentified woman, director Sam Newfield, heroine Adrienne Dore, unidenitfied man, Kenne Duncan, unidentified woman, Wheeler Oakman. (Kneeling L-R). Unidentified man, Charles Starrett, possibly Eric Clavering, Phil Brandon. (Thanx to Jerry Whittington.)
Tim Holt in 1949 with a young Mike Shoulders, son of Marvin Shoulders who was the brother of rodeo star Jim Shoulders.
Beefcake photo of Dale Robertson. Note the cigarette.
Ray Whitley with his new son-in-law and wedding guests Hoot Gibson
and Eddie Dean.
Ray Whitley walks his bride-to-be daughter down the aisle.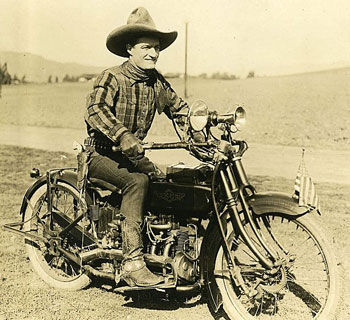 Tom Mix trades Tony for another mode of transportation.
(Thanx to Bobby Copeland.)
Ben Murphy of "Alias Smith and Jones" on his Triumph motorcycle in 1977.
(Thanx to Terry Cutts.)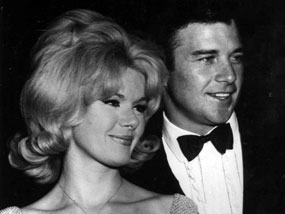 Husband and wife Connie Stevens ("Hawaiian Eye") and James Stacy ("Lancer").
The couple were married from Oct. '63 til Nov. '66. (Thanx to Terry Cutts.)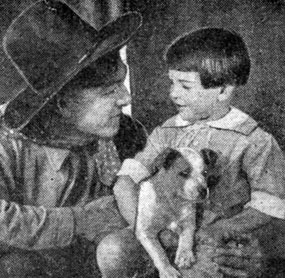 Harry Carey tells a young boy a wild west story in 1920.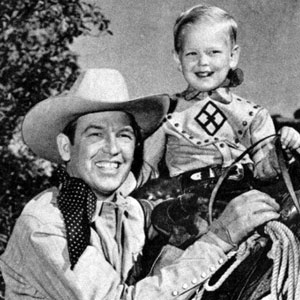 Rex Allen Sr. and Jr. circa 1949. (Thanx to Jerry Whittington.)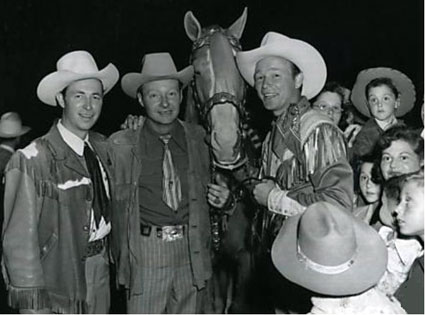 Eddie Dean, Pat Brady, Roy Rogers and Trigger circa mid '50s. (Thanx to Jerry Whittington.)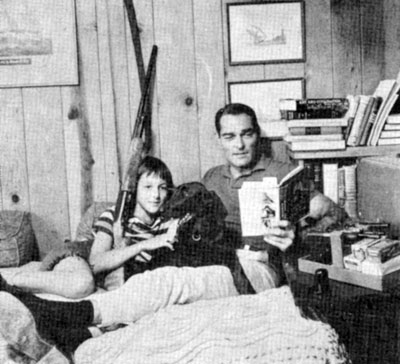 At home, John Russell reads to daughter Renata Amy Russell, age 12. The dog's
name is Jezabel. Circa 1959.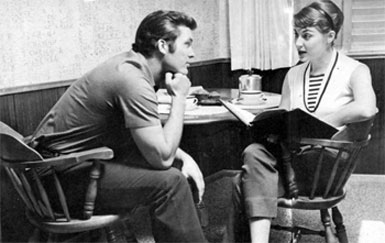 In 1960, Ty Hardin and his actress wife Andra Martin run over some lines for Ty's
next episode of "Bronco".
Stuntman Dean Smith with Bret Maverick (James Garner).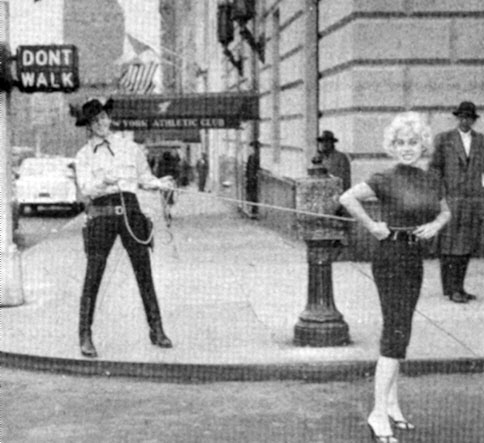 Central Park South and 7th Ave. is a far cry from "Tombstone Territory" but Pat Conway shows he can handle a rope in either New York City or Arizona.
While making "Ride Clear of Diablo" ('53), Audie Murphy greets busloads of tourists
on the Universal backlot.