A Roy Rogers Memory Page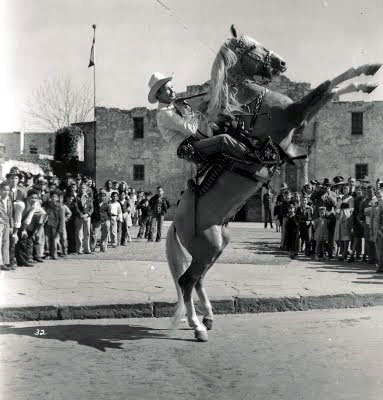 Roy Rogers and Trigger in front of the Alamo in San Antonio, Texas. Taken during a WWII war bond tour. (From Steve Crum's collection.)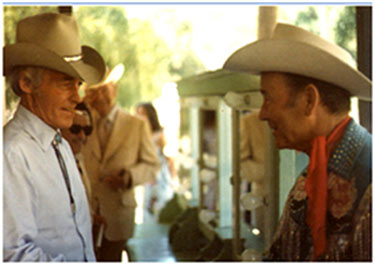 Guy Madison and Roy Rogers stop to chat during a photo shoot on the Warner Bros. lot in 1981. Note Pedro Gonzales Gonzales and Rex Allen in the background. (Thanks to Don Maris and Earl Blair.)
Tim Spencer, Roy Rogers and Bob Nolan on KFWB radio, Los Angeles. This photo from January 31, 1934, was when the trio performed for a Hollywood Chamber of Commerce luncheon at the famous Pig 'n' Whistle Cafe.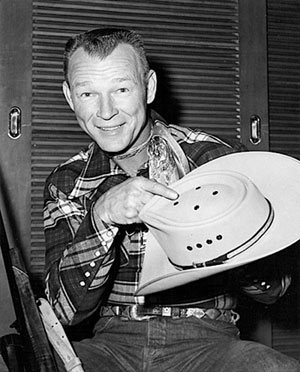 Roy Rogers with his one of his hunting hats.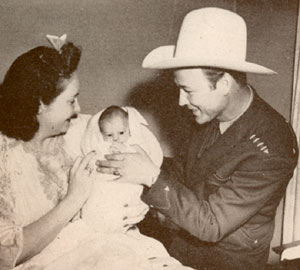 Roy Rogers and wife Arline with three week old Linda Lou who was born April 18, 1943.
Roy and wife Arline at home with nine week old Linda Lou and 3 year old Cheryl. Note the painting of Trigger (or is it Little Trigger?) on the wall done by famous Danish western painter Olaf Wieghorst. It was painted by Wieghorst before he became famous. He'd been a policeman in New York City which is where Roy met the artist during one of his early Madison Square Garden appearances. The painting was sold after Roy and Dale's deaths at a High Noon auction in Mesa, Arizona for $25,000. (Thanks to Bobby Copeland, Mike Johnson, Leo Pando.)
Director Frank McDonald discusses the next scene of "Along the Navajo Trail" ('45) with Roy Rogers.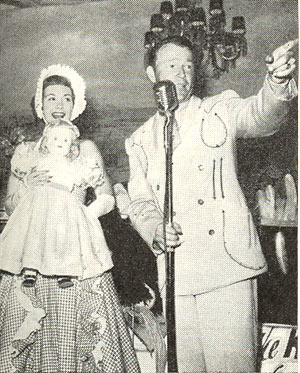 Jane Wyman and Roy Rogers at a 1950 benefit for visually handicapped children.
Roy Rogers and Clark Gable when Roy purchased Gable's Pigeon grade Model 12 shotgun. Story is, Gable was having a bad day at the trap field, so as he came off the field he held up the shotgun and begged someone to make an offer for the SOB shotgun. Roy quickly responded and bought the gun for $600. He promptly went out and shot 50 clays in a row and from that day on he didn't bother with another shotgun.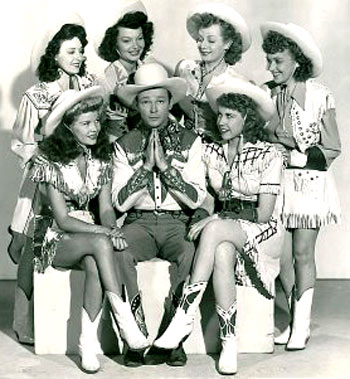 Mid '40s movie publicity shot with Roy and a bevy of cowgirl cuties. Note Helen Talbot on Roy's right. (Thanx to Bobby Copeland.)
Roy Rogers and Trigger give a little nudge to comic actor S. Z. "Cuddles" Sakall at the Hollywood Canteen, sometime in the '40s.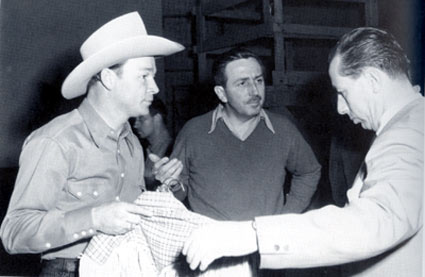 Roy Rogers meets with Walt Disney (center) and a Disney costumer preparing for Roy's role in the "Pecos Bill" segment of "Melody Time" ('48).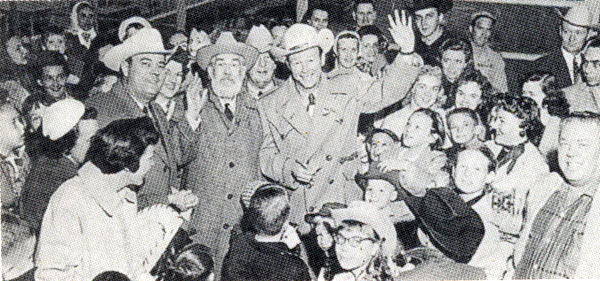 Roy Rogers and Gabby Hayes are greeted by the Mayor of Ft. Worth (right of Gabby) in 1958 as Roy arrives to host a TV special at the annual Ft. Worth Stock Show.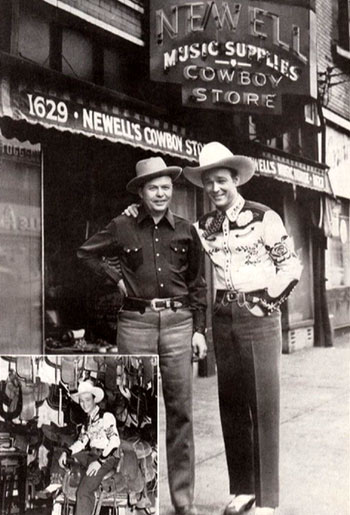 Roy Rogers with Walter Newell in front of Newell's Cowboy Store in St. Louis, Missouri. Inset photo shows Roy inspecting the Newell saddle shop. (Thanx to Bobby Copeland.)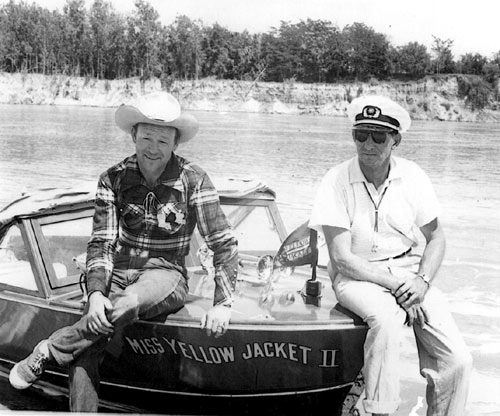 Down in Texas, Roy Rogers sits on his speedboat, Miss Yellow Jacket II. Roy was a part owner for awhile of the company which was in operation from 1949-1959.
Roy Rogers and Dale Evans recording a song together in 1955.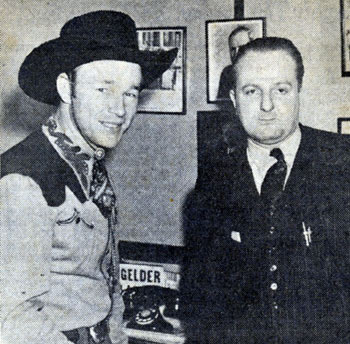 Roy Rogers in 1940 with Larry Stein, District Manager of Warner Bros. Theatres in Illinois, arranging a personal appearance for Roy at the Paramount Theatre in Chicago.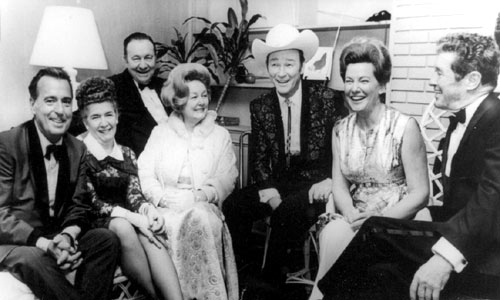 A great gathering...(Left to Right) Tennessee Ernie Ford and his wife, Tex Ritter and wife Dorothy Fay, Roy Rogers, Minnie Pearl, Roy Acuff.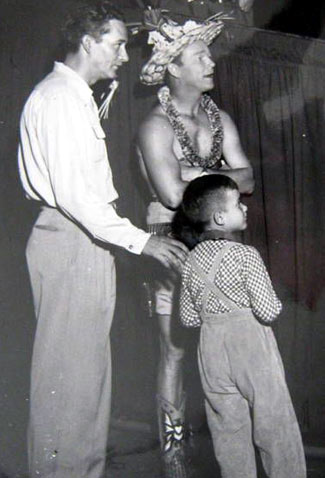 What some celebrities go through for publicity! Roy's western wear Hawaiian style.
(Thanx to Bobby Copeland.)
Roy Rogers takes a little musical break with Maw and Paw (Grace Stafford and Dallas McKennon) of the "Maw and Paw" Walter Lantz cartoon series in '53. McKennon later played Cincinnatus on "Daniel Boone" and Stafford was Lantz's wife. Both were active in voice-over work for years.
Brochure advertising Roy and Dale's Apple Valley Inn.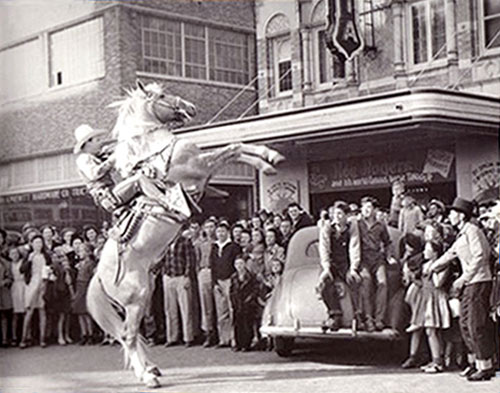 Roy and Trigger make a public appearance at the Arcadia Theatre in Temple, Texas, on February 16, 1943. (Thanx to Bill Nolt.)
Shriner Roy Rogers and wife Dale Evans make an appearance for the Rameses Temple in North York, Ontario, Canada in 1954. (Thanx to Bobby Copeland.)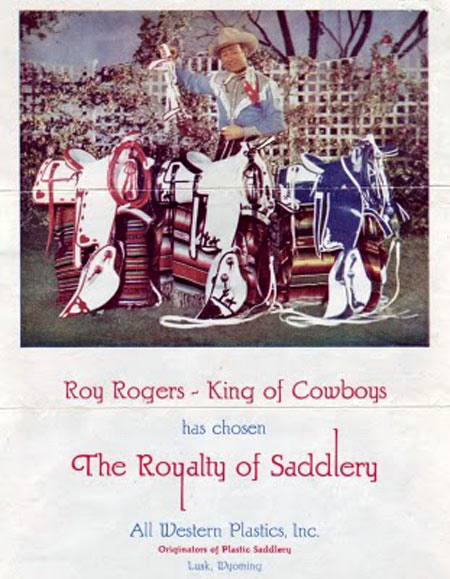 Promotional piece for All Western Plastics, the originators of plastic saddles in
Lusk, Wyoming.
Roy Rogers arrives at Forest Lawn Church of the Recessional in Glendale, California, on November 4, 1965 for funeral services for his adopted son Pfc. John David (Sandy) Rogers, 18, who died earlier in the week in Frankfurt, Germany.
Roy Rogers shows his boots to a group of young fans in Nashville, Tennessee.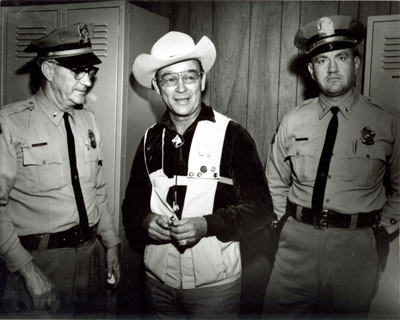 Roy Rogers poses in 1966 with Lt. Ralph Staples (left) and Lt. Lee Tye (right) of the Johnson County, Kansas, Sheriff's Department.
In July 1952, Roy Rogers and Phillip J. Sheridan of the Hearst Newspaper organization look over the Hearst comic weekly "Puck" as they sign contracts for the largest single insertion order of its kind on record. The $75,000 double-truck, four-color spread for Roy Rogers Enterprises as Christmas gift suggestions proposed by 71 firms manufacturing clothing, furnishings, toys and novelties bearing Rogers' brand ran in "Puck" around Christmas 1952.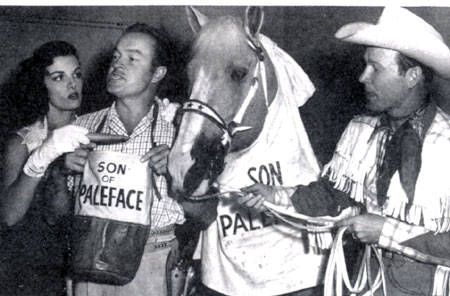 A Paramount Pictures gag shot for "Son of Paleface" ('52) shows Bob Hope and Trigger both wearing their feedbags as Roy Rogers holds Trigger's reins and Jane Russell offers Hope a carrot.