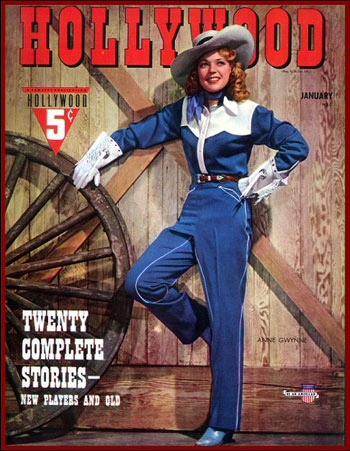 Gorgeous Anne Gwynne graces the cover of HOLLYWOOD magazine in January, 1942. At that time she was appearing with Abbott and Costello in "Ride 'Em Cowboy" for Universal.
Dan Blocker, Gilbert Roland and the script supervisor discuss a scene for "Bonanza: The Lonely Runner" (10/10/65) as Kelly Thorsden (L) and Pat Conway (R-back to camera) listen intently.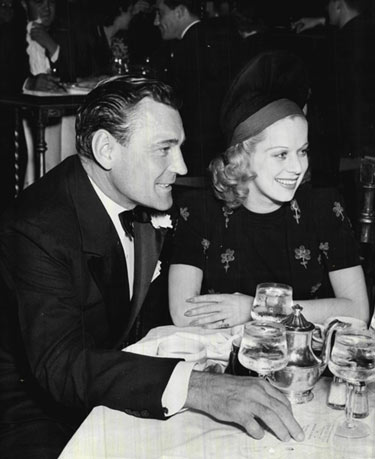 Buck Jones and actress Mary Dees at a social function in November 1937.
(Thanx to Bobby Copeland.)
Stuntman Fred Kennedy goofing around on Eagle at Hudkins Stables. Fred kept and trained his falling horses at Hudkins. Kennedy was killed doing a fall from a horse in John Wayne's "The Horse Soldiers". (Thanx to Sam Lawson and Pat Mefferd.)
At the height of Hugh O'Brian's popularity starring on ABC's "The Life and Legend of Wyatt Earp", Hugh O'Brian released an LP of western songs in 1957 on
ABC Paramount.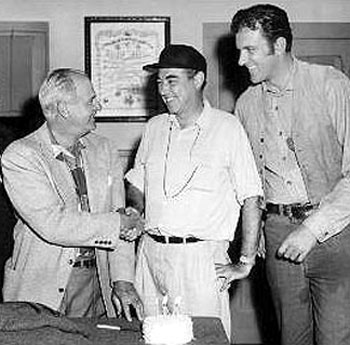 Meeting for the first episode of "Gunsmoke: Matt Gets It" in 1955 are (L-R) 1st assistant director Glenn Cooke, writer/producer/director Charles Marquis Warren and James Arness.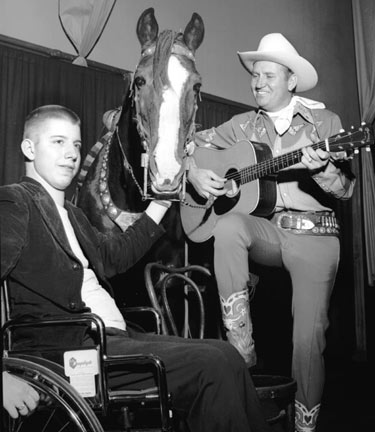 In a wheelchair, sixteen year old Ben Jarrett of Lexington, TN, visits Gene Autry during his appearance in Memphis, TN, on November 23, 1952. Gene first met Jarrett two years prior when the boy was flat on his back paralyzed from the waist down after he was injured diving into a shallow stream. (Thanx to Ray Nielsen.)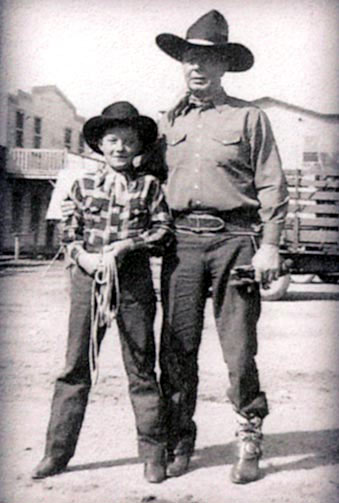 Eleven year old Don Stewart with Hoot Gibson on the back lot while making the Trail Blazers' "Wild Horse Stampede" ('43 Monogram). Don, born Dec. 23, 1931, in Tulsa, Oklahoma, moved with his family to California as a youngster. He attended William S. Hart High School and graduated from Glendale College with a degree in art. After his three films ("Wild Horse Stampede", "Arizona Whirlwind" with the Trail Blazers in '44 and "Where Trails End" in '43 with Tom Keene) Don became a successful artist and owned a flower and gift shop in Newhall, CA, where he was well known for his art and unusual floral designs. Don fought in the Korean War and later died at 49 in Corpus Christi, TX, while on a hunting trip with friends. According to Don's sister-in-law, Barbara Stewart of Modesto, CA, "Don went down in the yacht to have a nap between trips to the islands and simply didn't wake up."
As a bit of trivia, as a child, Don's brother Joe (12 years younger than Don) was on Eleanor Powell's "Faith of Our Children" ('54-'56), a religious series which originated from WNBH in L.A., later moving to KRCA where NBC donated network time and a crew. Produced in part by Glenn Ford.

Clint Walker and Lisa Gaye. Lisa guested on two episodes of "Cheyenne" in 1960. "Outcasts of Cripple Creek" and "Counterfeit Gun".
Sidney Poitier, James Garner and Dennis Weaver relax between scenes of "Duel at Diablo" ('66).
William Boyd, Hopalong Cassidy, presents Hoppy coins to a couple of young fans as he and his wife Grace arrived at the Rhein-Main Airport in Frankfurt, Germany, on August 27, 1954, during the European segment of their around-the-world vacation. (Thanx to Joel O'Brien.)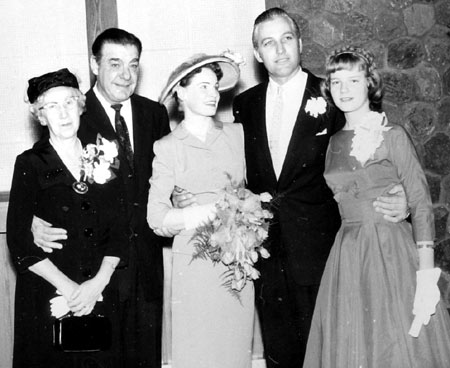 A wedding day photo for John and Beryl Hart in February 1957. Shown here with (L-R) John's mother Enid, Lon Chaney Jr. and Beryl's 14 year old sister Shari. John and Chaney were making "Hawkeye" in Canada at the time. Beryl met John while acting on an episode of the series. (Thanx to Tom Weaver.)
Tom Mix with sportscaster Bill Stern and Tom's daughter Thomasina at the 1932 Summer Olympics in Los Angeles. (Thanx to Bobby Copeland.)
Randolph Scott with some young fans in 1955.
Low budget B-western star Johnny Carpenter at his Heaven On Earth Ranch which benefitted handicapped children. Photo was taken for "Hour Magazine" TV series for September 26, 1980. Co-host Pat Mitchell in the white hat.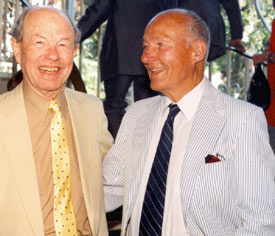 Cass County Boys Fred Martin and Jerry Scoggins share a few memories at a Golden Boot Awards. Martin, 94, died November 26, 2010. Scoggins, 93, died December 7, 2004.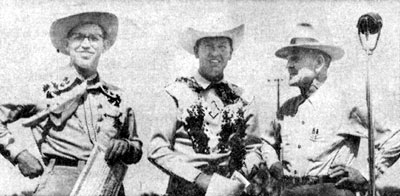 Rex Allen at the Dodge City, KS, Boot Hill Fiesta Rodeo in May 1952. On his left is Harry G. Wiles, state president of the Junior Chamber of Commerce. On his right is Sheriff Claude Dowdy.
Sharing a kiss are Tex and Dorothy Fay Ritter in August 1973.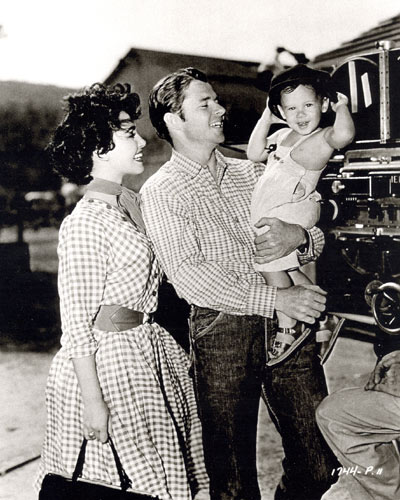 Seventeen month old Terry Murphy is the guest of his Dad Audie Murphy and co-star Susan Cabot on the set of "Ride Clear of Diablo" ('53 Universal-International).
Johnny Mack Brown's daughter Cynthia watches her dad rear his palomino Rebel in November 1949. Cynthia was 12.
Will "Sugarfoot" Hutchins and Clint "Cheyenne" Walker working out in the Warner Bros. gym circa 1960. Will captioned this photo for us, "I'm tryin' to raise your spirits."
Publicity photo of Roy Rogers and Trigger circa 1938. (Thanx to Bobby Copeland.)
Terrific 1936 ad in THE AMERICAN BOY for the Daisy Golden Eagle 1000 shot repeater air rifle.